Castro shines brightly in Yankees debut
Second baseman makes flashy defensive play, goes 2-for-3 with RBI double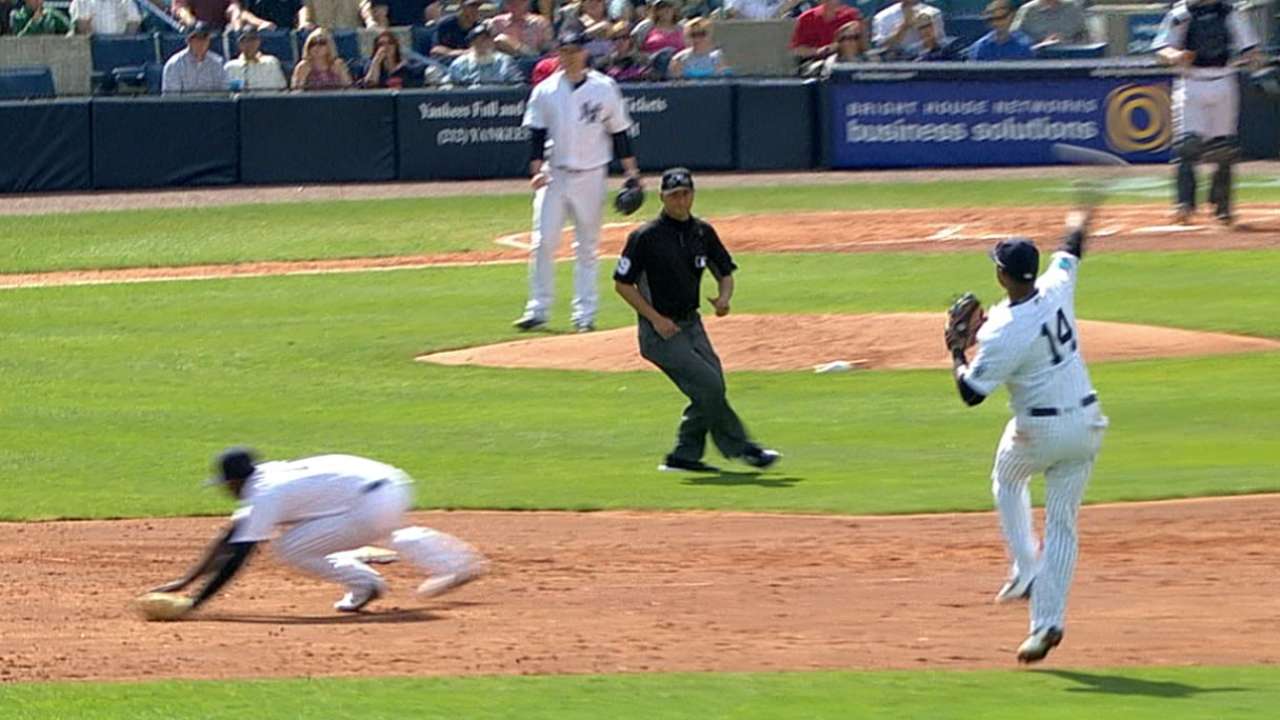 TAMPA, Fla. -- There is something to be said for making a good first impression, and Starlin Castro did plenty in his first game wearing pinstripes on Wednesday.
Castro made a sparkling defensive play behind second base, collected the Yanks' first hit of the Grapefruit League season and added a run-scoring double in New York's 10-9 win over the Tigers at George M. Steinbrenner Field.
• Spring: Tickets | Ballpark | 40-man roster | NRIs
"I think the middle of our infield could be really good with the two guys we have, and I think Starlin is going to do a really good job," manager Joe Girardi said.
Castro tallied 991 hits over six seasons with the Cubs, so the Yankees are not overly concerned about the 25-year-old's bat. Their curiosity is in how Castro will adjust to second base, where he played 33 games down the stretch last season.
If Castro's flashy play in the third inning serves as any indication, the Yanks' pitchers could be in for a treat.
With Mike Aviles at the plate, Castro ranged up the middle, cutting behind shortstop Didi Gregorius to flag a ricochet off pitcher Tyler Cloyd's glove. Castro collected the ball, then smoothly threw on a hop to first baseman Mark Teixeira.
"I think that's important, that he gets really, really comfortable at second base," Girardi said. "That's his main position. I know he's played a month of it or so, but it's important that he gets comfortable and he gets used to all different types of plays -- and he gets used to playing with Didi."
Mateo draws attention
Shortstop Jorge Mateo, the Yankees' No. 1 prospect according to MLB Pipeline, has the kind of speed that makes people turn their heads. He flashed it in the ninth inning Wednesday, tripling off the left-field wall (even though he appeared to jog out of the batter's box), but that's not news to the Yankees.
Girardi said that the 20-year-old has been on his radar since seeing him run the bases during one of CC Sabathia's rehabilitation games at the Minor League complex, when Mateo was rehabbing a hamstring injury.
"They told him not to run at 100 percent and he was flying at 80 percent," Girardi said. "I was like, 'Who is this kid?' You don't see too many triples to left field like that."
First-day jitters
Aaron Hicks may have been a little overenthusiastic in his Yankees debut. Hicks lined a run-scoring single to right field in the fourth inning and took off for second base, but did not realize the base was already occupied by Chris Parmelee.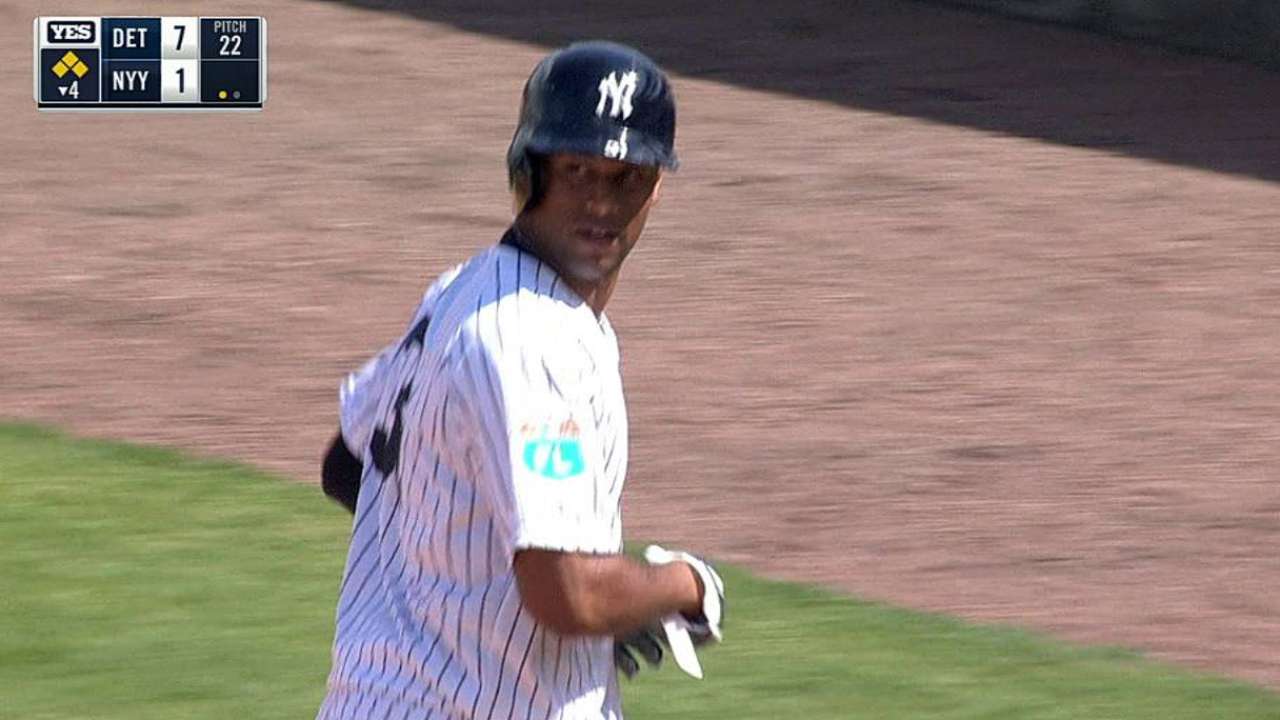 "We talked to him. He said, 'I got too excited,'" Girardi said. "I said, 'That's OK, it happens. I'm glad you're excited.'"
Outfield depth added
The Yankees have signed outfielder Chris Denorfia to a Minor League contract with an invitation to Spring Training, general manager Brian Cashman said on Wednesday.
Denorfia, 35, batted .264/.314/.363 with three homers and 18 RBIs in 103 games for the Cubs last season. Cashman said that the Yankees wanted to add a right-handed-hitting veteran to their outfield mix.
"You'll see him over here at some point in the next week to 10 days in game activities," Cashman said of Denorfia, who is a lifetime .271 hitter in 10 seasons with the Padres, Athletics, Reds, Cubs and Mariners.
The Yankees' outfield projects to include Brett Gardner, Jacoby Ellsbury, Carlos Beltran and Hicks. Cashman said that Denorfia has an out in his contract at the end of camp.
"He's here to try to be in the big leagues, so we'll see what happens," Cashman said.
Denorfia will wear uniform No. 38, and the total number of players in camp stands at 70.
Injury report
Left-hander Chasen Shreve will throw a bullpen session Thursday instead of pitching in game action, as originally scheduled. Shreve was hit in the middle of his back by a liner Monday, but there was no bruise and no tests were scheduled.
A-Rod, Beltran to play Thursday
Alex Rodriguez and Beltran will be in the lineup for Thursday's game against the Phillies. Girardi said that Rodriguez is slated for three at-bats as the designated hitter.
Bryan Hoch is a reporter for MLB.com. Follow him on Twitter @bryanhoch, on Facebook and read his MLBlog, Bombers Beat. This story was not subject to the approval of Major League Baseball or its clubs.