Kim works through nerves in Orioles debut
LAKE BUENA VISTA, Fla. -- Hyun Soo Kim admitted to being a little nervous as he stepped into the batter's box at ESPN's Wide World of Sports Complex on Tuesday. It was his Grapefruit League debut and his first game in the United States, and he expected everything to be different.
So Kim started thinking too much. He said his timing was disrupted, because he worried about the movement of the pitches he might see. He went 0-for-3 at the plate out of the No. 5 spot in the order while playing five uneventful innings in left field.
Spring Training: Tickets | Schedule | Ballpark
But after Tuesday's 4-4 tie with the Braves, Kim was surprised by how similar he felt facing opposing pitching in the U.S., compared to the nine seasons he played in the Korea Baseball Organization. There was a large contingent of Orioles fans at the game, and a few of them came carrying Korean flags in support of Kim, who said he was disappointed by his first performance and vowed to do better.
"I wasn't really expecting to see a lot of fans that were here to see [me] performing," Kim said through an interpreter. "It was a pleasant surprise, and I will try my best to show actually what I can do."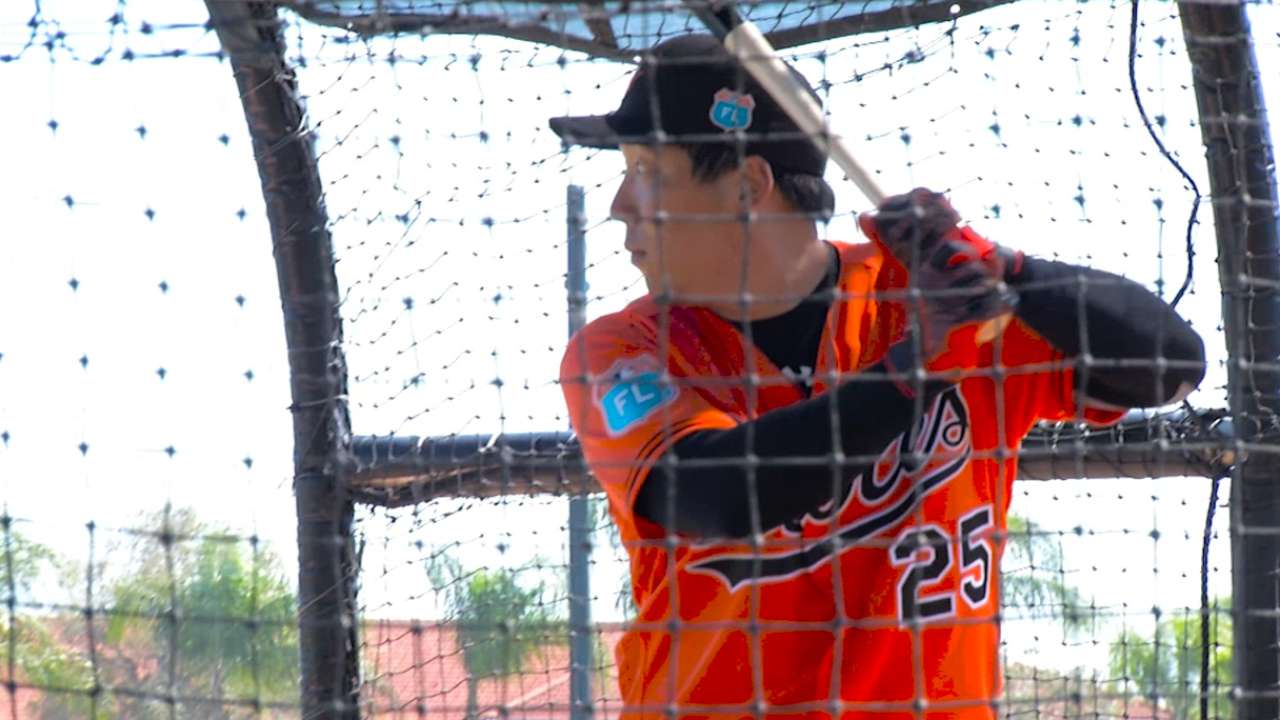 The Orioles plan to give Kim as much playing experience as possible this spring to help get him get comfortable ahead of his first season in the Majors.
"They are giving me an opportunity to play in these Spring Training games," Kim said. "I'm very excited, and whatever I'm lacking right now will be adjusted throughout the games."
In fact, manager Buck Showalter said he plans to play Kim again Wednesday, an opportunity Kim welcomes, especially considering Spring Training in Korea lasts three months.
"[I'd] like to expose him to as much as I can to [help him] adapt, so if he goes north with us, a lot of this stuff is behind him," Showalter said before the game. "Trying to take him as much as I can without doing too much, because these opportunities are going to be fleeting. I want to expose him as much as I can."
Jamal Collier is a reporter for MLB.com. Follow him on Twitter at @jamalcollier. This story was not subject to the approval of Major League Baseball or its clubs.