Regardless of role, Fulmer will bring heat
Organization's top prospect works two scoreless innings in Tigers' Grapefruit opener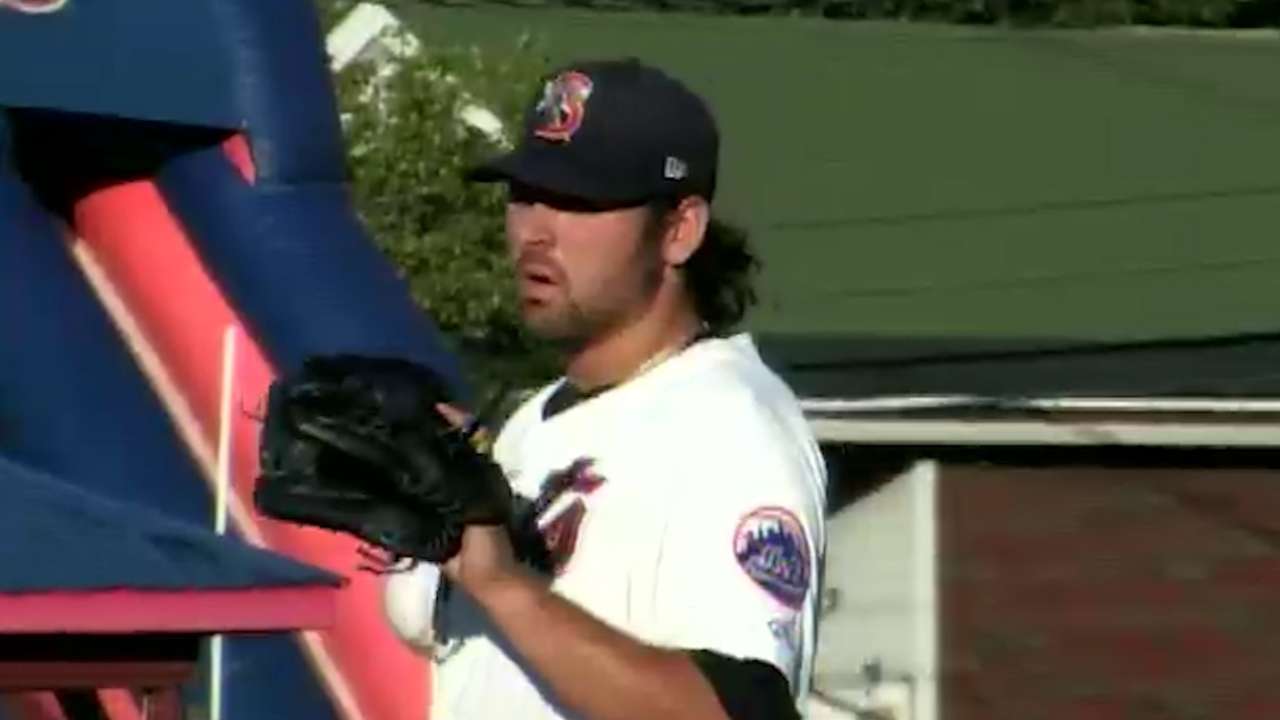 LAKELAND, Fla. -- Michael Fulmer's preparation for his much-anticipated first appearance in a Tigers uniform was all starter. His entrance was all reliever. The role he'll ultimately fill is still up for debate.
As the national anthem finished at Joker Marchant Stadium before Tuesday's Grapefruit League opener against the Pirates -- a 4-2 Tigers loss -- Fulmer walked across the street, warming up on the back fields at Tigertown. Matt Boyd was starting, but the pitching list included Fulmer, the Tigers' No. 1 prospect, so he relied on his normal starter's routine.
Spring Training: Tickets | Schedule | Information
A few innings later, the 22-year-old Fulmer ran in for the top of the fourth, facing the middle of the Pittsburgh order -- Michael Morse, Jordy Mercer and Matt Joyce -- and cranked up his fastball.
At 96 mph, the big right-hander wasn't holding back.
"Every time I take the mound, I'm always amped up," Fulmer said, "no matter who we're playing, no matter where I am. It's just kind of my mentality. Outside the lines, I'm a nice, respectful guy. Between the lines, it's game on."
Asked when the adrenaline started, Fulmer said, "Kind of when I woke up this morning."
The Tigers put Fulmer in the middle of their Spring Training clubhouse rather than in a far corner, allowing him to talk to a lot of teammates as they walk by his locker. The quiet young man from that clubhouse didn't resemble the pitcher on the mound.
"Young kid, first big league outing in Spring Training, first camp, wants to make an impression, wants to succeed," catcher James McCann said of Fulmer. "He's a high-intensity guy, and when he's able to harness that, he's going to be something special. When he did calm down, he was pretty good.
"To me, that was an extremely impressive outing for a young guy making basically his big league debut, as far as Spring Training goes."
Manager Brad Ausmus agreed.
"He looked strong," Ausmus said. "He's got a lot coming at you."
Fulmer gave up a couple of singles and a walk in his two innings, but he held the Pirates scoreless. He had help, from a sliding stop by Miguel Cabrera at first base to a diving catch by Double-A Erie teammate Wynton Bernard in shallow center field to deny at least one run in the fifth inning.
Fulmer also had his moments when hitters couldn't touch him. He took the mound for the fourth and cranked up the fastball from 92 mph to 94 mph, then to 96 as Morse swung and missed. After Joyce singled to extend the inning, Fulmer went in reverse to Willy Garcia -- three consecutive sliders, three nasty breaks off the plate, three straight swings and misses.
"First off, the velocity of his fastball, you have to respect his fastball," McCann said. "But the big thing with the slider is it comes out of his hand looking like a fastball. And it's a late-breaking pitch. It's not something that's a gradual break."
It's the kind of mix that could translate well to a bullpen role. Barring something crazy in the fifth-starter competition, Fulmer's path to the Tigers' Opening Day roster is through that bullpen. Otherwise, he'll likely go to Triple-A Toledo to start, learn and wait.
The Tigers faced a similar decision a decade ago with Joel Zumaya, a starter his entire Minor League career before then-manager Jim Leyland picked the fireballer for his bullpen. Fulmer's a different pitcher, one without Zumaya's velocity, but with better secondary stuff due to his slider.
Fulmer says he'll do whatever helps the club. He'd have to change his warmup routine, but his work on Tuesday suggests he could help in either role.
"The biggest thing is to have fun out there," Fulmer said, "and I had a blast."
Jason Beck is a reporter for MLB.com. Read Beck's Blog, follow him on Twitter @beckjason and listen to his podcast. This story was not subject to the approval of Major League Baseball or its clubs.