MLB.com Columnist
Bill Ladson
Q&A: Assistant hitting coach Jacque Jones
Former outfielder discusses his new role on the Nationals' staff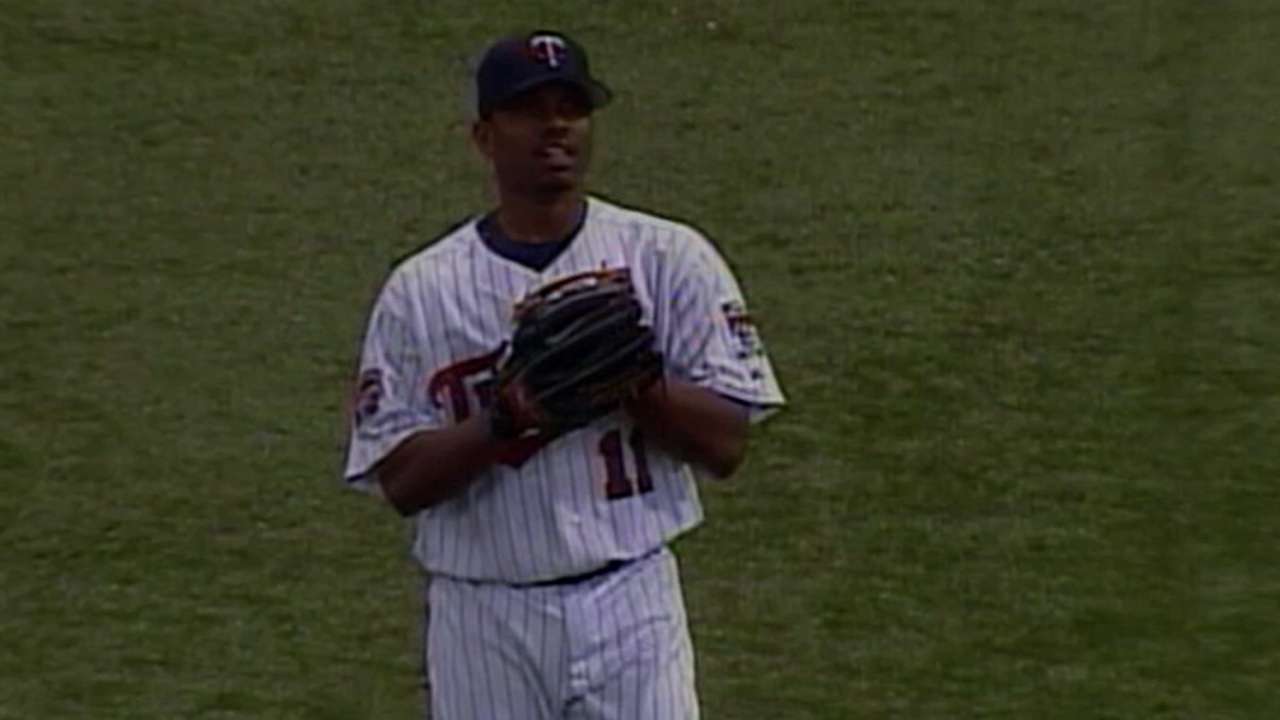 Jacque Jones is back in the Major Leagues, this time as an assistant hitting coach for the Nationals. Jones is best remembered for his time as an outfielder for the Twins in the early 2000s. He played the corner outfield spots and helped Minnesota to three consecutive postseason appearances.
MLB.com caught up with Jones on Tuesday to talk about his new career with the Nationals and his connection to manager Dusty Baker.
MLB.com: How excited are you to start as an assistant hitting coach?
Jacque Jones: I'm very excited. I have a lot of talent around here. ... I start off by working with an MVP, [Bryce Harper]. Besides that, there are a lot of guys to work with. They are very talented. Just to be around them, learn from them and share some of the experience that I have, it's going to be fun.
• Spring Training: Tickets | Ballpark | 40-man roster | NRIs
MLB.com: I know there is a connection between you and Dusty Baker. How did that come about?
Jones: I played for him [when I was with the Cubs]. I enjoyed playing for him. He became a good father figure to me. We kept in contact. From 2006 until today, we've kept in contact, probably talked on a weekly basis. He asked me if I was interested in being on his staff if he became a big league manager again. I said, "Yeah." It came to fruition when he was able to get the Nationals job. He offered, the Nationals offered, I jumped at it.
MLB.com: You said Baker is a father figure. What did he bring that you never had before?
Jones: He actually cared. It wasn't just me. It was the team, people. He cares about people. He has been through experiences with the stroke. He beat cancer, things like that. He is so positive, man. Whether you win 10 games or lose 10 games, he is the same. He is so positive. He is always trying to lift you up and tries to help you any way he can.
• Baker keeps things loose in Nats' clubhouse
MLB.com: Talk about what you bring to the table for the Nationals.
Jones: Experience. I played. Being there … is important to a lot of guys. … I know what they are going through. I bring that. The things I've learned through the game, I was able to take it seriously and listen.
I learned from people like Dusty. I was blessed from Little League to Pony League to high school to college to have people who cared. They taught me to play the game the right way, not necessarily be the big man on campus, but to play the total game -- defense, offense, small ball, big ball.
MLB.com: Is there anyone on the Nationals other than Harper who has impressed you with the bat?
Jones: Anthony Rendon, Matt den Dekker and Pedro Severino. Those guys come to mind because they have short compact swings. It seems they do everything the right way. The ball just jumps off the bat. It's been a joy to help those guys.
MLB.com: It's looking like you are having fun.
Jones: That's the only thing I know how to do. It could be worse. I could be at an office job with a stack of papers in front of me. I get to work with an MVP and some of the best players in the game on one team. I work every day. It's fun for me to be out here and be a part of it.
MLB.com: What is it like working with hitting coach Rick Schu?
Jones: Schu doesn't have an ego, which is important. It's awesome because he lets me coach. As long as we are communicating about what we are doing with everybody, he doesn't feel like I'm stepping on his toes. If I want to tell somebody something or talk to somebody about anything, that's great.
Bill Ladson is a reporter for MLB.com and writes an MLBlog, All Nats All the Time. He also can be found on Twitter @WashingNats. This story was not subject to the approval of Major League Baseball or its clubs.