Crafty Lobstein strong against former club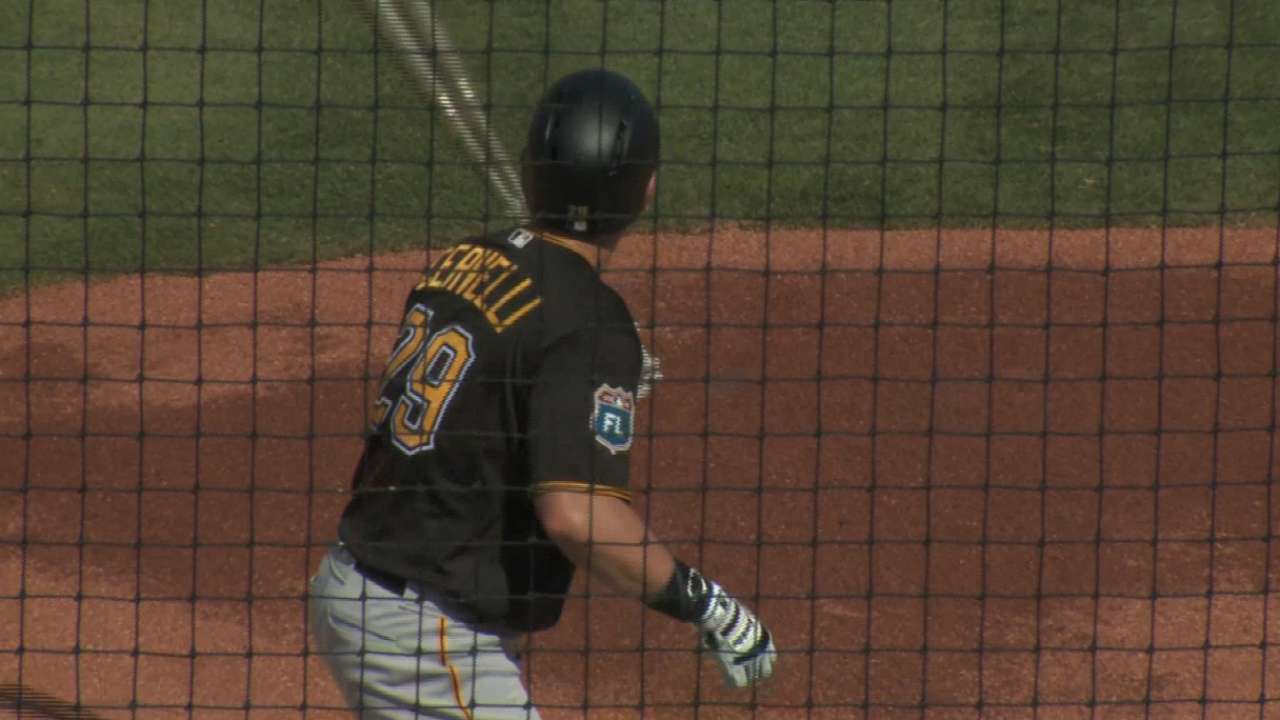 LAKELAND, Fla. -- Kyle Lobstein is still settling in with the Pirates. He's still getting used to working with catcher Francisco Cervelli and pitching coach Ray Searage. And he's still stretching out his arm, getting used to being back in a game situation.
Still, when you're staring down Miguel Cabrera, Victor Martinez and J.D. Martinez, as Lobstein did in the Pirates' Grapefruit League opener on Tuesday, there's not a lot of time to get comfortable.
Spring Training: Tickets | Schedule | Information
Despite all of that, Lobstein handled his first Pirates assignment well. The left-hander allowed two walks and a hit but held his former Tigers teamamates scoreless over two innings in Pittsburgh's 4-2 win at Joker Marchant Stadium.
"Definitely felt some adrenaline going up there, but honestly, it was a lot of fun," Lobstein said. "I felt like we were playing in the backyard as 10-year-olds. Obviously, I know a lot of guys from Detroit, so seeing those guys, you have a lot of memories together, so you just go out there and have fun with it."
Lobstein, 26, is competing for a spot in the Pirates' bullpen this spring. He already has a spot on the 40-man roster, which works to his advantage. He also has Minor League options remaining, so he could be sent to Triple-A Indianapolis and serve as rotation depth if someone gets hurt.
This early in camp, Lobstein isn't necessarily worried about making an impression with his performance.
"It's definitely something that I've had to work on over these last few years, even my first year in professional baseball," Lobstein said. "You still have to realize that there's stuff you need to work on. Trust the process and trust your stuff."
Lobstein bounced back and forth between Detroit and Triple-A Toledo in 2014 and '15. His Major League numbers aren't particularly impressive, as he's gone 4-10 with a 5.33 ERA in 20 appearances. He worked mostly as a starter in the Minors, putting together a 52-51 record and 3.83 ERA.
Lobstein hasn't heard much about what the Pirates want to see out of him, so on Tuesday, he focused on throwing strikes and attacking the zone. Lobstein threw 21 of his 40 pitches for strikes, but his ability to work around the corners of the strike zone impressed catcher Francisco Cervelli.
"That's the way he pitches," Cervelli said. "He's not the kind of guy who's going to give you 95 [mph], but he knows how to pitch."
In the first inning, Lobstein issued back-to-back walks to Justin Upton and Cabrera then induced a 5-4-3 double play off the bat of Victor Martinez.
"It's a tough assignment, first time you get the ball here and you go out and pitch against your ex-teammates -- just how we drew it up," manager Clint Hurdle said. "He kept them off the plate, which is always a good thing. They have a good lineup, and he got to face that one today."
Adam Berry is a reporter for MLB.com. Follow him on Twitter at @adamdberry. This story was not subject to the approval of Major League Baseball or its clubs.