For Bucs hitters in spring, every pitch counts
Hurdle hopes aggressive approach pays dividends once season begins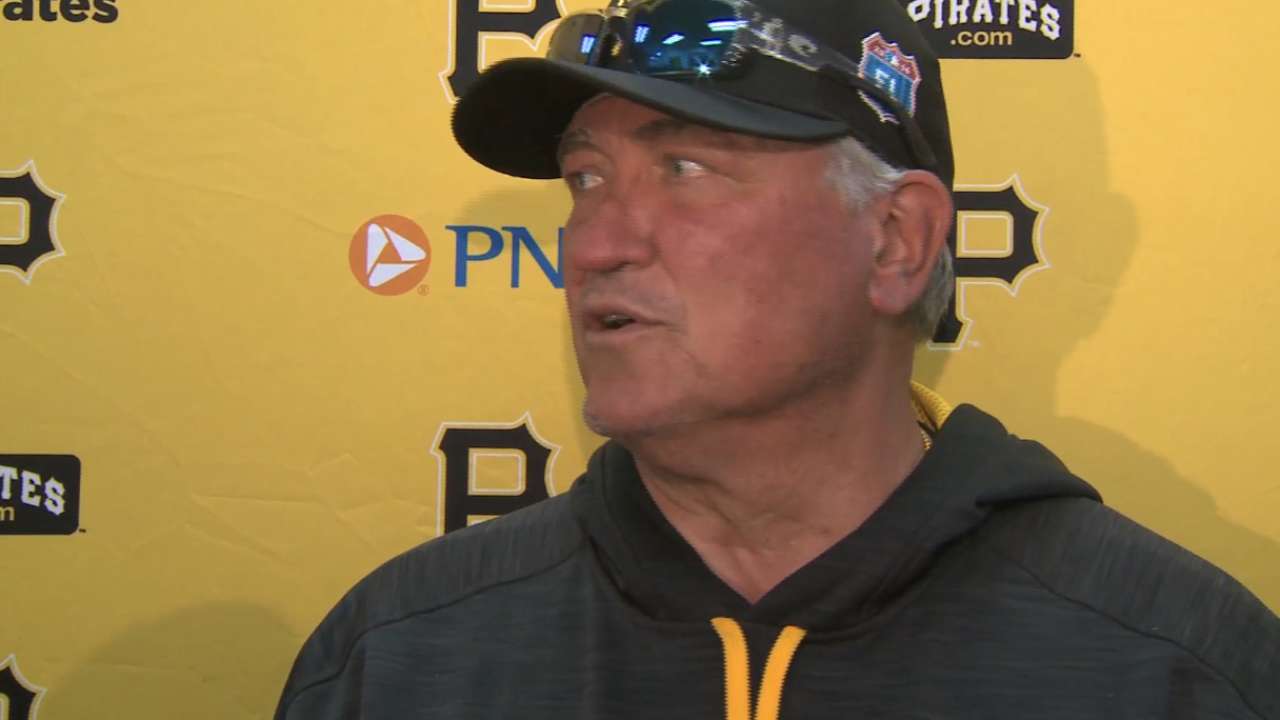 LAKELAND, Fla. -- Over the winter, Pirates officials brainstormed ways to avoid another team-wide slow start at the plate. They talked about it with their players and coaches, searching for ideas.
One idea manifested itself throughout the Pirates' intrasquad scrimmage on Monday and carried over into their Grapefruit League opener, a 4-2 win over the Tigers on Tuesday at Joker Marchant Stadium. The Pirates are taking their offensive approach seriously in these Spring Training exhibitions.
Spring Training: Tickets | Schedule | Information
"The games will be about competing, not so much about finding a feel or getting the timing," manager Clint Hurdle said. "All that work will be done early. When we go into the game, we're going to go compete."
To that end, the Pirates have executed five hit-and-run plays over the last two days, Hurdle said. They've swung aggressively at pitches in the strike zone and laid off anything too high or low. When they've seen pitches to hit, they've made solid contact.
In Monday's Black and Gold game, that was apparent in the number of hits up the middle or to the opposite field. On Tuesday, catcher Francisco Cervelli and shortstop Jordy Mercer each homered in a hitter's count.
"It was a good first day in a lot of different areas. The games will tell us more, give us more feedback moving forward," Hurdle said. "Time will tell, but we've got a plan."
Mercer ripped a 2-0 pitch to left-center in the sixth inning. In his first at-bat of the spring, Cervelli crushed a 3-2 pitch from left-hander Matt Boyd onto the berm beyond the left-field fence.
"I was lucky, man," Cervelli said. "Just swing the bat, and then the ball's gone. That's it."
Around the horn
• Right-handed reliever Neftali Feliz made a good first impression, pitching a 1-2-3 fifth inning with one strikeout in his first outing of the spring. The Pirates signed Feliz, once a shutdown closer for the Rangers, to a one-year, $3.9 million deal this offseason.
• Right-hander Trey Haley also looked good in his Pirates debut, striking out two in a perfect eighth inning. Pittsburgh signed Haley, 25, as a Major League free agent this winter despite his limited experience (18 appearances) above the Double-A level in the Indians system.
Adam Berry is a reporter for MLB.com. Follow him on Twitter at @adamdberry. This story was not subject to the approval of Major League Baseball or its clubs.