MLB.com Columnist
Fred Zinkie
Recalibrating the fantasy closer market
Chapman drops down to second tier; Miller now elite April option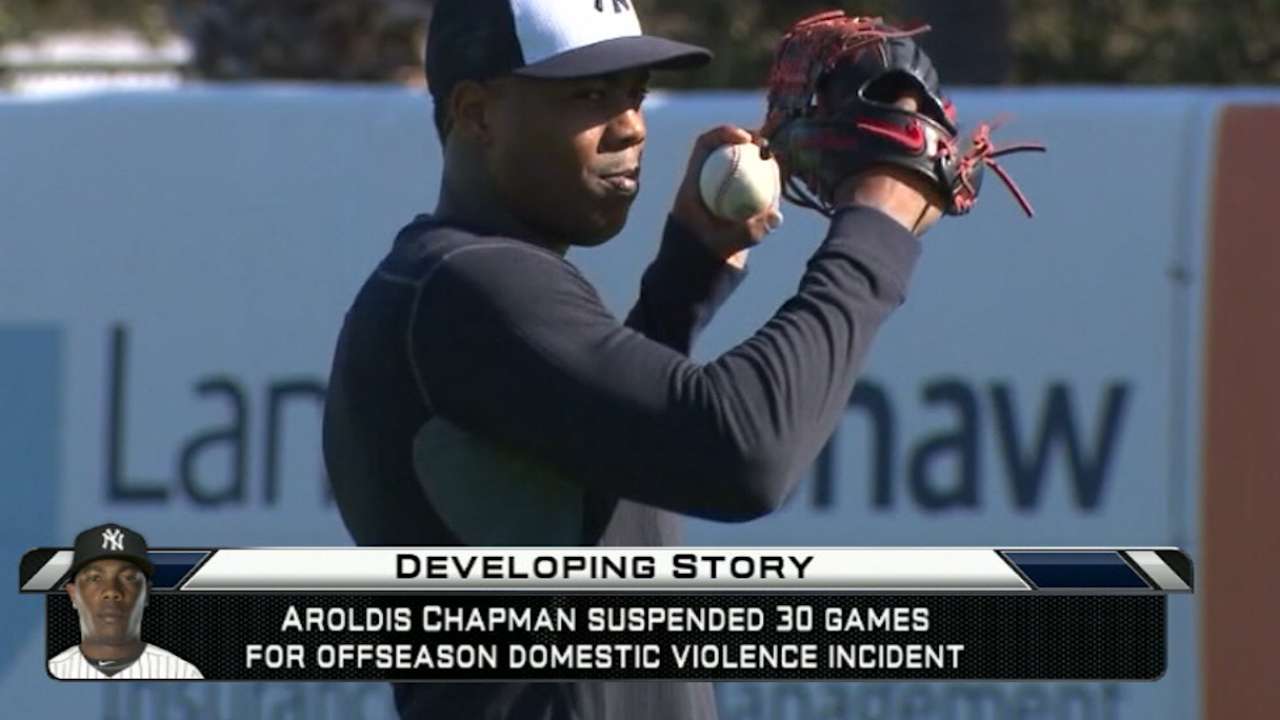 On Tuesday, Yankees closer Aroldis Chapman was suspended for 30 regular-season games by Major League Baseball under its domestic violence policy. He will not appeal the penalty.
Although the scope of this move touches well beyond the realm of fantasy baseball, MLB.com's fantasy department took a look at the implications to owners drafting this month.
Chapman fantasy value
Chapman is traditionally a top-tier closer who is ranked No. 1 at the position by some fantasy owners, but a 30-game absence knocks him down to the second tier. Chapman simply cannot compete with the likes of Craig Kimbrel and Wade Davis if he finishes the season with 30-35 saves. Granted, the southpaw still ranks among the top-10 fantasy options at his position because he should post elite ratios and strike out roughly 80 batters. His final ranking should be similar to that of Mark Melancon, Trevor Rosenthal or Brad Boxberger, who each should compile more saves than Chapman but will not help owners as much in the ERA and WHIP departments.
Other Yankees relievers' fantasy value
Chapman's suspension increases the value of Andrew Miller, who could record 8-10 saves in the early going. Because he can be a top-tier closer for 30 games and a stellar setup man thereafter, Miller should be drafted in all leagues. The suspension could also have a small impact on Dellin Betances, who may log a heavy workload during the initial 30 games while the club deals with depleted bullpen depth.
Overall closer landscape
The Chapman suspension will surely shake up the draft-day closer market. With one fewer option in the top tier, Davis, Kimbrel and Kenley Jansen may have increased price tags. Those three relievers should come off the board by the end of the sixth round in most standard-league drafts. Meanwhile, the addition of Miller to the closer pool gives owners an additional late-round choice.
Miller may be a preferable option to unstable closers such as Steve Cishek and J.J. Hoover, who both could deliver poor ratios and lose their ninth-inning roles by the middle of the season. Because Miller adds to an already-plentiful list of late-round options, owners who wish to start the season with three closers should be willing to wait until the late rounds to nab their third stopper.
Fred Zinkie is the lead fantasy baseball writer for MLB.com. Follow him on Twitter at @FredZinkieMLB. Zachary Finkelstein is an editor at MLB.com. Follow him at @Fantasy411. This story was not subject to the approval of Major League Baseball or its clubs.