MLB.com Columnist
Barry M. Bloom
Anderson: Depth can help fill void left by Greinke
Dodgers' entire rotation must contribute to negate righty's departure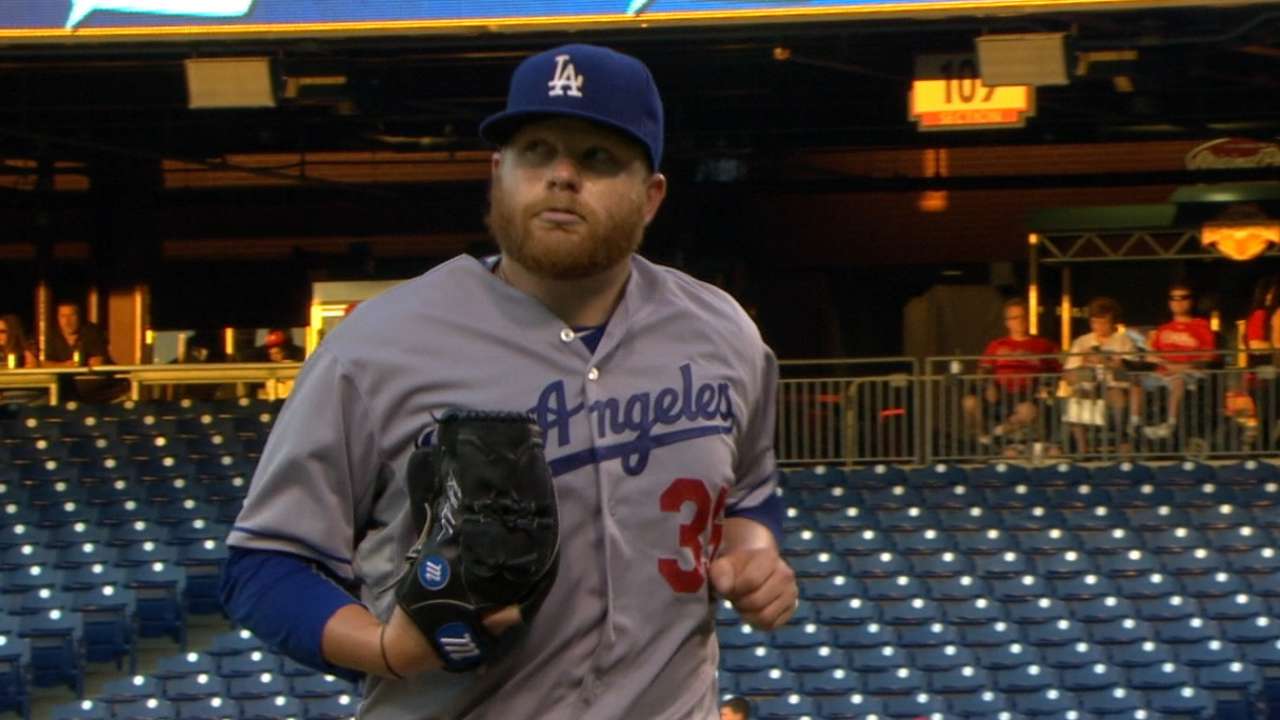 GLENDALE, Ariz. -- The Dodgers know they have a big hole to fill behind Clayton Kershaw in their starting rotation, with the departure of Zack Greinke to the D-backs as a free agent this past December.
And it's going to take more than one guy to fill it, postured Brett Anderson, the veteran left-hander, who is certainly one of those guys, himself.
Anderson ensured he would be a Dodger by accepting a $15.8 million qualifying offer in November. In doing so, rather than testing free agency, Anderson said he was "just betting on myself again."
• Spring Training: Tickets | Ballpark | 40-man roster | NRIs
"I had that stigma of a bad track record of being hurt, which is understandable," he said. "I was able to make all my starts last year. Hopefully, I'll do it again. The free-agent class [of pitchers] for next offseason isn't great. Hopefully I'll set myself up, whether it be here or somewhere else.
"It was one of those things where I didn't want to have it be this time [of year] and not have a job and I was sitting at home without me playing somewhere and not having that chance. I just got that all out of the way, and it worked out for me."
To his point, Anderson made 31 starts for the Dodgers last year, was 10-9 with a 3.69 ERA, and finally remained healthy for an entire season -- the first time since 2009, his first season in the big leagues.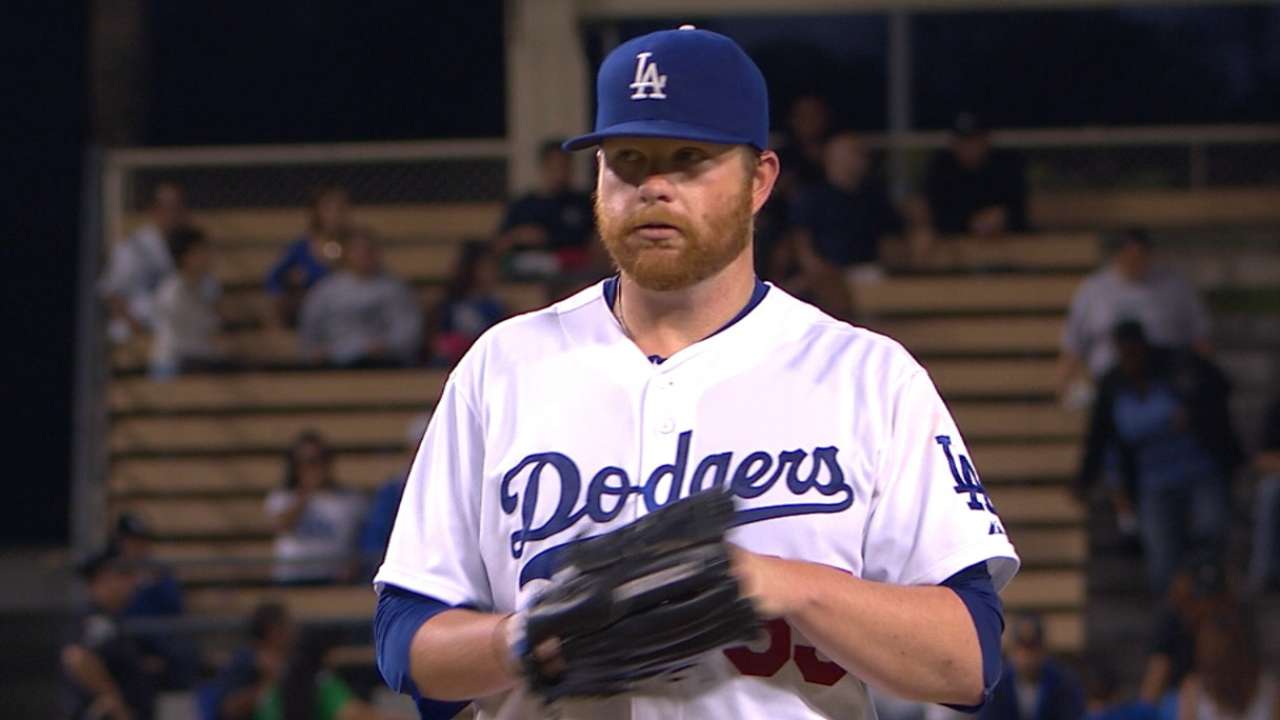 Anderson's litany of past injuries includes a broken left index finger and lower back surgery that limited him to eight starts with the Rockies in 2014. In '13 with the A's, he missed four months because of a stress fracture in his right foot.
There, of course, was the small matter of Tommy John surgery on Anderson's left elbow. He missed most of 2010, '11 and '12 in Oakland because of elbow problems and the subsequent surgery. When Anderson returned after his Tommy John rehab, he strained his right oblique and missed the rest of the '12 season.
Anderson, an ancient 28 now, was on full display Tuesday at Camelback Ranch, throwing 36 pitches with no issues in his first batting-practice session of the spring after four bullpen sessions.
Anderson will certainly be in the starting rotation, Dodgers manager Dave Roberts said. It's Kershaw, Anderson, newcomers Scott Kazmir and Japanese star Kenta Maeda -- but not necessarily in the order. Returnee Alex Wood, obtained in a trade with the Braves last July, is a possibility for the fifth spot.
• Maeda unleashes four-pitch mix in BP session
Hyun-Jin Ryu, rehabbing from left shoulder surgery, won't be ready until at least May. Brandon McCarthy, who had Tommy John surgery last April, won't be available until after the All-Star break at the earliest.
Asked who he had in mind for the No. 2 spot, replacing Greinke's 19-3 record and historic 1.66 ERA last season, Roberts said, "We haven't made that decision yet."
Regardless of who gets the call, Anderson is pretty sure the Dodgers aren't going to to be able to replace Greinke, per se.
"Last year, watching him every five days was unbelievable," Anderson said. "He had one of the best ERAs since Bob Gibson. Anytime he gave up a run you were dumbstruck. 'Hey, what's happening? He gave up a run! He doesn't usually do that.' You go into the offseason thinking he's going to sign back, but the D-backs put out an offer he couldn't refuse. They went all in.
"You can't replace him with one guy, essentially, and that's where our depth comes in. Hopefully the two, three four guys we've got can add up to be one Zack Greinke, and then some."
The rotation, as it stands, is decidedly left-handed without Greinke. The Dodgers are pondering trotting out four southpaws: Kershaw, Anderson, Kazmir and Wood. Only Maeda is right-handed. Roberts said he has no idea right now how he's going to space them out or where Anderson winds up in the mix.
"I'm of the mind that every game's different and every pitcher is different," Roberts said. "Even though they're left-handed, every left-handed pitcher has different characteristics. As a former position player and hitter, they may throw with the same arm, but I know lefties are all different. I'm not concerned about it. We want to put the best five pitchers out there."
As it stands, Anderson is one of those five best pitchers, when healthy. Because of all the injuries, he's made only 112 starts and thrown 674 1/3 innings.
That means there should be a lot of pitches remaining in that surgically repaired left arm.
"Lefties have to stick together, which is nice," Anderson said. "If you're good, you're going to get outs either way, no matter who else is on your staff and what hand he throws with and all that stuff. But I'm excited to be part of a lefty-dominated rotation."
Barry M. Bloom is a national reporter for MLB.com and writes an MLBlog, Boomskie on Baseball. Follow @boomskie on Twitter. This story was not subject to the approval of Major League Baseball or its clubs.