Spring opener preview: Hughes on hill
Veteran righty for start of Twins' Grapefruit League season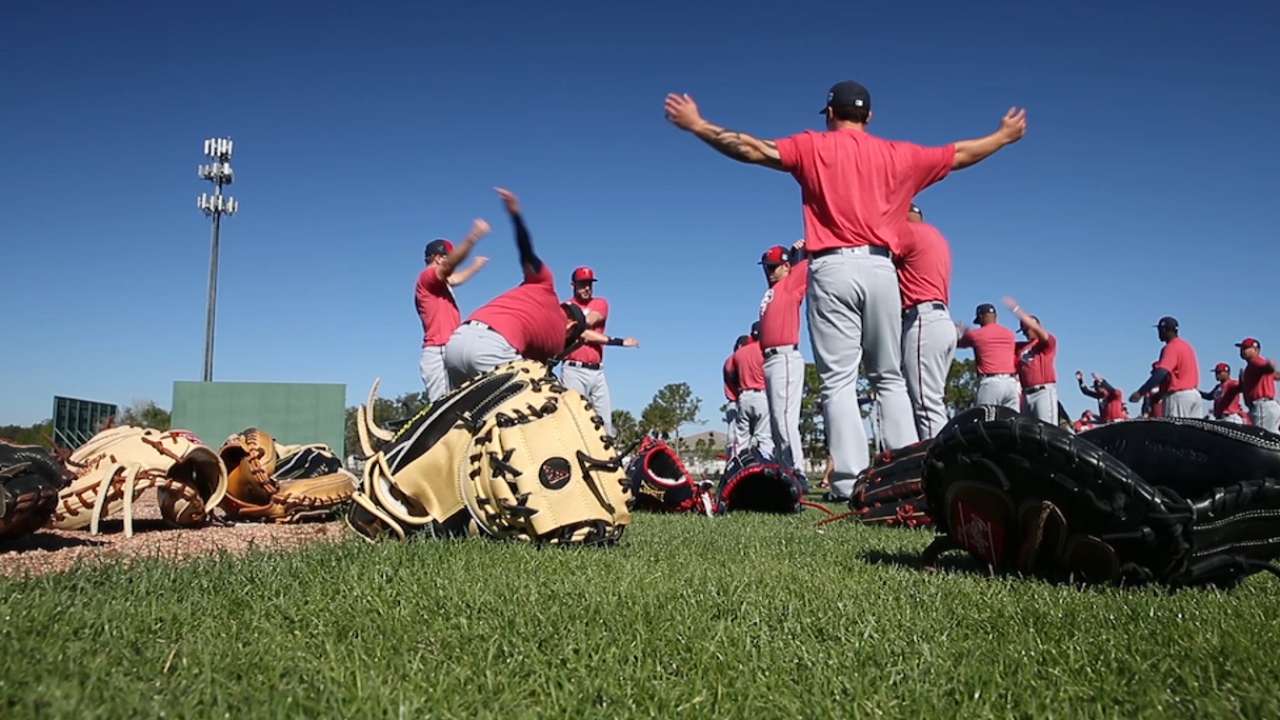 FORT MYERS, Fla. -- After 10 days of official workouts, the Twins are ready for their Grapefruit League opener on Wednesday against the Red Sox at JetBlue Park.
Right-hander Phil Hughes gets the nod opposite Boston lefty Henry Owens, and Hughes said he can't believe it's already time for the first game of Spring Training.
• Spring Training: Schedule | Tickets | More info
"I feel it gets shorter and shorter every year," said Hughes, a nine-year veteran who started on Opening Day for the Twins in 2015. "For some reason, I remembered throwing more bullpens and live BPs before my game, but now it's two 'pens, one live BP and go get 'em. [Pitching coach] Neil [Allen] asked me yesterday if I was ready, and I just said, 'I guess we'll find out.' But I'm excited."
Hughes, who lost roughly 15 pounds this offseason after altering his diet, threw his live bullpen session on Saturday, and said it went well. He said the key to his first outing, which will be limited to two innings, is to establish his fastball.
"I'll throw everything, but I think fastballs are important this time of year," Hughes said. "It's hard to build arm strength with offspeed. I'll throw a lot of fastballs, but it's a competitive game so I'm not going go out there and not mix in everything."
Hughes, though, won't have many regulars behind him, as Twins manager Paul Molitor said he'll wait until the home opener on Thursday night against Boston to use first baseman Joe Mauer, second baseman Brian Dozier, third baseman Trevor Plouffe, shortstop Eduardo Escobar, catcher Kurt Suzuki and left fielder Eddie Rosario.
Instead, he'll roll out a lineup that includes a mix of several top prospects and youngsters such as center fielder Byron Buxton, right fielder Miguel Sano and catcher John Ryan Murphy. It'll also be the debut for Korean slugger Byung Ho Park, who will serve as designated hitter. Buxton will lead things off and will be followed in the lineup by third baseman Eduardo Nunez, first baseman Kennys Vargas, Sano, left fielder Oswaldo Arcia, Park, second baseman Jorge Polanco, Murphy and shortstop Wilfredo Tovar.
Hughes will also be piggybacked by right-hander Trevor May, who is one of four players competing for the final spot in the rotation along with veterans Tommy Milone and Ricky Nolasco and top prospect Jose Berrios.
Molitor said he's excited to see how the Twins look in their first game, as he believes they accomplished what they wanted in their 10 days of workouts.
"It's not a lot of time, four days for your full squad," Molitor said. "As you observe, you kind of make mental notes of what needs to be brought back out in fundamental situations, particularly home games where we have time to do those things. I think the foundation has been laid. It's gone pretty well. The new pitchers, the young kids, kind of understand I think the program."
Rhett Bollinger is a reporter for MLB.com. Read his blog, Bollinger Beat, follow him on Twitter @RhettBollinger and listen to his podcast. This story was not subject to the approval of Major League Baseball or its clubs.