Inbox: How will the pitching staff shake out?
Rockies fans ask about prospects, Tulowitzki's comments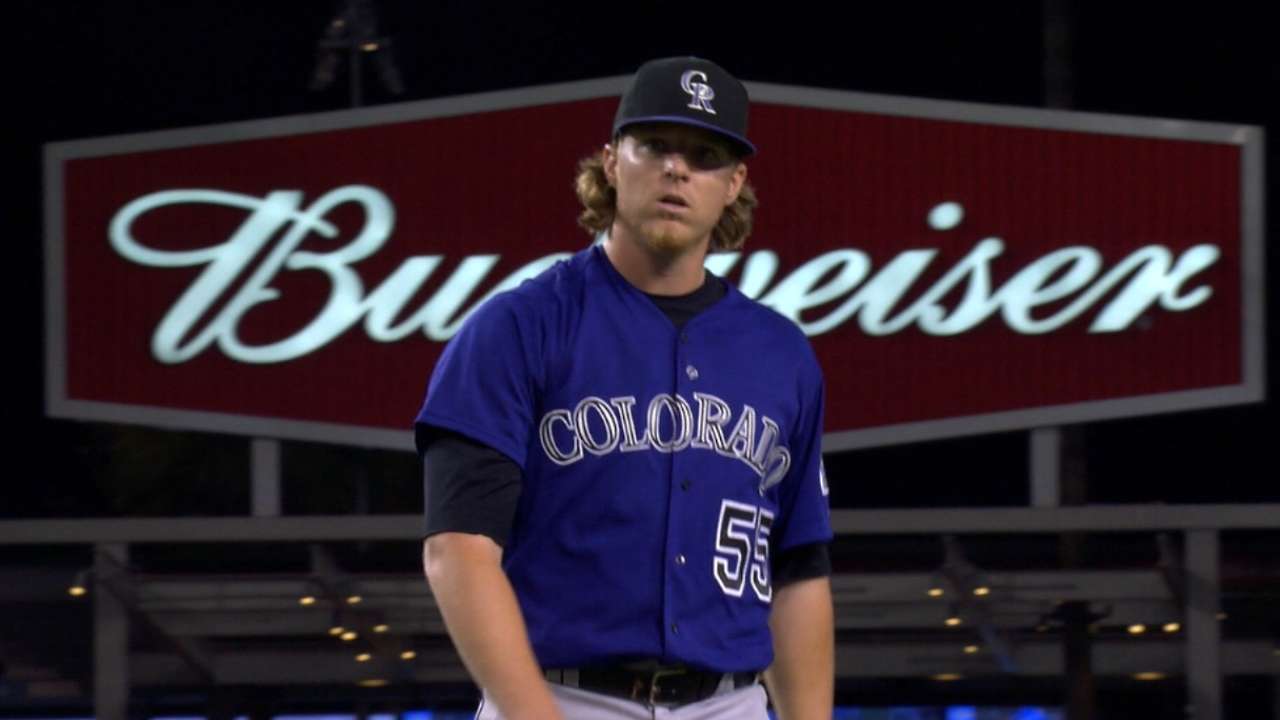 SCOTTSDALE, Ariz. -- With the first Spring Training game set for Wednesday against the D-backs, the answers will come soon enough.
But let's have fun with your questions:
@harding_at_mlb What is your preseason pitching rotation and bullpen? Or is it too early to tell

— Clark Massick (@cmassick) March 1, 2016
Of course it's too early, but when has that stopped us?
I'll start with the starter we want to know about, righty Jon Gray, who will enter in the second inning Wednesday after reliever Scott Oberg starts (for work against a Major League lineup, rather than at game's end). It's all there for Gray, ranked as the Rockies' No. 2 prospect by MLBPipeline.com.
The Rockies demonstrated their desire to see Gray begin what they hope is a career at the front of the Rockies' rotation by not pursuing a veteran through free agency or trading for experience. If he isn't "the man" already, the Rockies want to at least see him move toward it.
Gray will likely pitch at the back of the rotation, with lefty Jorge De La Rosa and righties Chad Bettis, Tyler Chatwood and Jordan Lyles also part of the order. The difficult question is lefty Chris Rusin, who is out of Minor League options. He gave the Rockies some of their best games last year and will be looking to wrest a job in the starting five. He also has bullpen experience.
The bullpen looks to be Boone Logan early and Jake McGee late from the left, and Jason Motte, Chad Qualls and Christian Bergman as the best bets from the right. That leaves four jobs in an eight-man bullpen, with Jairo Diaz, Justin Miller and Oberg as logical candidates for three. The power arm of Miguel Castro, also part of the Troy Tulowitzki trade, makes sense, or it could be a starter such as Rusin.
• Submit a question to the Rockies Inbox
@harding_at_mlb Of all the pitching prospects, who do you think will make their major league debut first this year?

— Jason Merillat (@Sponge_bubba67) March 1, 2016
Righty Jeff Hoffman was a candidate for the Blue Jays to call him up last year, either to be active or to do his work around a team in the playoff race. So he was on the Major League radar before being dealt for Tulowitzki.
I'm interested in lefty Tyler Anderson, a top pick in 2011. He was well on his way in 2014 before a stress fracture in the left elbow. He spent the early part of the offseason rehabbing with Chatwood and Lyles and is healthy in this camp. And the experience at the end of last season in the Arizona Fall League could trim the development time for lefty Kyle Freeland. So that's three.
Another starter who could move quickly is righty Antonio Senzatela. He finished last year in Class A so maybe it would be a stretch to expect him this year, but he throws with power and is on the 40-man Major League roster.
And since folks are still talking about this issue, I'll put two questions together:
@harding_at_mlb I don't understand all the venom directed at Tulo. What are your thoughts?

— david pierce (@nafsocnorb) March 1, 2016
@harding_at_mlb Is the Tulo situation (also Ubaldo, the team's losing) hurting the Rockies' chances of keeping guys like Arenado long term?

— Jeff Dillon (@dillonwithlife) March 1, 2016
Always go back to the contract. If a player wants inclusion in trade talks, he must simply negotiate a no-trade clause. Tulowitzki has one now. It activated as soon as he was traded; that way, the contract says he has to be informed and approve it, the way Reds second baseman Brandon Phillips blocked a deal to the Nationals.
I can't see this affecting the team's ability to sign players long term. If players want to control their futures, they need to negotiate those controls into the contract. Without contractual control, the player is at the mercy of his club and the club trying to negotiate the deal. If being involved in that is important to the player, the no-trade clause is the way.
Thomas Harding is a reporter for MLB.com. Follow him on Twitter @harding_at_mlb, listen to podcasts and like his Facebook page. This story was not subject to the approval of Major League Baseball or its clubs.