Barney makes good impression on Blue Jays
Infielder logs 5 RBIs in his Grapefruit League debut against Phillies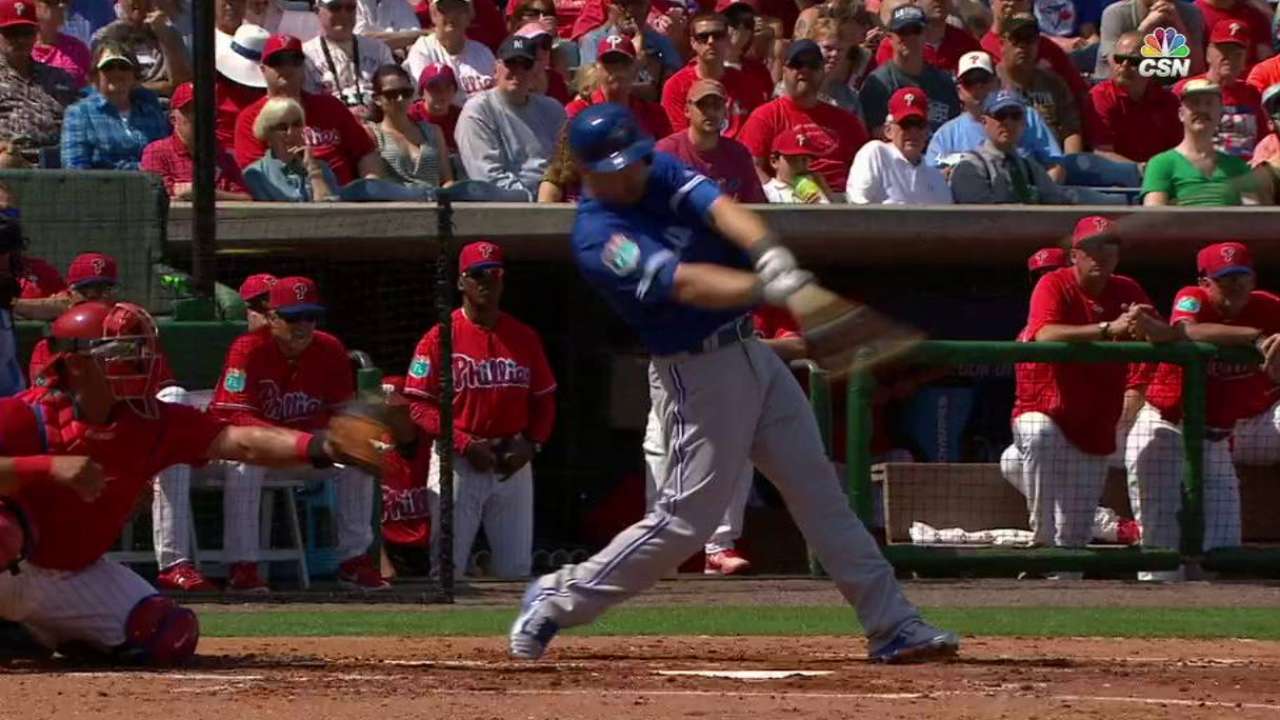 CLEARWATER, Fla. -- Darwin Barney got a little taste of what it was like to be a member of the Blue Jays late last season and it left him wanting more.
Barney was acquired in a trade with the Dodgers last September, but because of the timing, he was not eligible for the postseason. When Toronto went on to the American League Division Series, Barney was forced to go home as his offseason began in the midst of a memorable run.
The 30-year-old became a free agent several weeks later, but he didn't take long to sign a one-year deal worth $1.05 million. Barney now has a clear path to begin the season as Toronto's utility infielder and potential platoon partner with second baseman Ryan Goins.
• Stroman all systems go after spring debut
"It was hard, especially when you feel like you were a part of something," Barney said of having to step away at the end of the regular season. "I probably had a better seat than most at home watching on my TV. But it was a good experience, it was good to get to know the guys and get to become a part of what they're trying to do here. I was more than happy to come back."
Barney didn't waste time making a strong first impression as he went 3-for-3 with a pair of two-run doubles and an RBI single for five RBIs in a 5-3 win over the Phillies. There will obviously be some bumps along the way, but it was an encouraging sign for a player who has a lot to prove after being relegated to the Minor Leagues most of last season.
The offensive production was nice, but more than anything else the Blue Jays are interested in his defense. The veteran infielder is known as one of the better defenders in the game after being named the Wilson Defensive Player of the Year at second base in back-to-back seasons with the Cubs from 2012-13.
• Spring Training: Tickets | Schedule | More Info
Barney initially thought he would have an opportunity to showcase those skills last year with the Dodgers, but after just two games, he was sent to the Minors and never returned. It wasn't until the late-season acquisition by Toronto that he received a second chance, and although his time there was brief, he showed enough with the glove and with seven hits in 23 at-bats.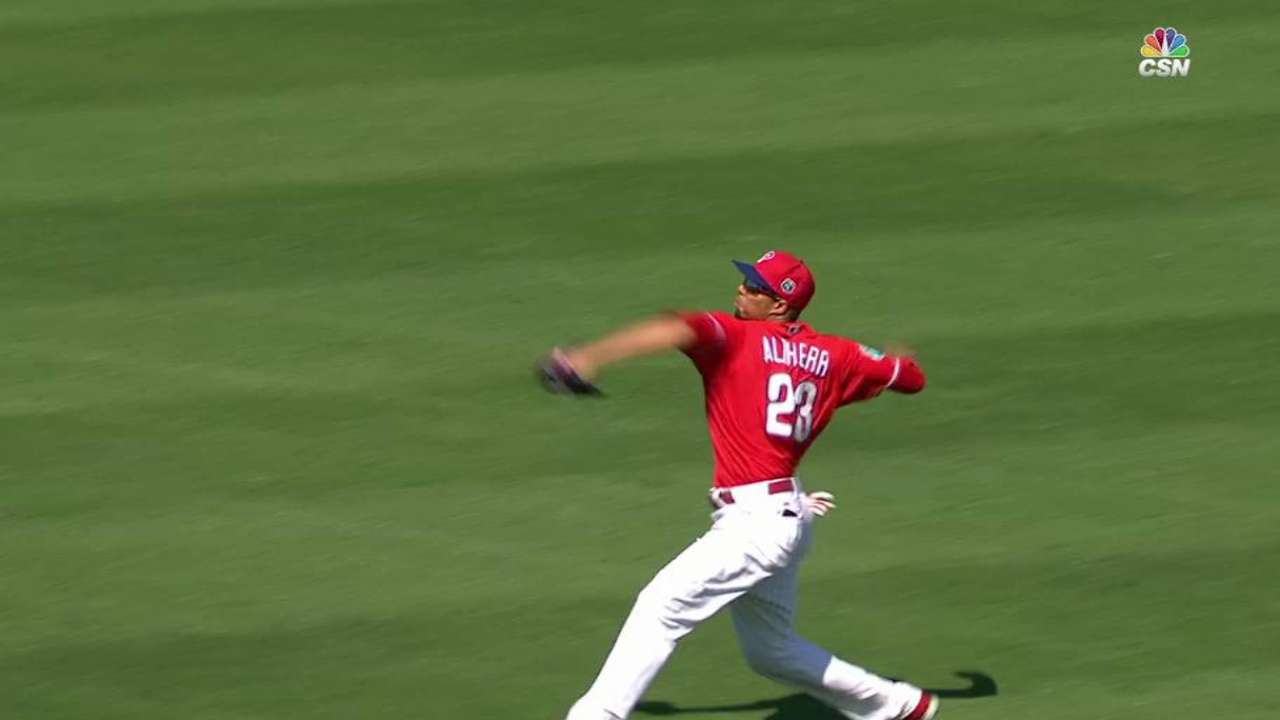 "He made a great impression on us," manager John Gibbons said. "We were really disappointed he wasn't eligible for the playoffs because there was a chance he could help us there, but we got him a little too late. Just an old pro, a great glove man, and I really liked how he swung the bat. He was really better than I anticipated. But those guys that catch the ball and win you games with the glove, you'll take whatever offense you can get."
This spring, Barney intends on making sure he doesn't take anything for granted. A utility role is likely, but there is still some uncertainty about the future and what will happen when Devon Travis eventually returns from shoulder surgery at some point in May or June.
Toronto won't have room for Goins, Travis and Barney on the roster at the same time, but there are a few different scenarios that could play out. Goins could be optioned to the Minors, Barney could be moved elsewhere, and there's always a possibility that Travis won't recover as soon as hoped. Those decisions won't need to be made for quite some time and a lot can happen between now and then, so for now, Barney will focus on what stands in front of him.
"You have to earn it," said Barney, who is a career .246 hitter with a .294 on-base percentage. "This team is top to bottom very talented. I'm coming out every day and just trying to get my work in and be ready to go. I need to earn everything that is given to you here. Baseball doesn't owe any of us anything so that's kind of the mentality not only for me, but for everybody in the clubhouse right now."
Gregor Chisholm is a reporter for MLB.com. Read his blog, North of the Border, follow him on Twitter @gregorMLB and Facebook, and listen to his podcast. This story was not subject to the approval of Major League Baseball or its clubs.