MLB.com Columnist
Lyle Spencer
Desmond can follow Gordon's example
Former Nationals shortstop will play outfield for Rangers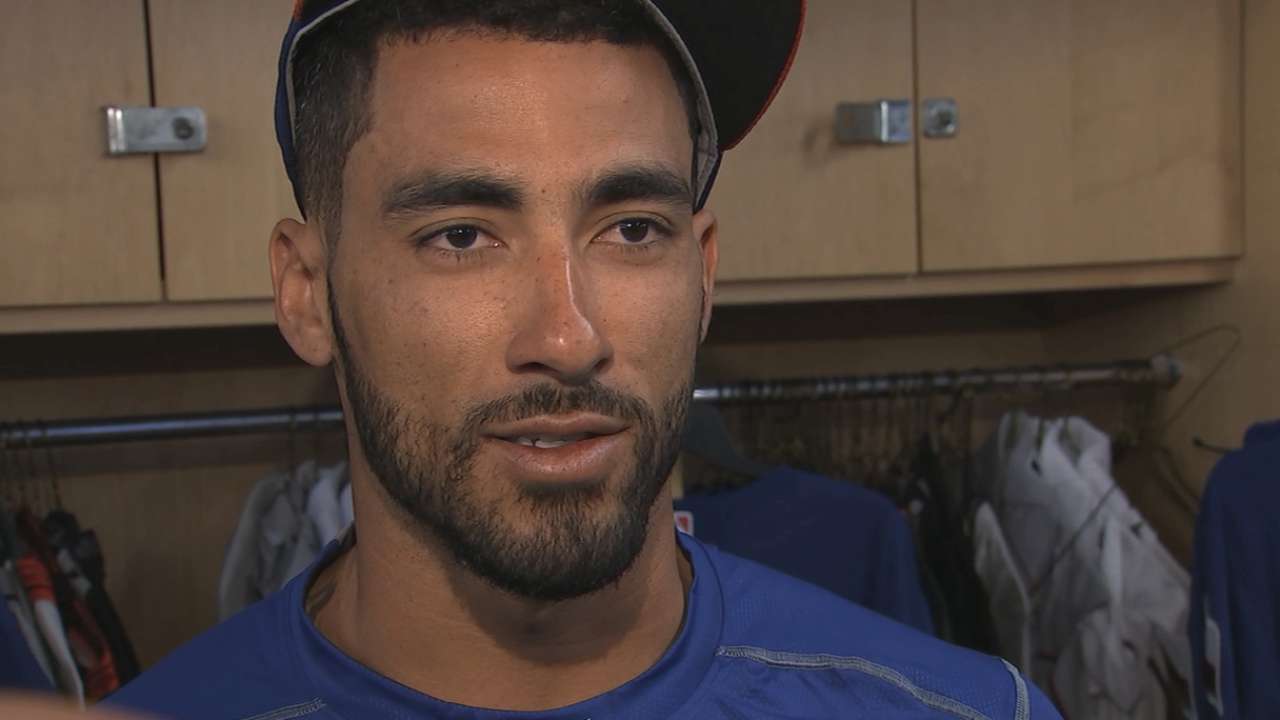 If Ian Desmond would like insight into the potentially transforming impact of a move from the infield to the outfield, all he needs to do is stroll over from the Rangers' clubhouse at Surprise Stadium in Arizona to the left-field clubhouse housing the reigning World Series champion Royals.
There, Desmond will find Alex Gordon, who in 2011 morphed from a light-hitting third baseman into the most consistently productive left fielder in Major League Baseball. Gordon has been a force in the Royals' drives to the past two Fall Classics, and the fan base is thrilled he's back in Kansas City after testing free agency.
• Spring: Tickets | Ballpark | 40-man roster | NRIs
Desmond, like Gordon, is a superb athlete with the skill set to make the transition from shortstop to left field. With Adrian Beltre, Elvis Andrus, Rougned Odor and Jurickson Profar handling second, third and shortstop, the Rangers plan to play Desmond in left after reaching a free-agent agreement with the former Nationals star.
Desmond will be playing alongside a center fielder, Delino DeShields, who successfully made the move from second base to the outfield in 2014 with Double-A Corpus Christi in the Texas League.
Desmond is 30 and coming off his most disappointing season in Washington. After claiming three straight National League Silver Slugger Awards at shortstop with 20/20 seasons, he fell to 19 homers and 13 steals last year, batting .233. A flurry of early-season errors left Desmond's fielding percentage at a substandard .960. He has played two games in the outfield in the Majors and two in the Minors.
Gordon, at 27 in 2011, was at a career crossroads. He had played only 10 games for the Royals at third base in 2010, making four errors while putting together a .215/.315/.355 slash line. The previous season, Gordon committed 10 errors in 49 games.
The move to left in 2011 was pure magic. Gordon earned the first of his four consecutive AL Gold Glove Awards that year, and his bat surged to life with a .303/.376/.502 line. Eased of the burden of being compared to the incomparable George Brett, the second overall Draft pick in 2005 out of the University of Nebraska took flight.
Over these past five seasons, Gordon has been the gold standard with the glove while finding his niche as a versatile offensive player. He has a .248 career batting average and .744 OPS as a third baseman, .279/.804 as a left fielder.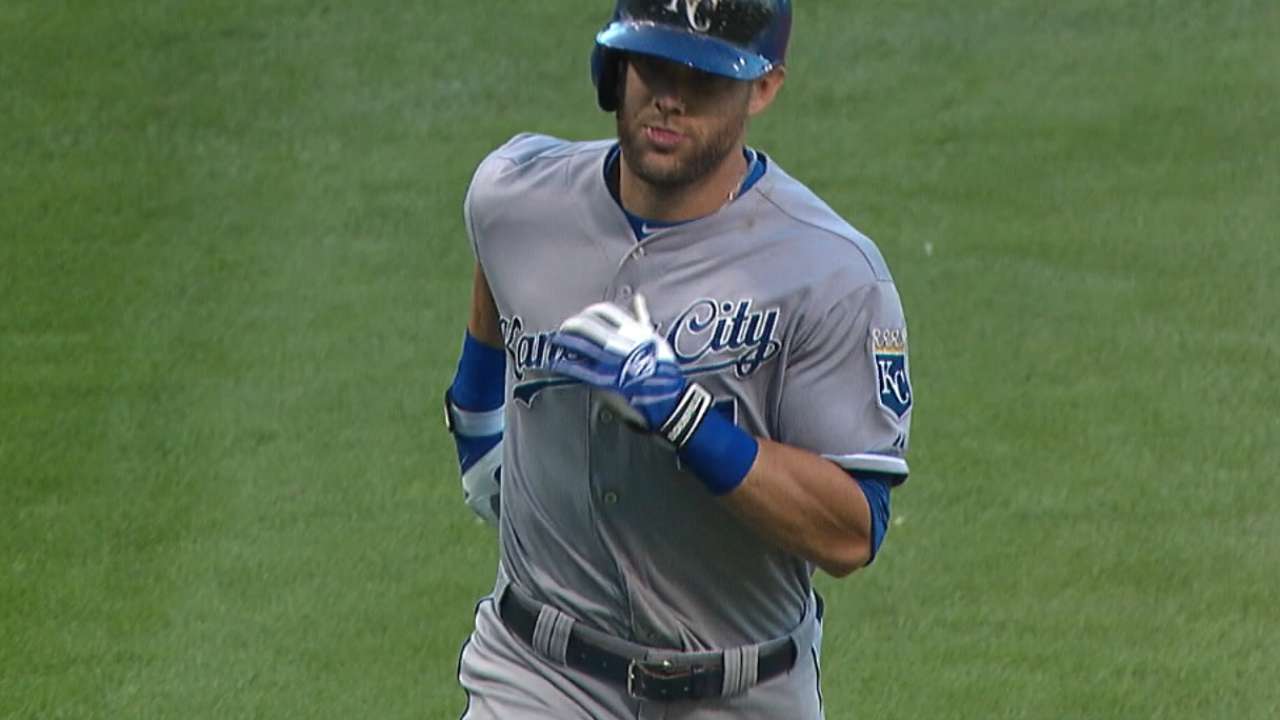 Desmond, in this new challenge, could not find a better role model. If he needs a pep talk on embracing change as opportunity, Gordon is right there, within walking distance.
Of less recent vintage is the Hall of Fame story of Robin Yount. Making his Major League debut as a shortstop in Milwaukee at 18 in 1974, Yount stayed there for a decade. He won an AL Gold Glove Award in '82, along with his AL Most Valuable Player Award, driving the AL champion Brewers with his league-best .957 OPS.
An established All-Star and among the game's elite players, Yount made the move to the outfield in 1985, at 29. The second half of his career as a center fielder was just as brilliant as the first half. Yount claimed his second AL MVP Award in 1989. He had a .753 OPS and .284 average as a shortstop, .793 and .287 as a center fielder.
Another Hall of Fame player with a fascinating history is Craig Biggio.
The Astros moved the versatile athlete from catcher to the outfield to second base and, finally, back to center field at age 37. Biggio's four Gold Glove Awards from 1994-97 came at second base, but he was a quality center fielder as well. His offensive numbers are slightly better as an infielder when he was in his physical prime.
Reaching deeper into history, two of the greatest players to grace the sport flourished after being liberated from middle-infield positions in the Minor Leagues.
Mickey Mantle made more than 100 errors in 184 games in 1949-50 in the Yankees' system before they decided he'd make a better center fielder than a shortstop.
Henry Aaron was an error-prone second baseman -- 35 errors in 135 games for Class A Jacksonville -- when the Braves converted him into an outfielder in 1954. He returned to second for 27 big league games in '55, but Milwaukee saw his future in right. The Braves couldn't have been more right about the man who eclipsed Babe Ruth's home run record.
Carl Yastrzemski was signed as a shortstop. After one season, he was moved to left field in 1960, groomed as Ted Williams' replacement. Yastrzemski took over in left as a rookie in '61, and the rest is Hall of Fame history.
The most durable infield in Major League history was the unit of Ron Cey, Bill Russell, Davey Lopes and Steve Garvey from third to first. Their eight-year run began on a full-time basis in 1974.
Russell and Lopes had started their professional careers as center fielders before the Dodgers moved them to the middle infield in a familiar procedure they called "coconut snatching." They finished their careers back in the outfield, showing at their advanced ages they still could run balls down in the gaps.
Lyle Spencer is a columnist for MLB.com. Follow him on Twitter @LyleMSpencer. This story was not subject to the approval of Major League Baseball or its clubs.