MLB.com Columnist
Jonathan Mayo
Breaking down the Pirates' 2016 Top 30 Prospects
Pittsburgh ranks No. 8 among all farm systems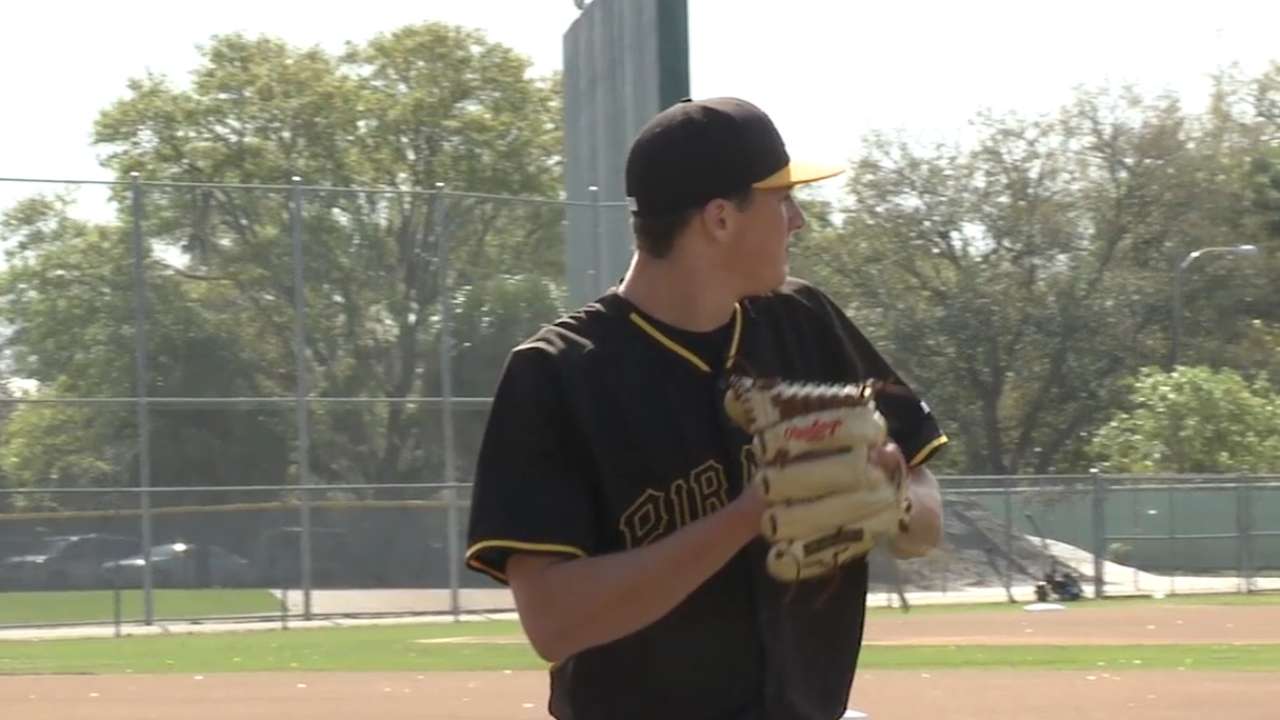 For teams like the Pittsburgh Pirates, operating with smaller payrolls, it's essential to have a strong farm system to have any chance of being competitive on an annual basis. And clearly, the front office gets that message loud and clear.
Putting aside any criticisms of the one-and-done Wild Card Game system for a moment, the fact the Pirates have made it to the postseason three years in a row and won more games than any other franchise except the St. Louis Cardinals in that time span is a testament to that pipeline funneling players to Pittsburgh.
• Pirates' 2016 Top 30 Prospects list
A year ago, the Pirates came in at No. 4 on MLB.com's Top 10 farm systems list. This year, they rank eighth on MLBPipeline.com's rankings of the Top 10 farm systems in baseball, a drop caused more by other teams'improvements rather than failures within this organization. It's a good balance with the team's five Top 100 prospects consisting of three hitters and two pitchers, with others on the cusp of being Top 100-worthy waiting in the wings.
The Pirates have used the Draft well, with 20 of their new Top 30 coming from the domestic amateur market. Seven came from the international amateur market, with the organization continuing to take high-ceiling young talent in both cases. A wave of that talent is just about ready to make a contribution in Pittsburgh, but there's depth here to keep things going even as the team has picked lower in the Draft because of its success.
Top 30 Prospects lists
Division
Teams/Release date
NL East
ATL, MIA, NYM, PHI, WAS
AL East
BAL, BOS, NYY, TB, TOR
NL Central
CHC, CIN, MIL, PIT, STL
AL Central
CLE, CWS, DET, KC, MIN
NL West
ARI, COL, LAD, SD, SF
AL West
HOU, LAA, OAK, SEA, TEX
Biggest jump/fall
Here are the players whose ranks changed the most from the 2015 preseason list to the 2016 preseason list.
Jump: Yeudy Garcia (2015: NR | 2016: 18)
Fall: Trey Supak (2015: 12 | 2016: NR)
Best tools
Players are graded on a 20-80 scouting scale for future tools -- 20-30 is well below average, 40 is below average, 50 is average, 60 is above average and 70-80 is well above average.
MLB's Top 10 farm systems
Hit: Josh Bell (60)
Power: Willy Garcia (55)
Run: Alen Hanson (60)
Arm: Garcia (70)
Defense: Reese McGuire (60)
Fastball: Tyler Glasnow (75)
Curveball: Glasnow (60)
Slider: Yeudy Garcia (50)
Changeup: Nick Kingham (55)
Control: Kingham (55)
How they were built
Draft: 20
International: 7
Trade: 3
Breakdown by ETA
2016: 11
2017: 6
2018: 7
2019: 5
2020: 1
Breakdown by position
C: 2
1B: 1
2B: 3
3B: 2
SS: 3
OF: 4
RHP: 13
LHP: 2
Jonathan Mayo is a reporter for MLBPipeline.com. Follow @JonathanMayo on Twitter.
This story was not subject to the approval of Major League Baseball or its clubs.