MLB.com Columnist
Phil Rogers
Park ready for next step of American adventure
Twins to remain patient as Korean slugger acclimates to MLB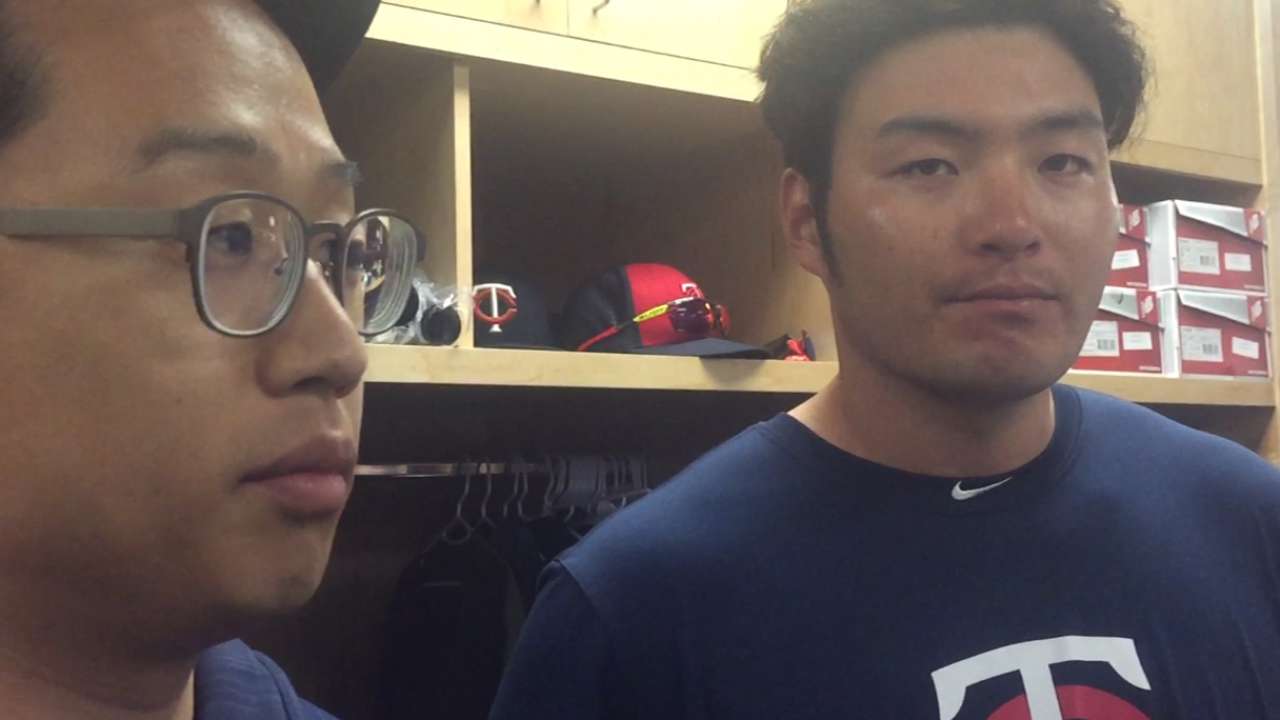 FORT MYERS, Fla. -- If there was a sign hanging around Byung Ho Park's neck, it would say "Handle With Care." That's not because the Twins' Korean import is especially needy but because of the massive impact he could have for a team already rich in homegrown talent.
Paul Molitor and everyone with the Twins wants to make sure they do everything to get the best out of Park, a two-time winner of the Korean Baseball Organization's Most Valuable Player Award. They scouted him for years before landing him through the posting system in early December.
General manager Terry Ryan says it's impossible to even speculate about Park's ceiling as a player. But it's fair to say he hopes that Park is hitting alongside Miguel Sano and Trevor Plouffe in the middle of the batting order by midseason.
"I've never seen him play a game," Ryan said. "But from everything I do know, the reports, the people who have seen him, he's got the ability to supply offense for us. He's got power. He's got the ability to put an at-bat together. He's athletic. We're certainly going to be patient.''
With good reason.
While the 29-year-old Park is sure to be greeted with skepticism from fans who are unfamiliar with him, his resume commands respect. He spent 2011-14 playing alongside Jung Ho Kang with the Nexen Heroes, and Park was watching closely when Kang made the jump to the big leagues with the Pirates last season.
"I've been always confident that he'd be successful," Park said through J.D. Kim, the translator who accompanied him from Korea. "He was a good player. I wasn't the only one who was happy to see him succeed in the big leagues. The whole Korean baseball [community] was happy. The time difference, you had to wake up early to watch those games. But lot of people woke up early to see him.''
Park and Kang combined to hit 92 home runs for Nexen two years ago, with 52 of them belonging to Park, who played first base. Kang's 2015 season ended early when the Cubs' Chris Coghlan broke his left leg with a hard slide on Sept. 17. He was hitting .287 with 15 home runs and an .816 OPS at the time.
Andrew McCutchen was the only Pirates players with a higher OPS (.889). Starling Marte (5.4 WAR) and McCutchen (4.9) were the only Bucs position players who produced a higher WAR than Kang's 4.0, according to Baseball Reference.
So much for skepticism.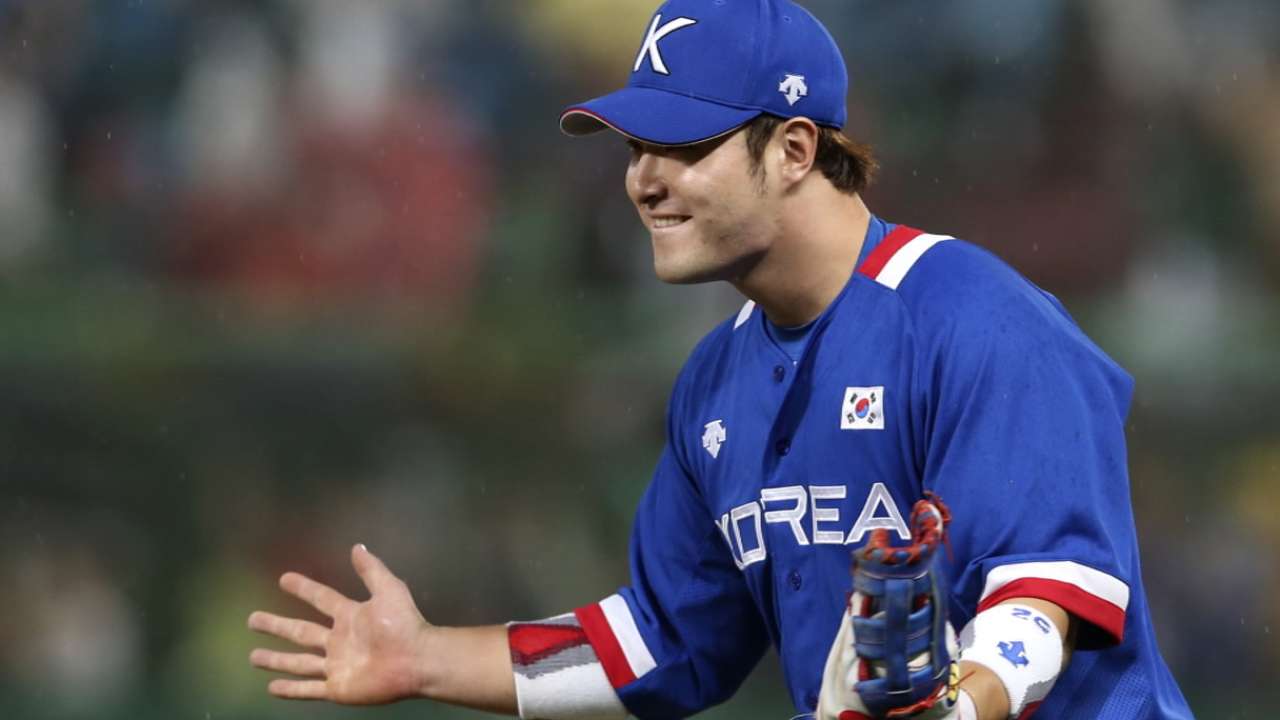 Now here's the fun part for the Twins and their fans.
Let's assume Park can make as successful of a transition as Kang, which would mean Park will arrive in the Major Leagues with about 90 percent of the production he had in Korea (Kang's OPS was .886 in nine seasons in the KBO).
Park, who outhomered Kang 210-139 in Korea, generated a .951 career OPS over his nine seasons there. Ninety percent of that would give him an .856 OPS as a Twins rookie. That's borderline All-Star level, and it would be a tremendous boost toward Minnesota returning to the postseason for the first time since 2010.
This is asking a lot, but Kang's success is on Park's side.
"Jung Ho and I played together for [four] years," Park said. "We were very close. His locker was right next to mine. When he got ready to come over here, I was lucky to be able to watch him prepare himself game-wise for making the transition. I was very lucky."
Shortly after the Twins invested $24.85 million between the posting fee and four-year contract for Park, Ryan and Molitor spent a lot of time on the phone with Pirates GM Neal Huntington and manager Clint Hurdle. They gathered the Bucs' officials insights into what helped make Kang comfortable last season and what they should expect with a player from a similar background.
Meanwhile Park was talking to Shin-Soo Choo, who signed with the Mariners when he was 18, and Kang. Park worked to acclimate himself to the United States before even joining Minnesota. He accompanied Nexen on its pre-Spring Training trip to Arizona. He worked out there in January and traveled to Florida about two weeks before camp opened, familiarizing himself with the facilities and his surroundings.
Aside from his translator Kim, Park traveled alone. His wife and children will join him in Minneapolis in April. He wanted to make sure that his full focus remained on baseball.
Park told Molitor early in camp that he's surprised there is so much laughter and small talk in the Twins' clubhouse, as the approach is more serious in Korea. It's probably a good thing he didn't sign with the Mets, as the Yoenis Cespedes transportation options would surely have perplexed him.
Taking batting practice, Park looks very much like a North American player. He is a stocky right-handed hitter (listed at 6-foot-1, 220 pounds). Park has ink running down his left arm, from the shirtsleeve down to the wrist, and Minnesota hitting coach Tom Brunansky says his swing looks Americanized.
The Twins assigned Park No. 52, perhaps dreaming one day he'll hit that many home runs in the Majors. But they are leaving projections and superlatives to others, at least for this season. Ryan said Park may have trouble adjusting to the velocity of North American pitchers in the early going, but Molitor said Minnesota sees nothing in his swing that demands immediate attention.
"His hitting's been fine," he said. "He's kind of got a little different style, but [he's] mechanically sound."
For Park, the adventure started a long time ago, but the challenge gets a little more real on Wednesday, when the Twins open Grapefruit League play against the Red Sox at JetBlue Park in Fort Myers, Fla.
Kang started slowly last spring before rallying to hit .200 with two home runs in 45 at-bats. He had 17 strikeouts. The Twins won't be surprised to see Park whiff even more, as he struck out 161 times with Nexen last season.
"It's very much like Kang," Ryan said. "When he came through here last spring, it was a little bit of a struggle. We saw him early. When he saw him in July, when they came through Target Field, he looked like a different guy. He made the transition. He was taking the at-bats. He was making the plays. They had him at short, which was maybe the biggest question mark -- where are you going to play him? Well, he did everything I think they were hoping for. That's exactly how we're going to take our approach with Park. I don't know what he's going to look like the first week, maybe even the first month."
They do know Park is as invested as they are in his becoming a major contributor. He's had little homesickness or anxiety since kissing his wife goodbye at the airport in Seoul.
"It wasn't as difficult as what everybody says it is," Park said. "I'm a ballplayer. This is where all the ballplayers in the world want to come to compete. It's simple as that. I'm here now, ready to start."
Phil Rogers is a columnist for MLB.com. This story was not subject to the approval of Major League Baseball or its clubs.