Popular Hatcher signs up for hot corner heat
Reds' former first-base coach not feeling pressure of third-base scrutiny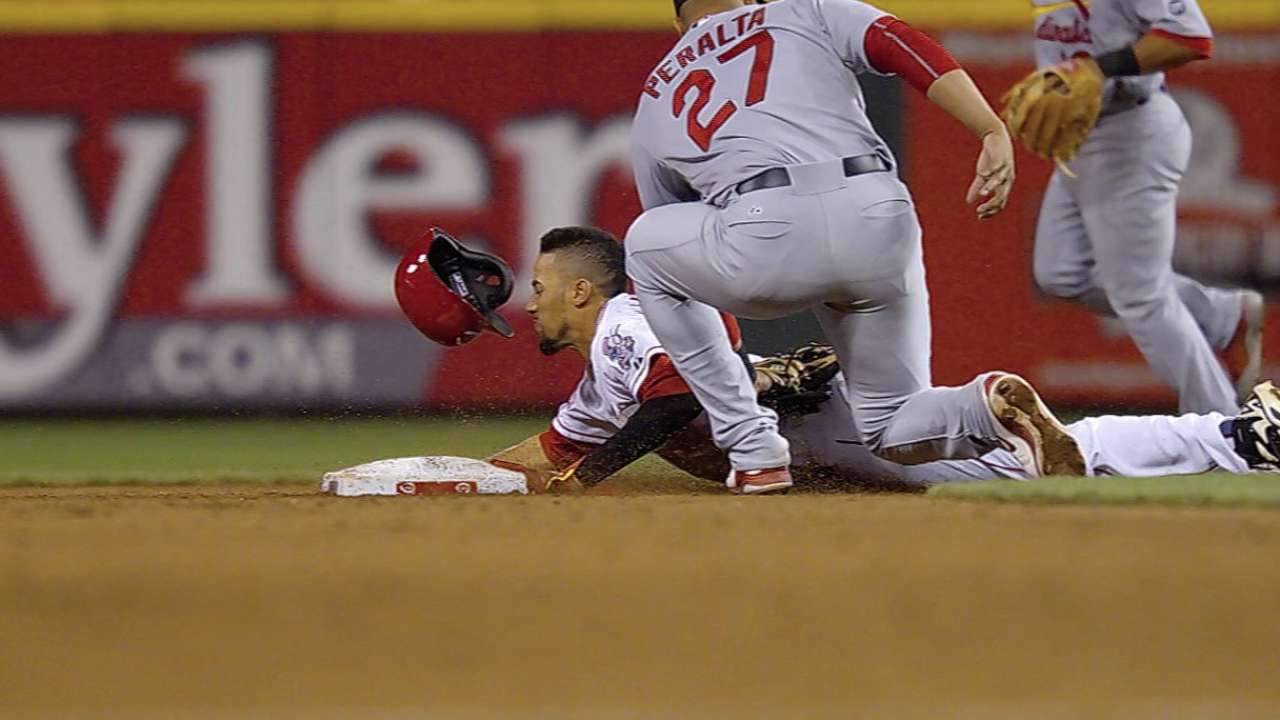 GOODYEAR, Ariz. -- Because of his contributions as a player for the 1990 World Series champion Reds, Billy Hatcher still receives hearty applause from fans decades later while serving as the team's first-base coach. Hatcher, who batted .519 in the '90 postseason and .750 in the four-game Fall Classic sweep of the A's, has spent the previous 10 seasons on the first-base line for Cincinnati.
Following offseason coaching changes, however, Hatcher shifted to become third-base coach this season. It was a role for which Hatcher volunteered.
"He deserved that opportunity to go to third base and do that job," Reds manager Bryan Price said. "It's really interesting. He's such a fan favorite. He has such a legacy in Cincinnati, and he's just invited himself to a world of judgement and criticism. Hey, you're doing this to yourself, buddy. You could have kept your mouth shut and stayed at first."
It didn't take long for the spotlight to shine on Hatcher. In the first inning of Tuesday's Cactus League opener against the Indians, Jake Cave singled, and on an ensuing double by Eugenio Suarez, Hatcher waved Cave around third and he was thrown out at home on a relay started by right fielder Lonnie Chisenhall.
Third-base coaches are largely anonymous to fans, until there is a mistake and a runner gets thrown out. From 2004-13, Reds third-base coach Mark Berry came under fire only when things went wrong -- which wasn't that often. Berry had to step down to battle throat cancer and was replaced in 2013 by bench coach Chris Speier, who also invited little controversy.
When Price became manager, Steve Smith took over as third-base coach and lasted one season before he was let go. The Reds led the Majors that season in runners thrown out at home plate on non-force plays, with many of them coming via decisions made by Smith. Jim Riggleman replaced Smith and carried on without controversy before being switched to bench coach for this season.
Hatcher, 55, isn't worried about the pressure or feeling like there is no room for error.
"It is room for error," replied Hatcher, who last coached at third base for the Devil Rays in 2000. "The players play the game. They're going to make some good plays and some bad plays. Being a third-base coach is a lot like playing poker. When you feel like the odds are in your favor, you chance it. When it's not, you hold them. That's how it is. If you have speed on your team, you don't have a lot of problems. When you have slower guys and you're searching for runs, then you're going to have a few problems. Sometimes you have to chance it."
Successful third-base coaches have to do more than just relay signs from the dugout to the hitter. It requires lots of background knowledge, including scouting reports on the opposition, and then using that information on the fly for what usually is a split-second decision whether or not to send a runner.
"You know the guys who can throw. But then you've got to see where they're positioning at," Hatcher said. "You have to know how hard the ball is hit. You've got to know the field. Some fields the grass is cut faster and it goes in there a lot faster. If it's cut slow, the ball is not going to get to them as quick.
"You take all those factors in, but the bottom line is you know that from playing in certain ballparks. If I have a Billy Hamilton, I don't care how hard the ball is hit or where it's hit. He's going to be going."
For more on Hatcher, listen to this week's MLB.com podcast.
Mark Sheldon is a reporter for MLB.com. Read his blog, Mark My Word, follow him on Twitter @m_sheldon and Facebook and listen to his podcast. This story was not subject to the approval of Major League Baseball or its clubs.