Pitching prospect duo turns in three scoreless
Wright, Wilson impress in Grapefruit opener vs. Braves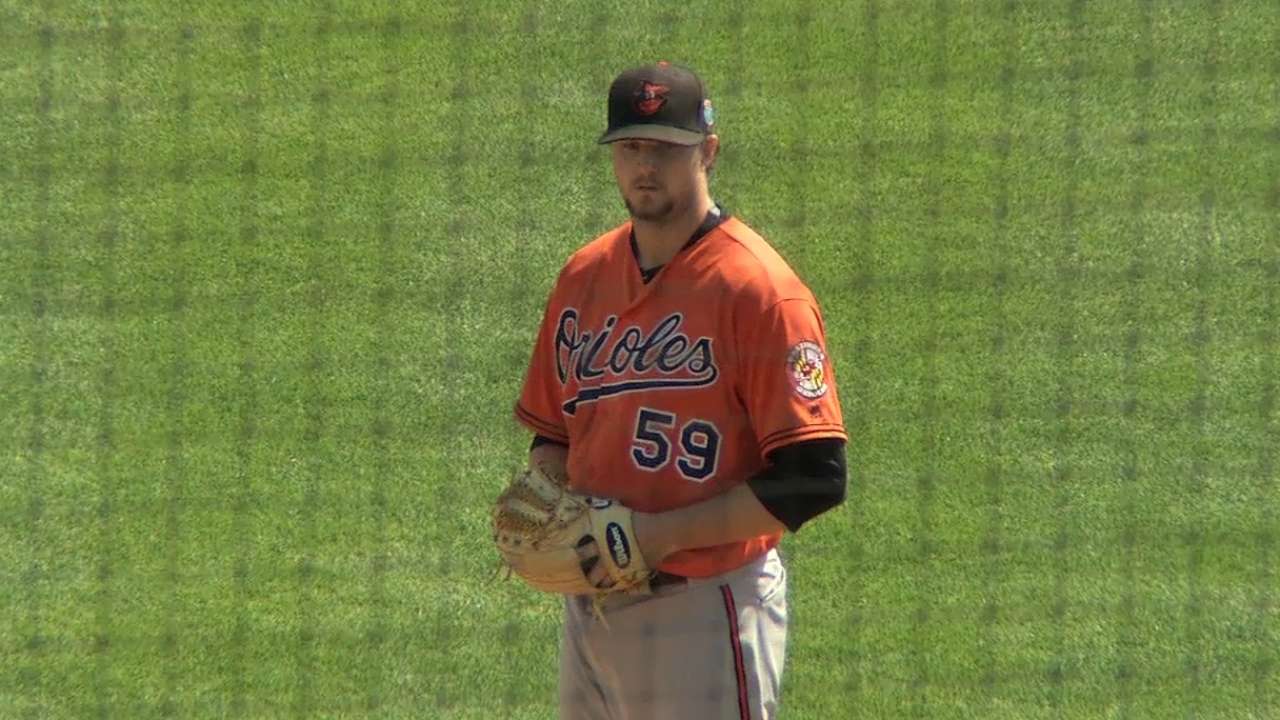 LAKE BUENA VISTA, Fla. -- Mike Wright and Tyler Wilson, the odd men out of the Orioles' rotation, will have their opportunities throughout the Grapefruit League to impress the Orioles, even if the rotation currently seems full after the Yovani Gallardo signing last week.
The Orioles' rotation includes Gallardo, Chris Tillman, Ubaldo Jimenez, Miguel Gonzalez and Kevin Gausman, but rarely does a club go through an entire season with just five starting pitchers. Wright and Wilson's latest auditions came in Baltimore's Grapefruit League opener Tuesday afternoon, and they combined for three scoreless innings and three strikeouts in the Orioles' 4-4 tie against the Braves.
No. 10-ranked Wright, who started the game, tossed a pair of scoreless innings, holding the Braves to one hit while striking out two.
"It's probably one of the best Spring Training games I think I've ever had," Wright said. "I feel really solid."
Spring Training: Tickets | Schedule | Ballpark
The Orioles plan to bring back Wilson, ranked No. 18, for a start this weekend, so he was limited to one inning Tuesday. He allowed a pair of hits, including a double by Erick Aybar, before he struck out Freddie Freeman to escape the jam.
"There's nothing like game experience," Wilson said. "You can throw as many bullpens as you want or train as much as you want in the offseason, but that type of competition, in the sense of competing and getting outs, is the most important type of reps that you can get."
Jamal Collier is a reporter for MLB.com. Follow him on Twitter at @jamalcollier. This story was not subject to the approval of Major League Baseball or its clubs.