Steverson on Garcia's hitting: 'It's up to him'
White Sox hoping right fielder comes into his own at plate in 2016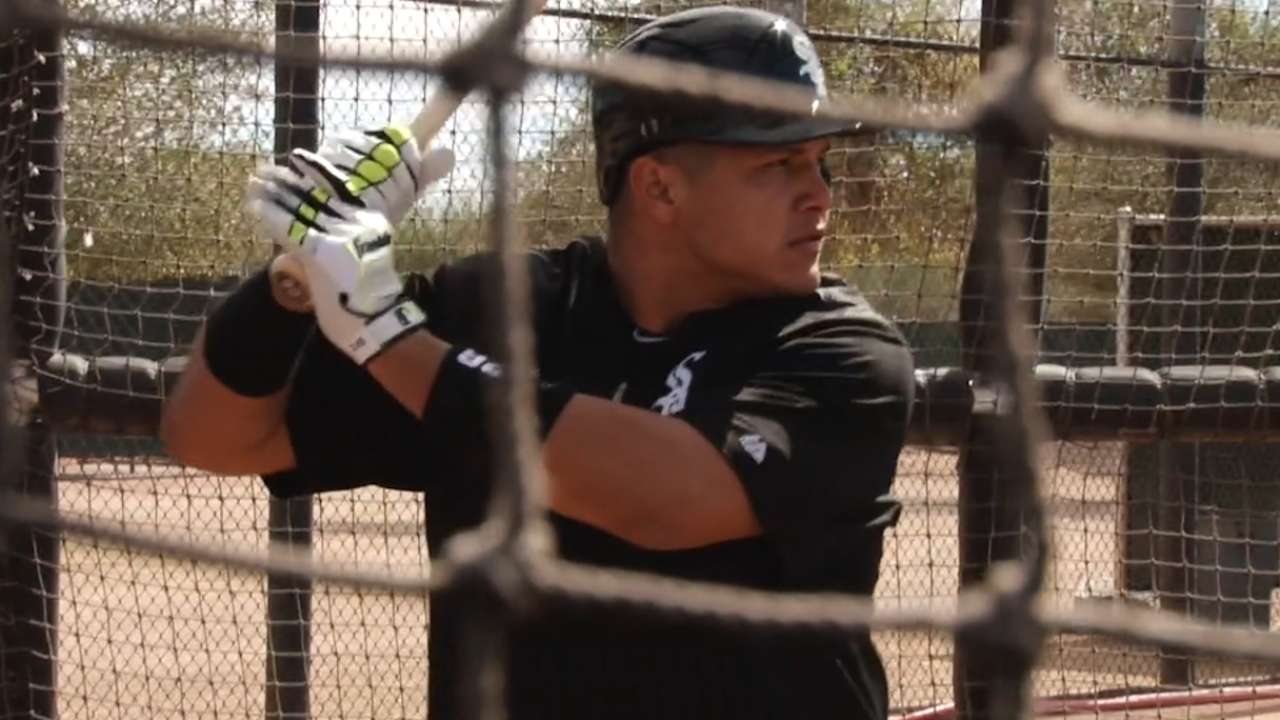 GLENDALE, Ariz. -- Nobody has been tougher on Avisail Garcia than White Sox hitting coach Todd Steverson.
Not even the fans on social media who pleaded for a change in right field during this past offseason.
• Spring Training: Schedule | Tickets | Gear
So Steverson's words about the 24-year-old should be taken as more than just a coach defending his much-maligned talent. Steverson understands that while Garcia has just 1,098 plate appearances over four seasons, 601 of them came in 2015, so there's no real history built up from back-to-back seasons of 500 or more appearances.
It's like getting seven hours of sleep in a night, but getting up every three hours for 30 or 40 minutes. There's no consistent rest involved.
"He has one full year of actually standing out there and being able to figure out who you are as a hitter," Steverson said of Garcia. "If he would have been able to have that whole season in 2014 together, and then last year, I think we would have a better understanding of what we are really looking at. I understand the scrutiny that some people have thrown on him because of the whole package. With all the numbers nowadays, people can read he swung and missed at this percent of the pitches and so on and so forth.
"If nobody was able to read any of those numbers, all they would look at is he hit .257 with 13 homers and almost 60 RBIs (in 2015)," Steverson said. "In a regular world, how many organizations wouldn't take that type of numbers from a 23-year-old? Not very many wouldn't."
Steverson readily admitted that anyone watching Garcia on a day-to-day basis knows he can get better. He also pointed out that this season doesn't necessarily have to be make or break for Garcia, with many hitters not fully maturing until 25 or 26 unless they are phenoms.
Maybe Garcia was slightly miscast in that category when he came to the White Sox in 2013, possibly because he was playing in the World Series for Detroit with fewer than 60 career regular season at-bats. At the very least, Garcia needs to figure out who he is as a hitter without being influenced by expectations.
.@FlavaFraz21 watches @AvisailGarcia. #SoxSpringTraining pic.twitter.com/Tl1TYFV7FL

- Chicago White Sox (@whitesox) March 1, 2016
"That's the biggest thing with Avi," Steverson said. "A lot of people have told him what to do or what he is, instead of him understanding who he is and being able to put that out on the table.
"We've given him all the help. We'll continue to help him. But the bottom line is, for a player to take it to the next level, he has to be ready. It's up to him. We can push and push and push, and you want him to understand what he's doing.
"The confusion level, when you are 6-foot-5 [roster says 6-4] and look like a beast out there, and people are like, 'Man, he has to hit homers.' And you don't truly know how to even lock down a certain approach at 21 or 22 years old," Steverson said. "Then it's kind of a mixed message. Hopefully for our sake and for his sake, it's starting to come together. If and when it does, it will be a nice look."
Garcia homered during Tuesday's Intrasquad action, taking a Brandon Brennan fastball middle in and driving it over the right-field fence. He's working on a new approach at the plate and refining his mental process.
"He's going to come in, because a lot of guys throw me in," Garcia said. "They want me to ground ball the other way, so I was looking for that pitch. I try to learn, learn, learn what I'm doing at home plate and be focused, trying to see the ball."
Scott Merkin is a reporter for MLB.com. Read his blog, Merk's Works, follow him on Twitter @scottmerkin, on Facebook and listen to his podcast. This story was not subject to the approval of Major League Baseball or its clubs.