LaRoche, Jones, Carroll visit Luke AFB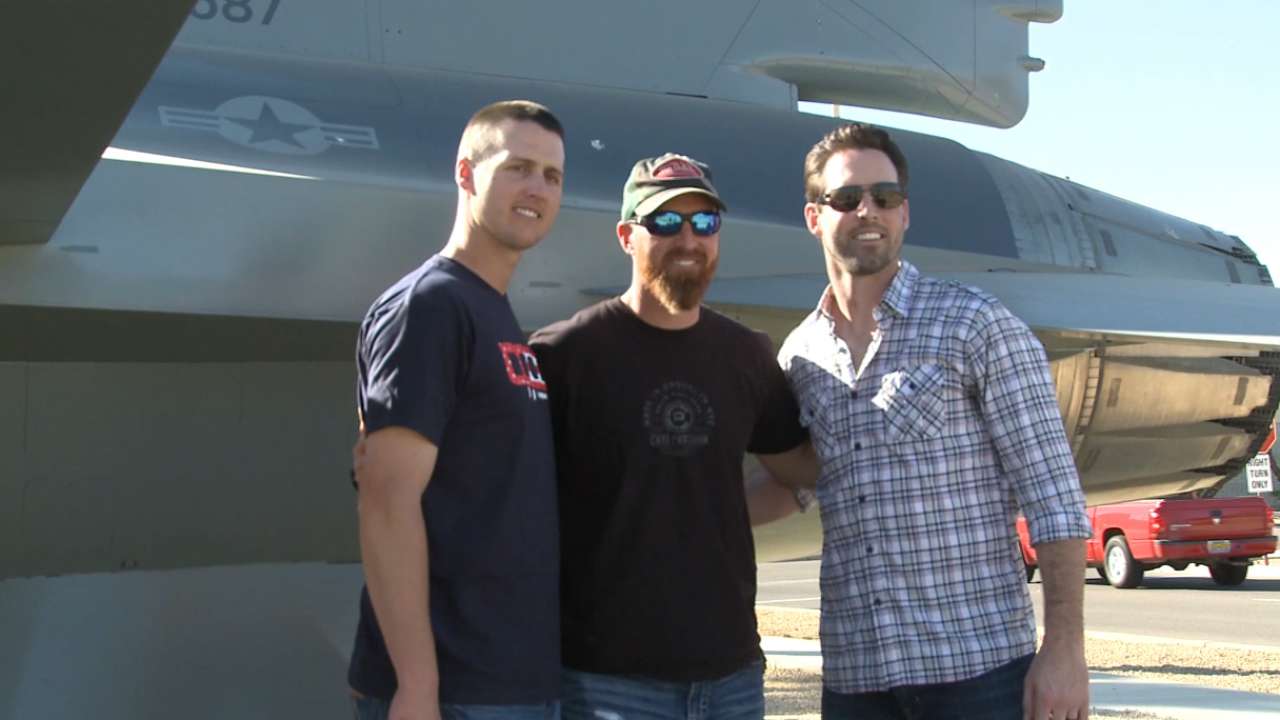 PHOENIX, Ariz. -- The men and women of Luke Air Force Base, home of the 56th Fighter Wing (as their Twitter handle @LukeAFB proclaims), really wanted to talk baseball when Adam LaRoche, Nate Jones and Scott Carroll visited following Monday's workout. Luke Air Force Base is only a short trip from the White Sox Camelback Ranch complex.
Those White Sox players, almost in awe of what they were seeing, had other topics of discussion in mind.
• Spring Training: Schedule | Tickets | Gear
"It has nothing to do with them or their questions or interests," said LaRoche of the visit. "We just want to soak in as much as we can. I'm sure they got sick of the 1,000 questions I was asking about all the aircraft in here and what they do."
"One of the pilots was talking about, 'I could talk baseball all day long,'" said Jones with a broad smile. "I could talk jets and airplanes all day long. It's pretty neat, but we are the ones that should be thankful for them. That's for sure. And they should feel that way, too."
As part of their two-hour trip to the training base, the White Sox contingent had the chance to see an F-35, with F-16s off in the distance. Pictures were restricted to a certain area, but the players were walked around an F-35 by a handful of pilots.
They also went to a munitions area, where bombs and missiles were housed. There was constant by-play and discussion the entire time between both sides, with the afternoon ending when LaRoche, Jones and Carroll met a group of men and women from Luke AFB who waited to see the players. They signed White Sox hats, took photos and exchanged stories.
Some of the guys stopped by @LukeAFB this afternoon for a visit. #SoxSpringTraining pic.twitter.com/tnZNcg8LnG

— Chicago White Sox (@whitesox) February 29, 2016
Sergeant Brett Williamson grew up in Arizona, but he was also a Braves fan because of his father. He followed LaRoche's career in Atlanta, and he had one primary question for the White Sox designated hitter.
"Is he going to Chipper's Hall of Fame induction?" said Williamson, who attended the inductions for John Smoltz, Greg Maddux, Tom Glavine and Bobby Cox in Cooperstown. "It's pretty nice to see that there's other people out there that are in the spotlight 24-7, and they are out here supporting us. That's always a plus."
Based on the quick friendships struck up on Monday, there could be more visits in the future between both sides.
"You look around and talk to everybody, and all I can say is 'Wow,'" Jones said. "All the equipment that is here, all the personnel here, both old and young, the soldiers that are here. It's something special."
"We look at them as superheroes, and I think they view us the same way. It's an interesting conversation there, of trying to get information out of each other," a smiling LaRoche said. "Just great to meet them, hear their story and let them know we are thinking of them and appreciate what they do, whether it's here on our home turf or getting to do it in another country."
Scott Merkin is a reporter for MLB.com. Read his blog, Merk's Works, follow him on Twitter @scottmerkin, on Facebook and listen to his podcast. This story was not subject to the approval of Major League Baseball or its clubs.