Fulmer, Frazier amped after intrasquad game
Top prospect throws 2 innings in prep for Saturday start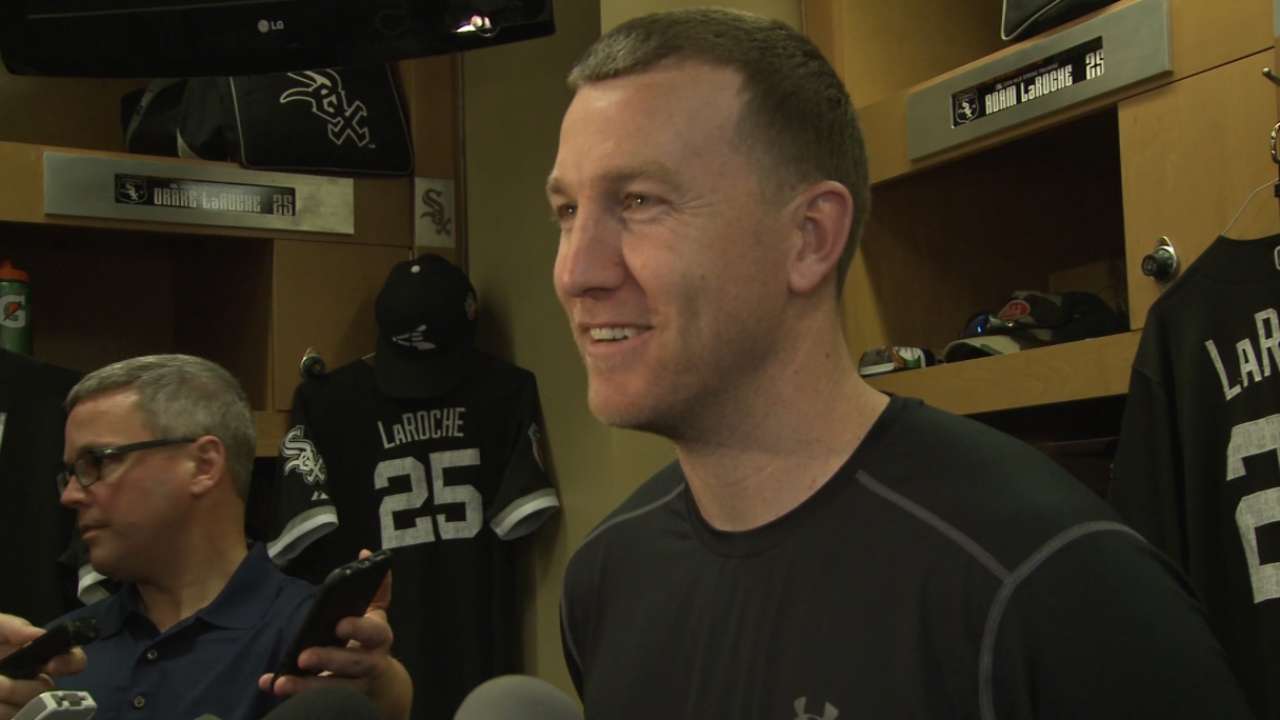 GLENDALE, Ariz. -- Monday's intrasquad contest on a back field of Camelback Ranch served as an excellent way to jolt some White Sox players prior to Thursday afternoon's Cactus League opener.
For Carson Fulmer, the team's top prospect per MLBPipeline.com and one of Monday's starting pitchers, it felt like the beginning of something big.
"It's awesome," said Fulmer, who allowed one run on four hits over two innings, fanning two. "Waiting your whole life to do something like that, and I know it's intrasquad, but for my perspective I definitely don't look at it that way because of the guys you've looked up to, you see play on TV all the time. Being able to get in there and being able to face them is an awesome experience.
"I feel great. I feel like I really pounded the strike zone well, but it's early on. You're still trying to figure out some things now, and I'll definitely improve along the way."
• Spring Training: Schedule | Tickets | Gear
Fulmer gets an actual Cactus League start on Saturday in place of Jose Quintana, who will throw in a B game. Fulmer faces the defending World Series champions from Kansas City, but the right-hander already shook off some of his nerves with Monday's effort.
"Every time I come to the field and every time I pitch, I always have those butterflies beforehand because of how excited I am to play the game of baseball," Fulmer said. "You don't have butterflies before the game, it's not a good situation. But you love the game, you love doing it, and I just had a blast out there."
"He's going to go through a period where he's going to see professional-type hitters, guys who have been in the big leagues a while and can pick some things apart," White Sox manager Robin Ventura said of Fulmer. "So, it's a good introduction for him to see some guys who've been around awhile and make adjustments off that. As far as locating, battling back, just the way he threw seeing the ball, it was good to see."
Frazier likes tone
Todd Frazier singled in two at-bats during the intrasquad game, with Team Abreu beating Team Frazier, 5-4, on Daniel Fields' three-run homer. Frazier followed a Jimmy Rollins walk in the first inning with a single, and Rollins then scored on Brett Lawrie's sacrifice fly. So general manager Rick Hahn's moves worked perfectly at the outset of Spring Training.
Today's intrasquad game recap: pic.twitter.com/NPWPjnkWcc

— Chicago White Sox (@whitesox) February 29, 2016
But even before Monday's game, Frazier really liked the directed tone set during White Sox workouts.
"Everybody has a role, everybody is taking accountability for themselves, and it starts right now from Day 1 with the intrasquad we've got today," Frazier said. "You can see it, it's focus. It's focus time. The ability to understand it's not offseason anymore. It's time to go. I see that a lot with these guys.
"We had these meetings today and yesterday and everybody is talking and everybody is focused on what they need to do. It's baseball, man. There's not much more to it. You play the game the right way, you go out and give it your all. The old saying, give it 100 percent. That's what we ask from everybody, from the veterans on down to the youngest guy."
They said it
"He's like the quiet assassin. He goes about his job the right way. He focuses hard. If he makes a mistake, he'll do it 100 more times it seems like." -- Frazier on Jose Abreu
"Maybe one day." -- Frazier, after being told he sounded like a manager when talking about the team
"It's not easy to see even on those back fields when you're playing a game, so for him it was a nice play to see him get a good jump and go back. It was something he struggled with a little bit last year." -- Ventura on Avisail Garcia's running catch in the intrasquad game
Scott Merkin is a reporter for MLB.com. Read his blog, Merk's Works, follow him on Twitter @scottmerkin, on Facebook and listen to his podcast. This story was not subject to the approval of Major League Baseball or its clubs.