Moncada impresses Red Sox in spring debut
Club's No. 1 prospect goes 2-for-2 with RBI; Farrell says 'he's got a very bright future'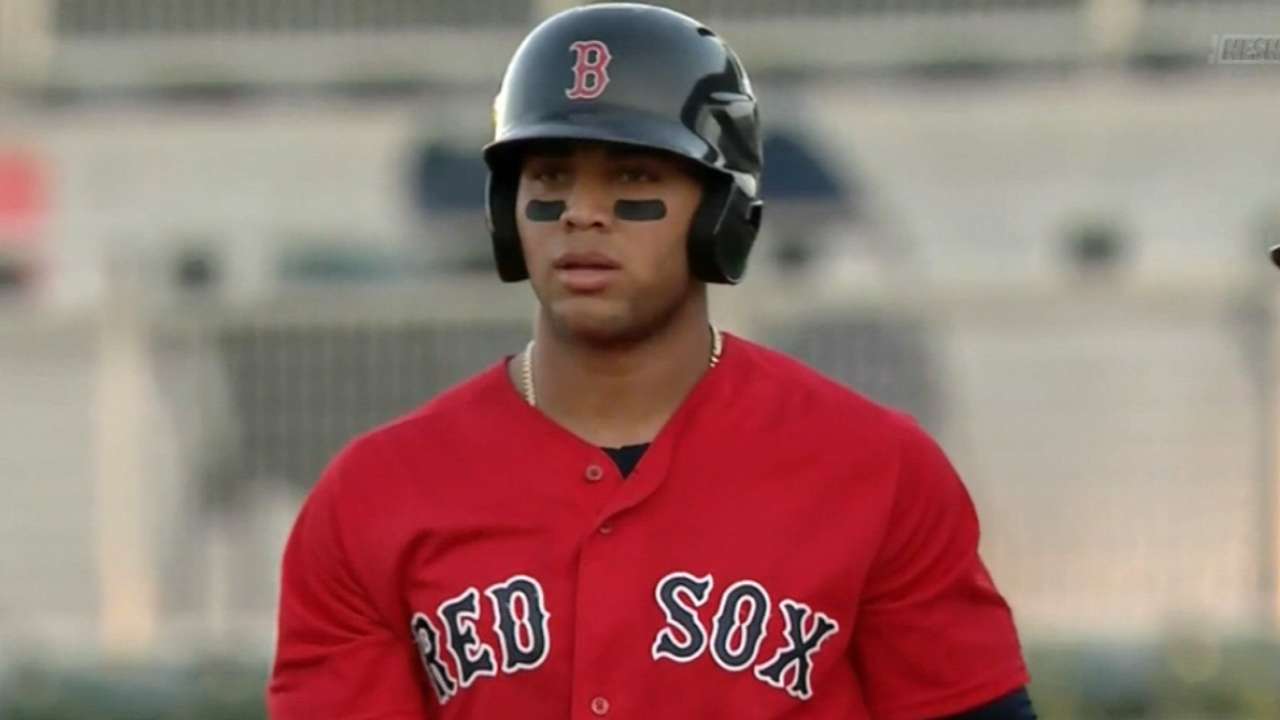 FORT MYERS, Fla. -- The 20-year-old who wore No. 22 for the Red Sox in Game 2 of Monday's college doubleheader was not your typical Minor League "extra." He didn't play like one, either.
Yoan Moncada flicked his wrists at the first pitch he saw and hammered a double to right in Boston's 8-3 victory over Northeastern University at JetBlue Park.
• Spring: Tickets | Ballpark | 40-man roster | NRIs
An inning later, the switch-hitter moved to the right side of the plate and smacked one through the hole and into left for an RBI single.
A year after his much-ballyhooed signing with the Red Sox, Moncada got a chance to play for the team he hopes to join permanently in the near future. His 2-for-2 performance included a run and an RBI.
"I feel great to be called up for my first-ever Spring Training, and I'm looking forward to giving the best of me and putting my best foot forward as the season goes on," Moncada said through an interpreter.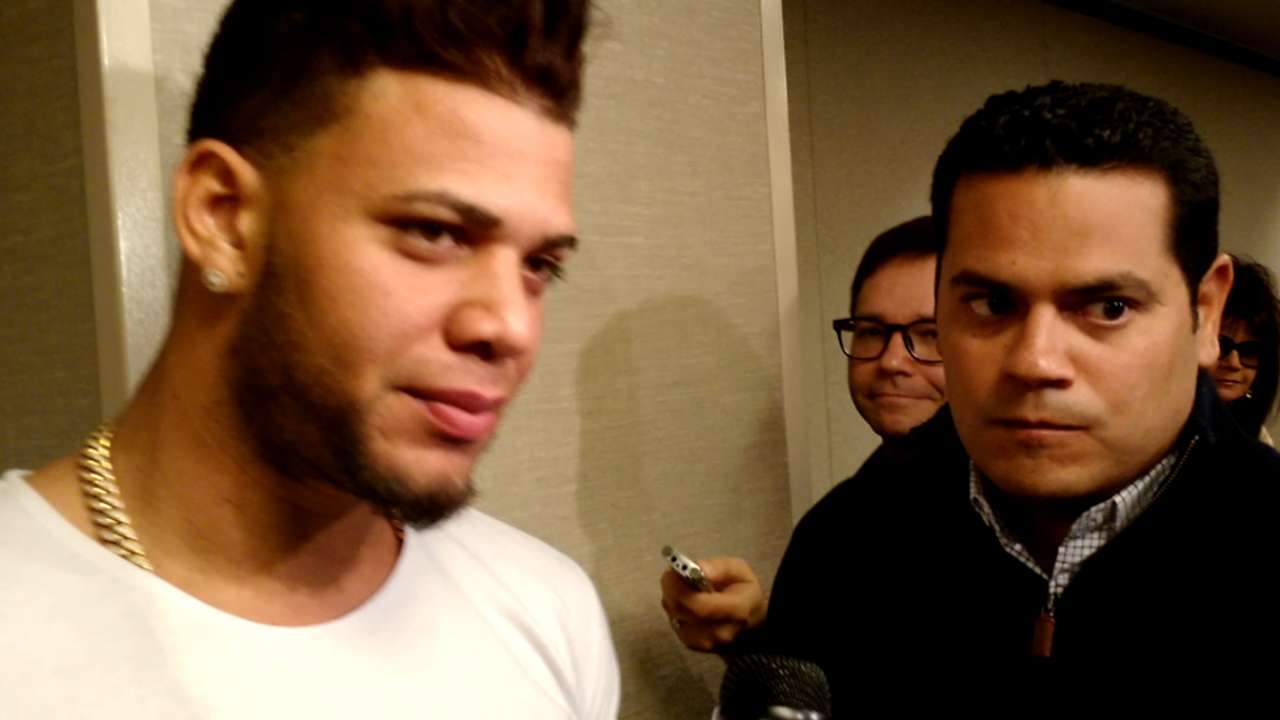 Ranked by MLBPipeline.com as Boston's top prospect and the No. 7 prospect in the game, Moncada will spend Spring Training in Minor League camp, but this isn't expected to be his last cameo on the big field.
"With someone who has the talents of Yoan, you'd like to get as much exposure as you can within reason, and I think every opportunity that presents itself that he can come over and get into games rather than just come over and back up and wonder if he's going to get in a game, we'd like to take advantage of that," said Red Sox manager John Farrell.
There will be no complaints from Moncada if the Red Sox want to keep bringing him up.
"The first thing I want to do is be prepared, but I have thought of being put in in these games a lot, and I expect to be put in a lot," he said.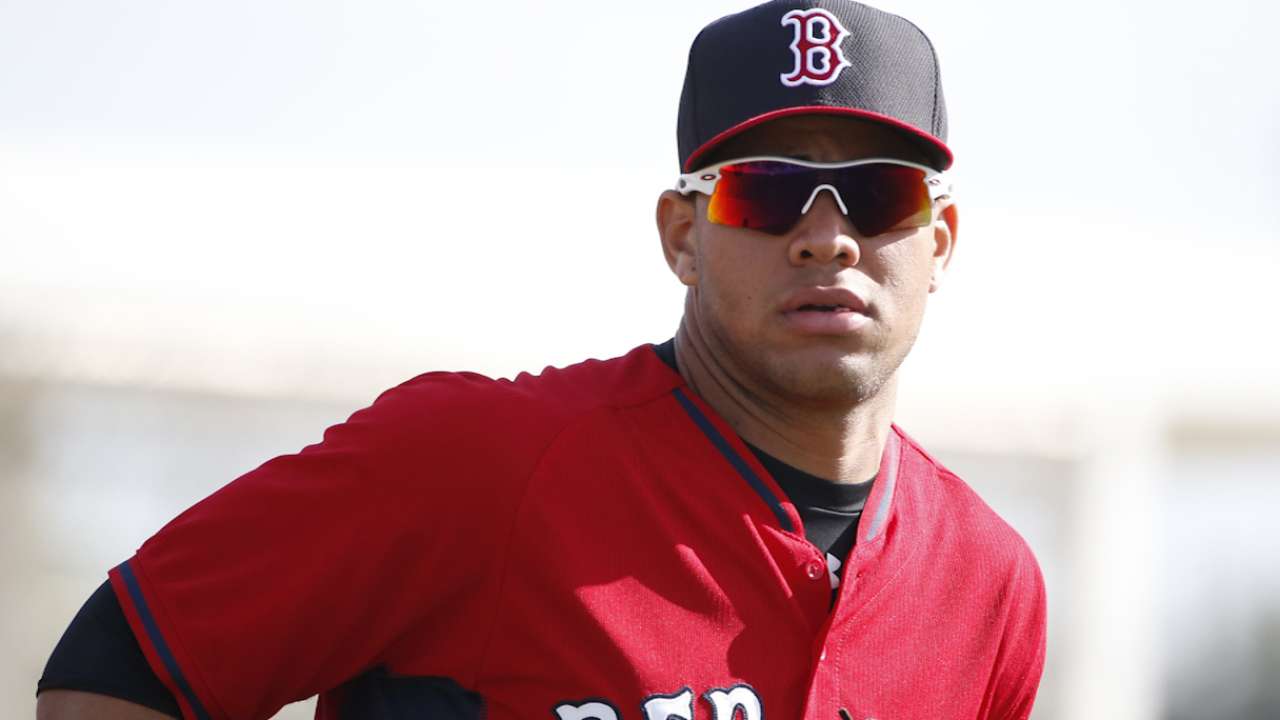 Moncada spent all of his abbreviated first professional season at Class A Greenville, and the club hasn't said which affiliate he will open with this year. But his advancement through the system likely isn't going to take more than a year or two, at most.
"That's always been my dream," Moncada said. "I want to have that Red Sox jersey on my body and I'm looking forward to -- if not this year -- then next year."
You don't have to watch Moncada for long to see why he arrived with such advance billing.
"He's a really physically gifted young man," said Farrell. "A lot of notoriety, a lot of attention coming off of his first full season in the States here, and you see the compact swing both sides of the plate. He's got obviously well-above-average running speed. He's just got a very bright future ahead of him."
Ian Browne is a reporter for MLB.com. This story was not subject to the approval of Major League Baseball or its clubs.