MLB.com Columnist
Richard Justice
Super Viewsday: Time to watch live baseball!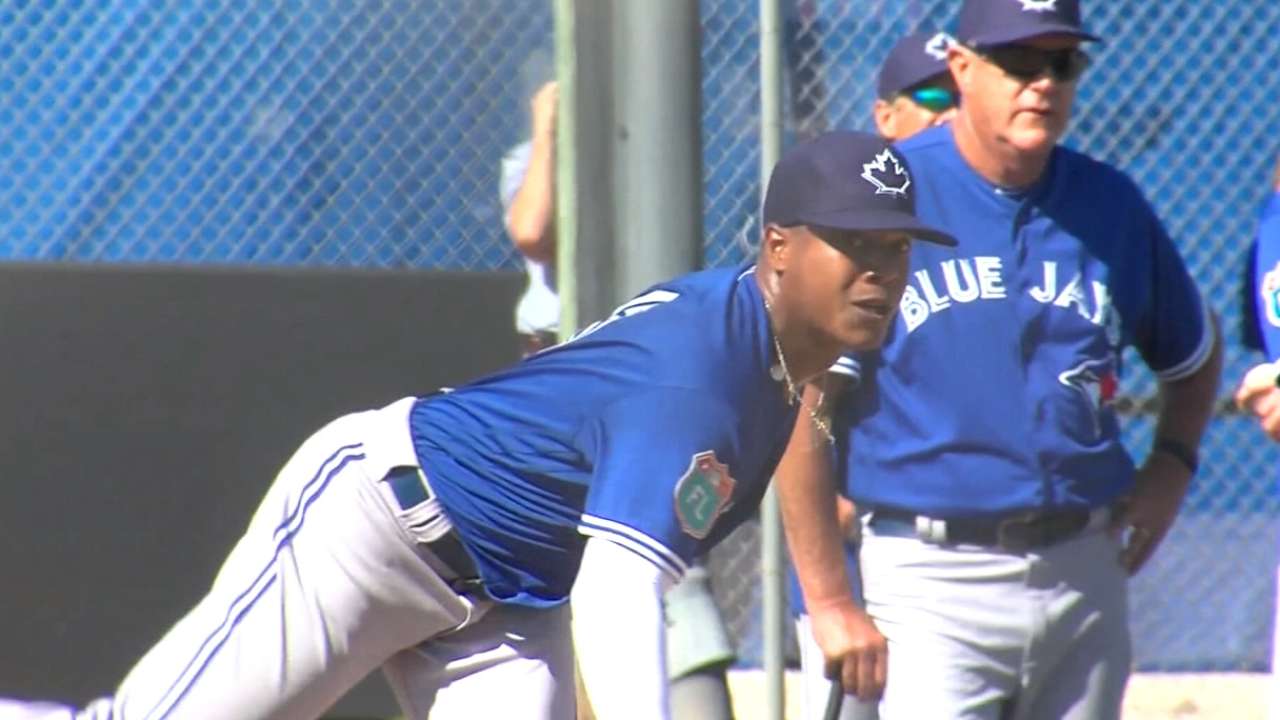 Baseball is back. You've been waiting a while to hear those three words, haven't you? Sure you have --122 days to be exact.
That's how long it has been since the Kansas City Royals won the World Series-clinching Game 5. Today, we start up again with four spring games featuring Major League teams playing one another.
To have the games back, to see your favorite players again, to watch infielders turn double plays and hitters fight off great pitches, to see the kids begin to hustle their way into your heart, this is part of the routine we love. That's what makes this a Super Tuesday for baseball fans as well as political wonks.
• Spring Training: MLB.TV | Schedule | MLB Network
Of the four games between Major League clubs today, two of them -- Blue Jays vs. Phillies and Reds vs. Indians -- stream live on MLB.TV (with Toronto-Philadelphia also on MLB Network). There'll be 11 more big league showdowns on Wednesday as we begin the sprint toward Opening Day. Between now and then, you can watch more than 275 Spring Training games on MLB.TV.
Today, we'll likely get a look at some major star power. American League MVP Award winner Josh Donaldson and face-of-the-franchise Jose Bautista start their second season together for the Blue Jays against the up-and-coming Phillies, and fans could get a look at wunderkind J.P. Crawford, one of the top shortstop prospects in MLB and possibly the franchise's next cornerstone. Speaking of dynamic young shortstops, we will hopefully also get our first look of the year at Cleveland's Francisco Lindor on Tuesday.
This is a time to connect new faces in new places and to begin to get a feel for the new looks of all 30 teams. In four months since the World Series, the Hot Stove delivered a wild ride of an offseason, and we may need some time getting our minds around the idea that Zack Greinke pitches for the D-backs and David Price for the Red Sox. If you're looking for Johnny Cueto and Jeff Samardzija, they're now Giants teammates.
Jason Heyward? He's got a spring locker next to new teammate Ben Zobrist with the Cubs. Meanwhile, Jordan Zimmermann has joined Justin Verlander at the top of the Tigers' rotation.
That's a sampling of the whirlwind of changes in baseball's new reality. As Commissioner Rob Manfred pointed out last week, 80 percent of the sport's teams -- that's 24 of 30 -- have made at least one postseason appearance the past five seasons.
It's no longer about payroll or having a great farm system or making shrewd trades. It's about using all of those avenues, about shaping a roster and understanding how the pieces fit together.
Baseball fans have never had it better than this. Not just because the shifting landscape has given every team a chance to compete, but also because of an amazing generation of new stars.
Four years ago, it was Bryce Harper and Mike Trout arriving on the scene with talent and charisma. Now, they're established stars, both having won a Most Valuable Player Award, both having helped get their team to the postseason.
Last season, it was the Astros riding 20-year-old shortstop Carlos Correa to the postseason and the Mets getting to the World Series with one of the best young rotations baseball has seen.
Who is next? The Dodgers believe 21-year-old shortstop Corey Seager will be a cornerstone player for years to come, and the Twins have similar hope for 22-year-old center fielder Byron Buxton.
In almost every camp, there's a kid who causes managers and coaches to stop and watch a bullpen session or a round of batting practice -- left-hander Sean Manaea with the A's, right-handers Braden Shipley and Archie Bradley with the D-backs, right-hander Lucas Giolito and shortstop Trea Turner with the Nationals.
What can be better than every team having a chance to compete and waves of young talent. In an era when there are more ways to enjoy the game than ever before thanks to Major League Baseball Advanced Media, the fan experience has evolved.
So here we go again.
Play ball.
Richard Justice is a columnist for MLB.com. Read his blog, Justice4U. This story was not subject to the approval of Major League Baseball or its clubs.