Tillman rests with hip flexor injury, eyes quick return
MRI shows no sports hernia for O's righty; Gallardo to debut next week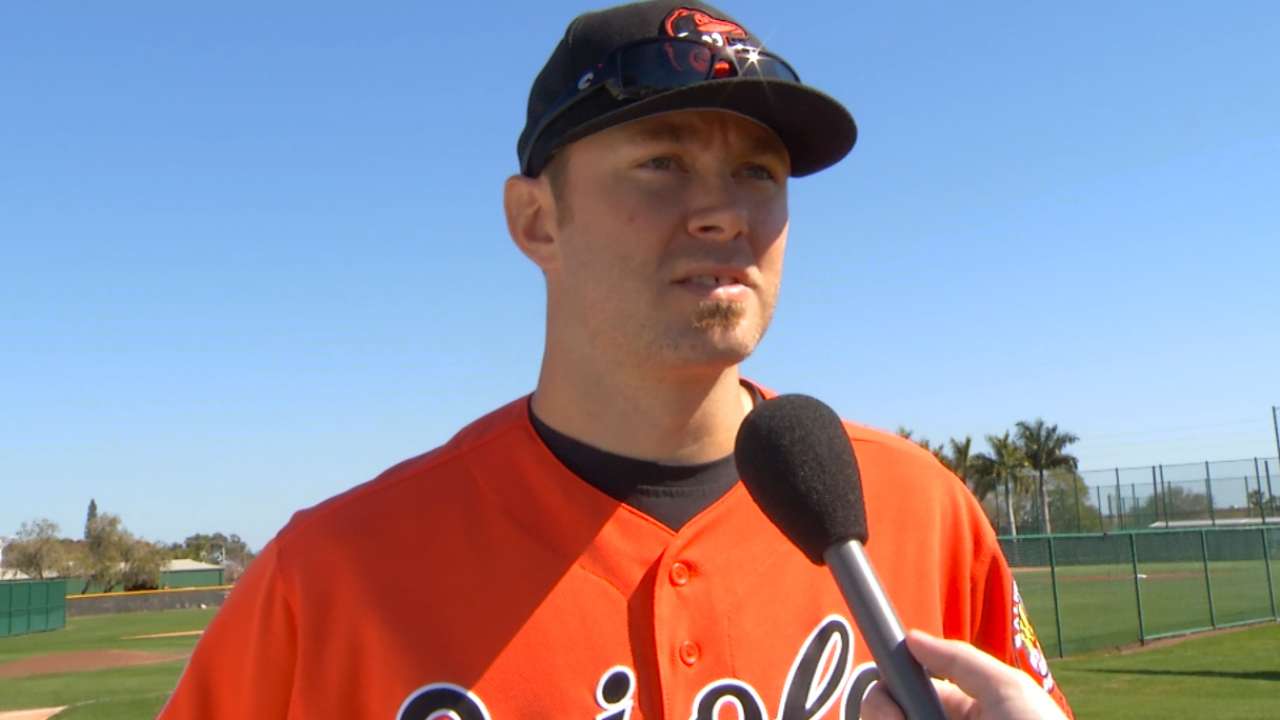 SARASOTA, Fla. -- Orioles starter Chris Tillman, who was scratched from Sunday's intrasquad outing with a hip flexor injury, took Monday off in hopes of a quick return.
"We just want to get ahead of it and stay ahead of it, not bump it back again," said Tillman, who admitted he got a little overconfident and had a flareup Sunday. "I'm OK with [being cautious] because I'm not missing my throwing and I'm not missing my conditioning and that kind of stuff."
• Spring: Tickets | Ballpark | 40-man roster | NRIs
Tillman, who said he's only bothered by the hip when walking, hasn't missed any throwing or conditioning sessions and isn't worried he'll fall behind the rest of the starters in camp. He had an MRI on Monday to check for a potential sports hernia that came back fine.
"I think because my core and my hips are probably in the best shape they've been, I'm that far ahead and I don't think it will be that long to get it back," Tillman said. "Unless it is something we don't know, which I don't think it is."
Tillman, who bought a house in the area, has been working out at the team's spring facility in Sarasota for a while, so he's already built up a pretty good base.
"It helps him that he was that far along. He'll be back, I think, shortly," manager Buck Showalter said. "He's supposed to pitch one of the split-squad games on Saturday."
Showalter said that was "barely" still in play though, with the team likely to be cautious with Tillman for the rest of the week.
Tillman said he first felt something late last week and came in much better the following day. But he jumped out of bed Sunday and felt a little tweak, an overconfidence Tillman regretted.
"I personally kind of messed it up," Tillman said. "If I had felt like I did the day before [Saturday] or today, I probably would have pitched."
Worth noting
• Yovani Gallardo will have his second bullpen session Tuesday and could face hitters after that. Showalter said Gallardo was not a candidate to pitch in Saturday's split-squad game, meaning he won't make his spring debut until next week.
• The Orioles piped in crowd noise for Monday's workout to help simulate regular games. They did popup drills and coverage plays and Showalter said it was the "best day" the club has had in Florida.
"I think our guys know the process. I feel really good about where we are," Showalter said. 'We had one thing we had to get shored up today, I really challenged the players and coaches to feel good about it. That's why it's probably our best workout ... we had one thing we had to get better at. I didn't like it last year, I didn't like it the year before."
The Orioles brought runners over from Minor League camp to help with coverage plays and rundowns to get things at game speed. Among those at Ed Smith Stadium was DJ Stewart, last year's first-round Draft pick.
•Chaz Roe, sporting a bruise on his knee from taking a liner in Saturday's intrasquad game, had an impressive bullpen session Monday.
Roe said one of the keys for him lately has been to work on the team's string mound, which has two pieces of string stretched across home plate.
"It helps locate a lot more and my misses are a lot smaller around the zone," Roe said. "I think it's been a big key for me this spring so far, just minimizing my big misses."
• Infield prospect Christian Walker could eventually see some time in the outfield, but it will be tough in Triple-A Norfolk with as many outfielders as the O's have in camp.
"It's obvious he worked hard at first base. ... He's playing a lot freer and easier, you can tell he worked hard at it," Showalter said of Walker, who is blocked by Chris Davis and would have a tough time finding a position the way the team is constructed.
"I wasn't saying that [Walker would play outfield]; there's been some talk about it, but now's not the time," Showalter said. "I think he'd be OK out here. I know he'd work hard at it, especially if there was a carrot."
Brittany Ghiroli is a reporter for MLB.com. Read her blog, Britt's Bird Watch, follow her on Facebook and Twitter @britt_ghiroli, and listen to her podcast. This story was not subject to the approval of Major League Baseball or its clubs.