Arkansas, TCU, Texas Tech get Classic W's
Annual college showcase at Minute Maid Park gets underway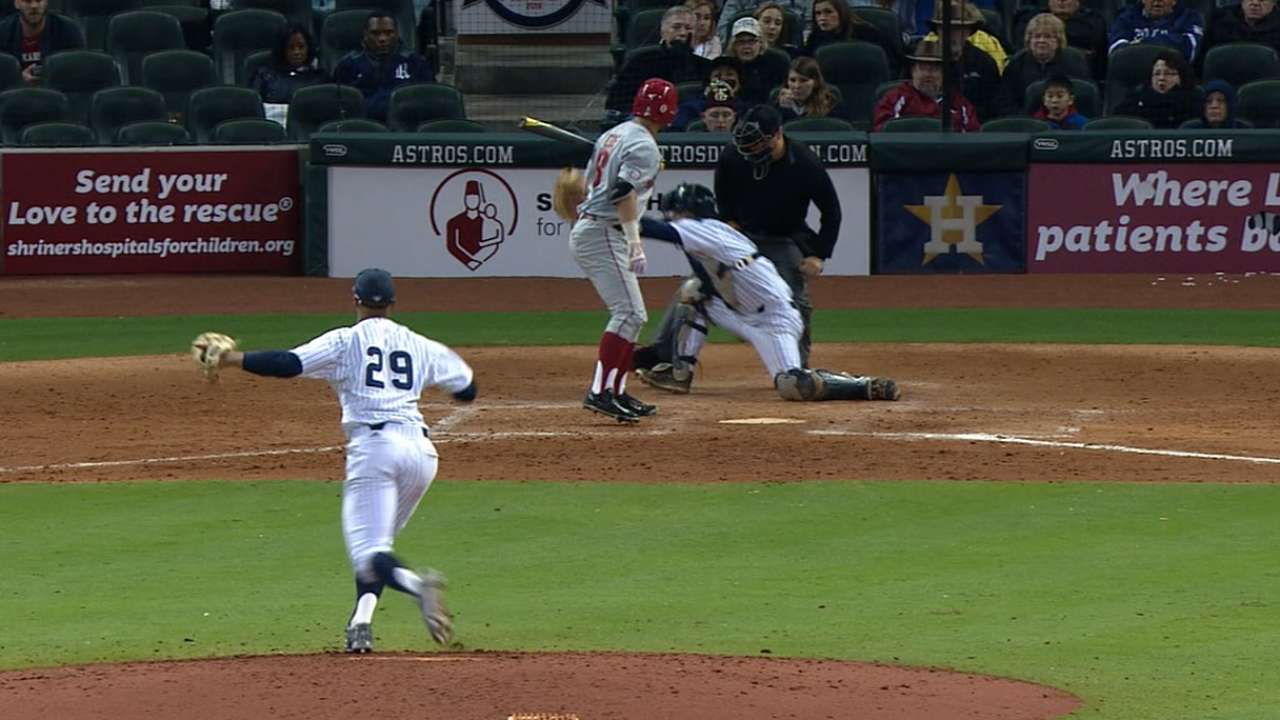 HOUSTON -- No. 22 Arkansas, No. 11 TCU and Texas Tech each picked up a win on Friday during Day 1 of the Shriners Hospitals for Children College Classic at the Astros' Minute Maid Park.
The annual NCAA invitational showcase, which also includes No. 13 Louisiana-Lafayette, No. 18 Houston and No. 24 Rice, continues with three games on Saturday before concluding with three more on Sunday.
• Talent on display at Shriners College Classic
Here is a breakdown of the Day 1 action:
Razorbacks pull away from Owls
Arkansas broke open a tie game with three runs over the final three innings to beat Rice, 5-2, in the last of three games played during the first day of the annual showcase.
Pinch-runner Darien Simms scored the go-ahead run from third base on a passed ball in the Razorbacks' two-run seventh. Arkansas (6-0) added a ninth-inning run on Carson Shaddy's single that scored Austin Catron, who led off the inning with a double.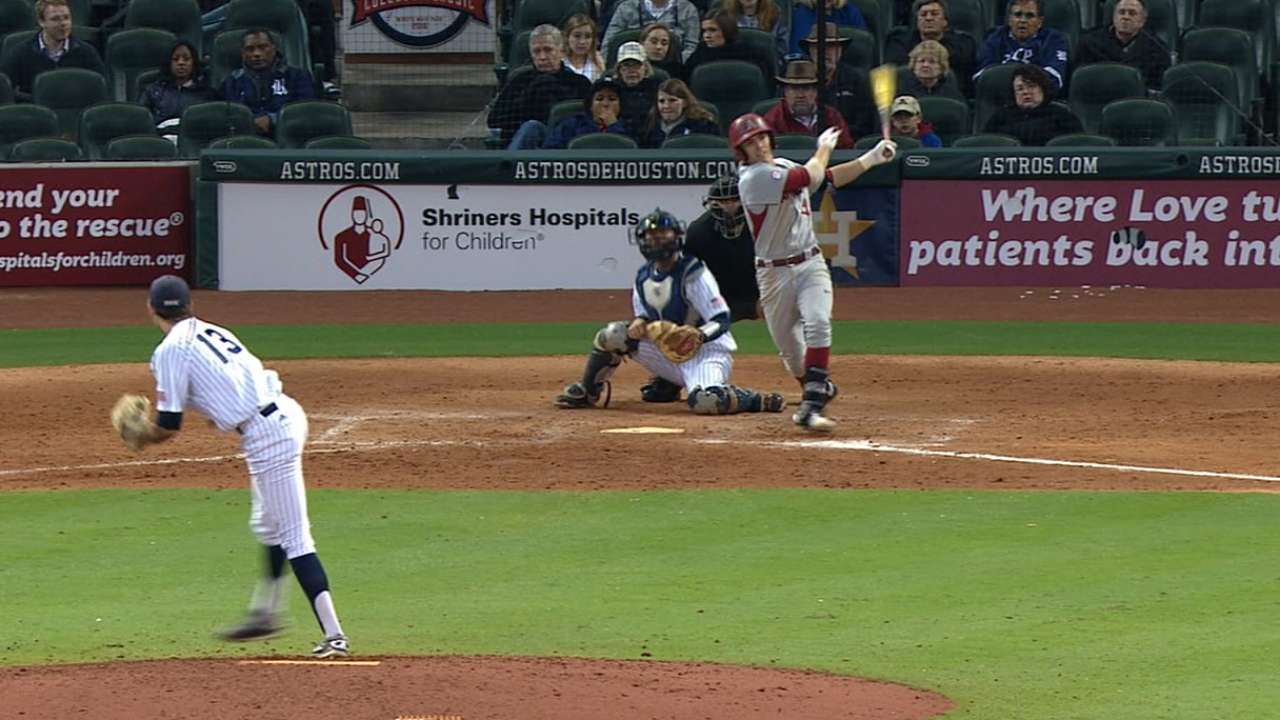 Shaddy, Catron and Clark Eagan had two hits each for the Razorbacks, who outhit the Owls, 7-6. Eagan had two of Arkansas' four doubles.
Arkansas starting pitcher Dominic Taccolini (2-0) earned the win, allowing two runs and five hits with six strikeouts and one walk over six innings. Zach Jackson got the save, allowing only one hit over three scoreless innings.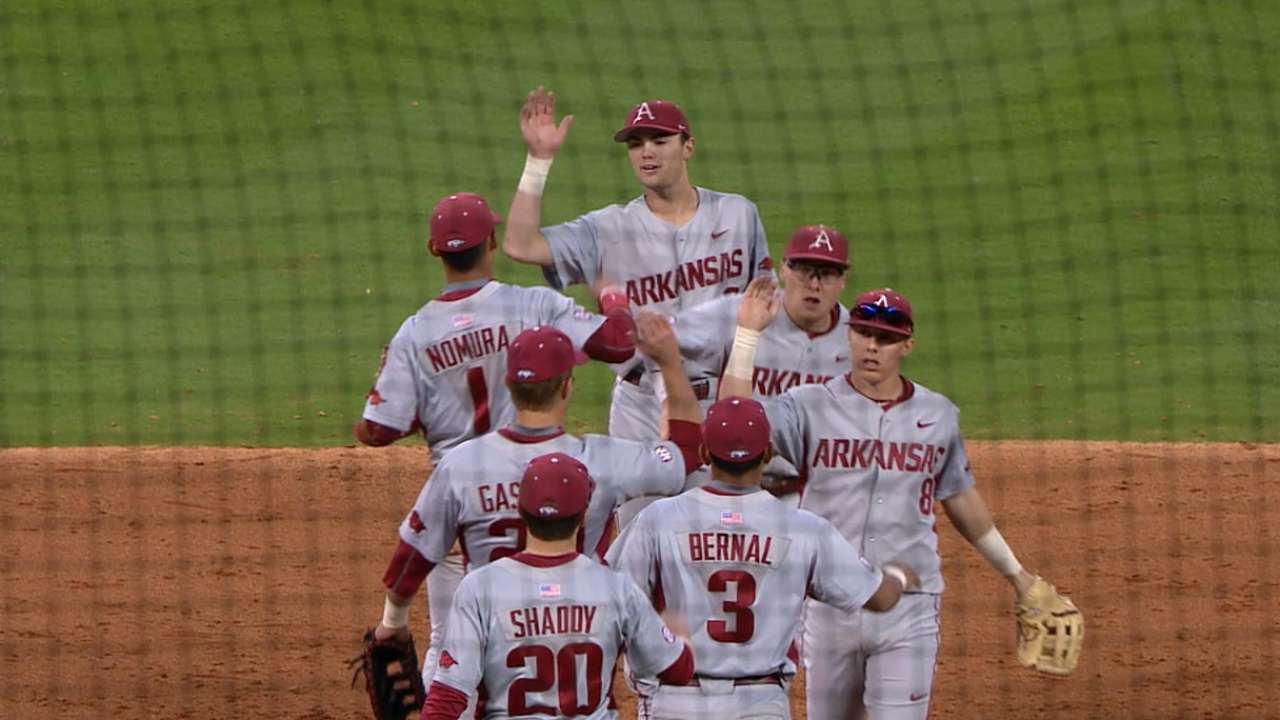 Leadoff hitter Charlie Warren collected two of Rice's six hits. The Owls (3-3) scored both of their runs in the bottom of the fourth inning on Dayne Wunderlich's two-out, two-run single to make it a 2-2 game. Grayson Lewis and Ford Proctor, both of whom singled off Taccolini, scored on Wunderlich's knock.
Rice starting pitcher Jon Duplantier (0-1) took the loss, allowing four runs and five hits in 6 1/3 innings.
TCU rolls past Louisiana-Lafayette
TCU, which has appeared in the last two College World Series in Omaha, Neb., is noted for strong starting pitching. Based on his performance on Friday, Brian Howard is continuing the trend for the Horned Frogs.
Making good use of a cutter, the junior right-hander allowed only one earned run over 6 2/3 innings as TCU defeated Louisiana-Lafayette, 7-1, in the second game of the College Classic.
Howard (2-0) was backed by 12 hits. Getting three hits each for the Horned Frogs (4-1) were Connor Wanhanen, Elliott Barzilli and Dane Steinhagen, who hit a two-run home run in the eighth inning.
"We have a great offensive lineup this year, one through nine is a deadly lineup," Steinhagen said.
TCU used a four-run fifth to take a 5-1 lead. The inning included a two-run double by Josh Watson off Eric Carter, who was facing his first batter in relief of Ragin' Cajuns starter Gunner Leger (0-1). Leger allowed five runs (two earned) on seven hits in 4 2/3 innings.
"Everybody talks about our pitching, and we've been really good on the mound, but this has a chance to be the deepest and most versatile offensive club that I've had," said Jim Schlossnagle, in his 13th season as TCU's head coach.
Highly touted freshman Luken Baker doubled in a run as TCU's bats came to life against a team that reached the NCAA Super Regionals last year.
Hitting 90-91 mph with his fastball, Howard limited the Ragin' Cajuns (3-2) to five hits. He allowed only one extra-base hit -- Joe Robbins' third-inning triple. Howard struck out seven and walked one.
"I know those guys have a lot of juice over there, they can rake," Howard said. "It's a real good ballclub. I wanted to go out and throw that cutter, early and often, keep them off my fastball and stay low in the zone, which I struggled with. My fastball command wasn't as good as I like it to be."
TCU appeared in the College Classic two years ago, but Howard did not get into any of the Horned Frogs' three games that year at Minute Maid Park.
"It's fun to come out here and throw the first day, because when I was here as a freshman, I didn't pitch at all. So I would have been kind of antsy if I had to wait another day," Howard said. "The first year I was here, I sat in the bullpen for 27 innings, and now I got to come out and play some ball."
Texas Tech edges Houston
Showing patience at the plate, Texas Tech received a home run from Stephen Smith, a timely two-run single from Ryan Long and superb pitching to defeat No. 18 Houston, 3-2, in the opener of the College Classic.
With the win, the unranked Red Raiders (5-1) gave the Cougars (4-1) their first loss of the season.
"It gives our team a lot of confidence, knowing that we can play with anyone in the nation," said Smith, who in 2007 played in the Little League World Series. "Houston is a very good team. They're going to win a lot of games this year."
Smith's home run into the left-field Crawford Boxes came off a fastball from Andrew Lantrip (1-1), a junior right-hander who was a preseason All-America selection.
"That guy is a really good pitcher, and he attacks with strikes," Smith said. "I put a good swing on it."
Long's two-out, two-run single in the bottom of the sixth broke a 1-1 tie and put Texas Tech on top for good.
Red Raiders starter Ryan Moseley, who displayed an effective power sinker, allowed one run and three hits over five innings. Hayden Howard (1-0) earned the win with three innings of relief, allowing a run in the eighth. Michael Davis had two of the Red Raiders' seven hits.
"We go out and compete and we caught some breaks today," Texas Tech head coach Tim Tadlock said. "We happened to get the two-out hit. Our guys settled in the second time through the lineup and had better at-bats."
Joe Davis had two of Houston's five hits, and Connor Wong singled and walked twice for the Cougars, who were successful on all six of their stolen-base attempts. Wong and Zac Taylor had two stolen bases each.
"I thought we played tight, for whatever reason," Houston head coach Todd Whitting said. "I don't know why we would be tight. We play this tournament every year. I just don't think we played very good overall."
Complete College Classic schedule/results
Friday
Texas Tech 3, Houston 2
TCU 7, UL-Lafayette 1
Arkansas 5, Rice 2
Saturday
Texas Tech at UL-Lafayette, 12:05 p.m. CT on MLB Network
Houston at Arkansas, 3:35 p.m. CT on MLB Network
Rice at TCU, 7:05 p.m. CT on MLB Network
Sunday
Arkansas at Texas Tech, 11:05 a.m. CT on MLB Network
TCU at Houston, 2:35 p.m. CT on MLB Network
UL-Lafayette at Rice, 6:05 p.m. CT on MLB Network
Richard Dean is a contributor to MLB.com. This story was not subject to the approval of Major League Baseball or its clubs.