Trout atop MLB Network's overall rankings
Angels superstar edges Harper for No. 1 right now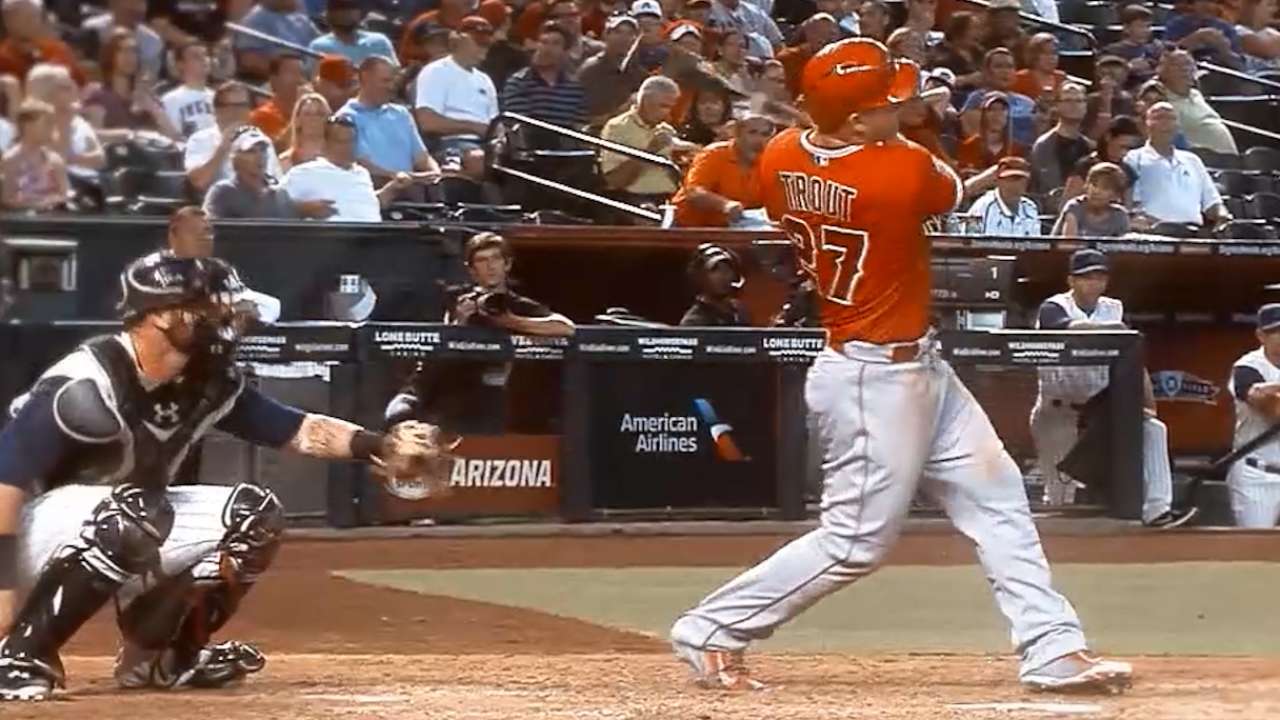 After weeks of uncovering the best 10 players at each position, MLB Network widened its focus to chronicle the best 100 players in all of baseball. The process culminated with the unveiling of the top 20 on Thursday's finale, hosted by Bill Ripken, Ron Darling and Greg Amsinger.
The rankings are based on three main criteria, emphasizing a player's last three seasons (with the most weight given to 2015), projected 2016 performance and defensive position.
MLB Network's Top 20 Right Now
1. Mike Trout
2. Bryce Harper
3. Clayton Kershaw
4. Andrew McCutchen
5. Josh Donaldson
6. Paul Goldschmidt
7. Buster Posey
8. Manny Machado
9. Jake Arrieta
10. Miguel Cabrera
11. Joey Votto
12. Jose Altuve
13. Carlos Correa
14. Giancarlo Stanton
15. Robinson Cano
16. Zack Greinke
17. David Price
18. Anthony Rizzo
19. Kris Bryant
20. A.J. Pollock
Few will be surprised by the name perched atop the list, as Trout has been among the most productive players in baseball since becoming a full-time starter with the Angels in 2012. Trout, a four-time All-Star and MVP Award winner, hit .299/.402/.590 with a career-best 41 homers last season.
"When you watch Trout play, there's really nothing he can't do," Ripken said.
Just behind Trout is another of the game's brightest young stars in Harper, who had a better statistical season than Trout as the unanimous National League MVP selection. Harper batted .330 and led the NL in home runs (42, tied with Nolan Arenado), runs scored (118), on-base percentage (.460) and slugging (.649).
"Harper did have a career year last year, but Trout has done it now the last four seasons," Ripken said. "I think if you went into a computer and tried to build the perfect player, it'd look a lot like Mike Trout."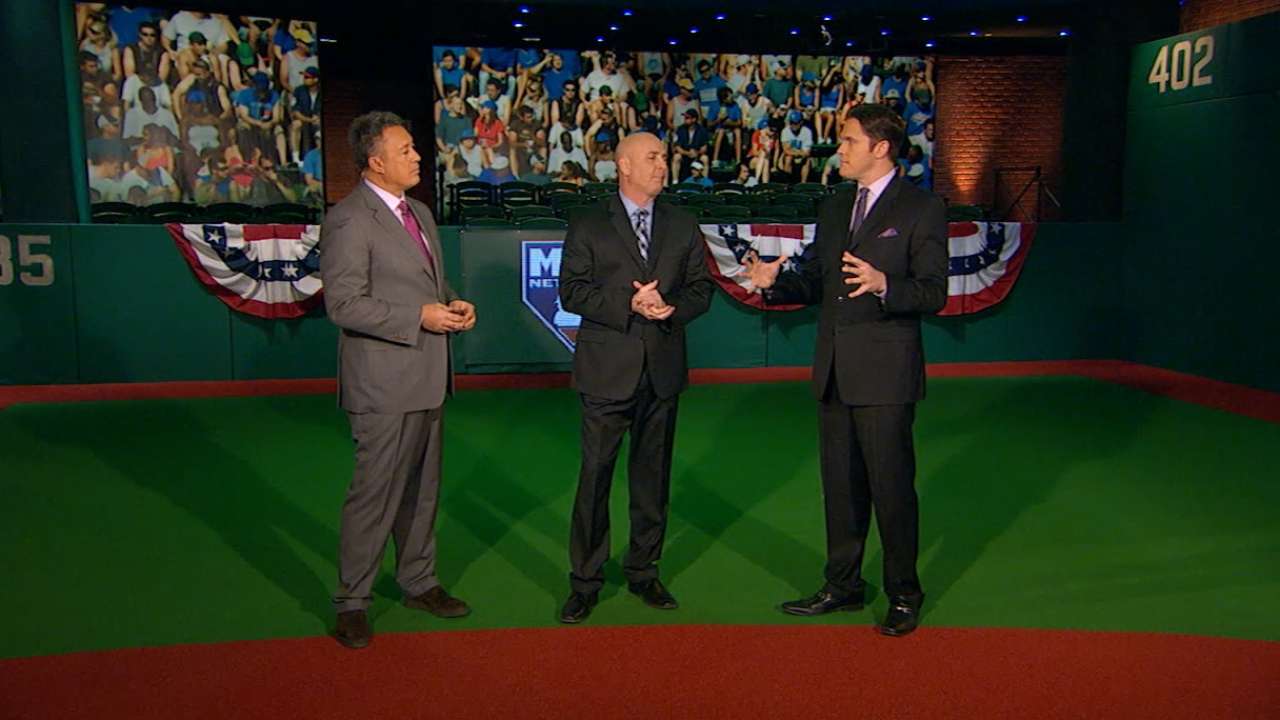 Last year's top-ranked player, Kershaw, is No. 3 on this list as the highest ranked pitcher. The Dodgers ace saw his numbers dip from his historic MVP campaign in 2014, but he still went 16-7 with a 2.13 ERA last season. He led the Majors in innings pitched (232 2/3), strikeouts (301), complete games (four) and shutouts (three).
"The thing about Kershaw is that he's a victim of his own success," Darling said. "His numbers are on tablets on Mt. Koufax when you think about it, so when he slips just a little bit, of course he's going to drop. But there's no doubt that he's one of the top three [or] five players every year moving forward."
McCutchen, another former MVP, and Donaldson, last year's American League winner, round out the top 5.
While the top 20 predominantly is comprised of veterans, six players age 25 or younger made the list, including Trout and Harper in the first two spots. Machado, Altuve and both Rookie of the Year winners (Bryant and Correa) also represented the highest-rated young talent.
At 21, Correa is the youngest player in this group. He's played just 99 games in the big leagues, but showed enough as a rookie last season to earn a No. 13 ranking.
"This guy is going to be a 30-home run guy for a lot of years," Ripken said. "If you do that, you are on the list and you are on the list in this particular spot."
"I just think over the long haul, so young, he is just going to be dynamite," Darling said.
Both the Chicago Cubs and Arizona Diamondbacks are well represented with three players on the list, the most for any club. For the D-backs, Goldschmidt came in at No. 6, joining offseason acquisition Greinke (16) and Pollock (20).
The Cubs, among the early favorites to win the 2016 title, had ace Arrieta ranked highest at No. 9. Rizzo and Bryant surfaced back-to-back at 18 and 19, respectively. The analysts praised the young duo with potential to become the best 3-4 combination in the game.
The Astros also had multiple players crack the top 20, with Altuve at No. 12 and Correa at 13.
Chad Thornburg is a reporter for MLB.com. This story was not subject to the approval of Major League Baseball or its clubs.