Markakis at full strength in Year 2 with Braves
Outfielder was limited during first Spring Training with club following neck surgery
LAKE BUENA VISTA, Fla. -- One year removed from neck surgery, a clean-shaven Nick Markakis returned to Braves camp looking forward to the opportunity to prove even more productive than he was while dealing with some limitations last year.
"I like to think I did everything I can this offseason," Markakis said. "Offseasons get shorter and shorter as you get older. It was a good offseason and a productive offseason. I think I'm right where I need to be."
Markakis could not say the same last year, when he entered his first Spring Training with the Braves just two months removed from the surgical procedure. Because he had not been able to lift weights or complete most normal preseason preparations, his activities were quite limited during the first month of camp and he ended up appearing in just eight Spring Training games for the third time within a four-year span.
• Spring Training: Schedule | Tickets | More info
Despite being weakened and limited by the rehab that followed the surgery, Markakis still managed to hit .296 and compile a .370 on-base percentage while playing in a team-high 156 games for Atlanta last year. He ranked fourth in the National League with 181 hits. But it was obvious that he was not at full strength as he produced a .376 slugging percentage (second-lowest mark of his career) and struggled to regain the arm strength he possessed when he was a Gold Glove Award winner with the Orioles in 2011 and '14.
"I was just happy to be healthy," Markakis said. "At the end of the year, I did everything I could. Were there some things I needed to work on? Yeah, for sure. That's what I addressed this offseason and we'll see how it goes."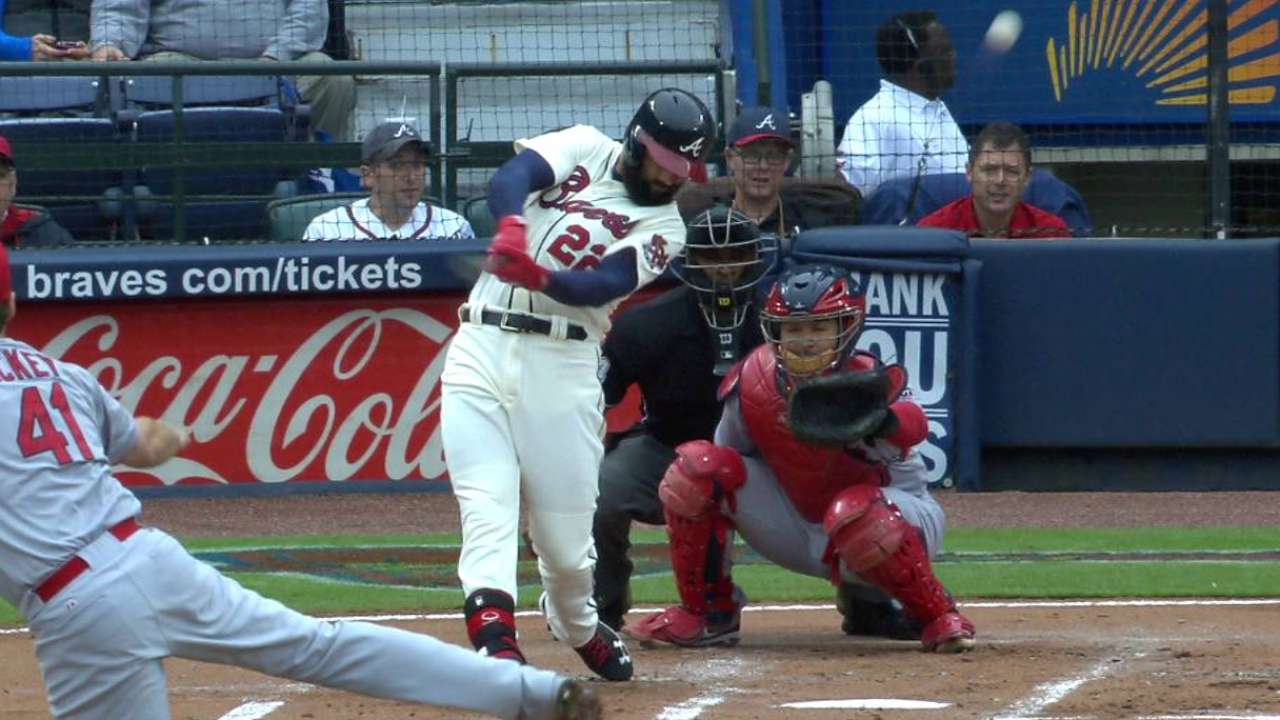 As Markakis enters the second year of his four-year, $44 million deal with the Braves, he feels as healthy as he has at any point during the past three seasons. He began battling a herniated disc during 2013 and ultimately had the surgery last year to alleviate some discomfort and avoid the potential injury that could have been incurred had he dove and landed awkwardly.
"His strength is there," Braves manager Fredi Gonzalez said. "I haven't talked to him much about what he did in the offseason. But you could tell that a whole year removed from the back surgery, he looks great."
Along with being confident in his ability to benefit from the strength he has regained this year, Markakis seems to be comfortable with the possibility that the Braves might have to wait at least one more year to begin truly reaping the benefits of a rebuilding process that has featured the club acquiring several highly touted prospects.
"It's a process," Markakis said. "It's a slow process. Nothing is going to happen overnight. What [Braves general manager John Coppolella], [president of baseball operations John] Hart and [team president John] Schuerholz are doing over here, it's the right thing. You've got to build from the ground up and you've got to have a good foundation. You've got to have good young guys and you've got to have a boatload of pitchers. That's what they're doing over here. It's only a matter of time and things will square up."
Mark Bowman is a reporter for MLB.com. This story was not subject to the approval of Major League Baseball or its clubs.