Arenado lets glove offer defense of ability
Third baseman says turnaround for Rockies hinges on starting pitching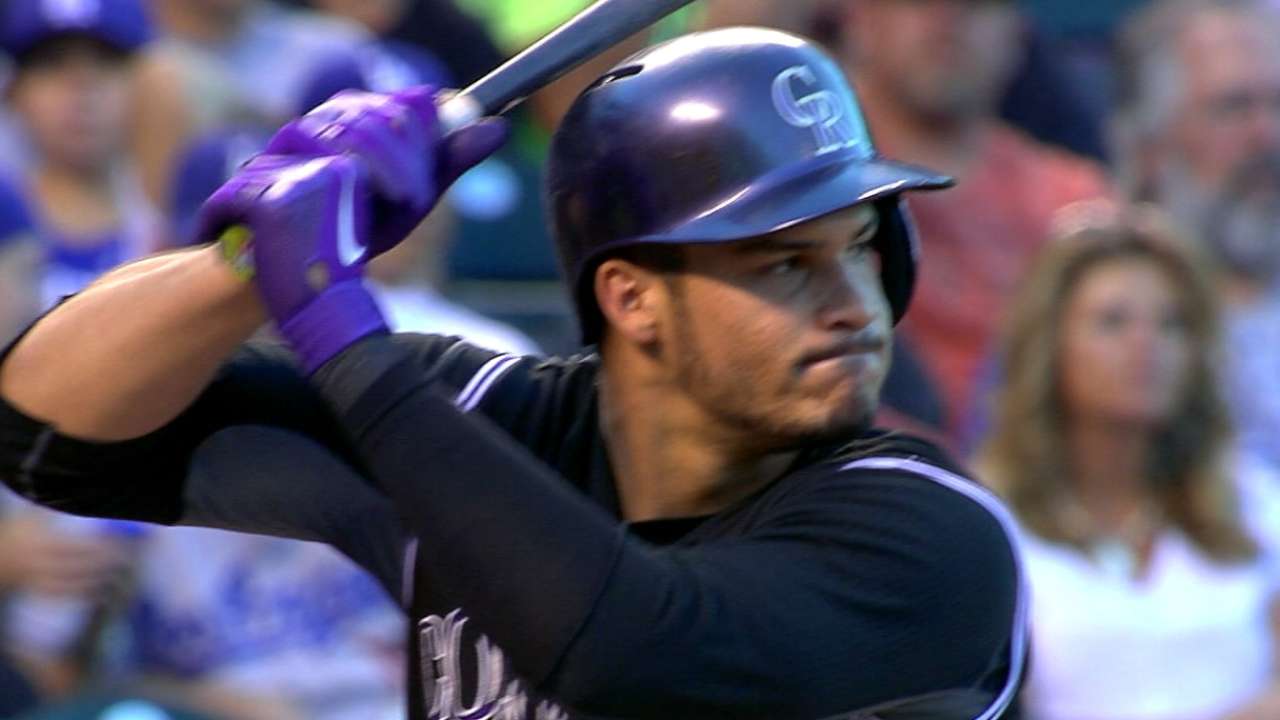 SCOTTSDALE, Ariz. -- Rockies third baseman Nolan Arenado is such a standout defender that he doesn't need anyone defending his reputation.
Shock arose in Denver and points beyond recently, when the MLB Network show "Top 10 Right Now" found five -- five? -- current third basemen better than Arenado. All Arenado has done is become the first National League player at his position to win Rawlings Gold Glove Awards his first three seasons in the Majors, and he hit 42 home runs and led the Majors with 130 RBIs last season.
A good list, of course, sparks debate. Just don't involve Arenado.
#Rockies 3B Nolan Arenado is, like, real smooth. Ryan McMahon awaits his turn. pic.twitter.com/a0mJA3Rw58

— Thomas Harding (@harding_at_mlb) February 25, 2016
"I started getting texts. 'I can't believe you're ranked so low,' this and that," Arenado, who turns 25 on April 16, said. "I was actually more mad about the people texting me than I was about the list that came out. That's just because I don't care. I know my peers in this game respect me for how I play the game."
Besides, if Arenado wants to be in a bad mood, all he has to do is listen to predictions for the Rockies. Unlike Arenado's play, which offers strong visual and statistical evidence for its quality, there's not much to say about five straight sub-.500 seasons and last year's 68-94 record.
Arenado greets a roster many see as curious. Starting pitching has lingered near the bottom of most statistical categories for years, but several moves beefed up the bullpen (Jason Motte, Chad Qualls and Jake McGee) and reshuffled the outfield (free agent Gerardo Parra in, Corey Dickerson gone to the Rays for McGee).
Day made.#RoxSpring ☀️⚾️ pic.twitter.com/slNDsr8Q0C

— Colorado Rockies (@Rockies) February 25, 2016
So Arenado is part of an offense that too often last year was submerged in deficits created by the starting staff. But the plan is for Tyler Chatwood and Jordan Lyles to return from lengthy injury periods and for young pitchers who have arrived over the last two years to continue their development. No free agent came riding on a new contract to save the day.
"Listen, we've got some young guys," Arenado said. "We need to grow and get better, and we need to step up. And we're healthier than we were last year coming in. That could play a factor for us. This is going to be an interesting year. We don't know how good we can be. I don't know how good we can be.
"Last year, you went into games and you were like, 'The odds aren't really in our favor.' Then you get off to a slow start or you're down a couple of runs in the first inning, it plays a factor. If our pitchers and our guys can keep us in the game, good things can happen."
Rockies manager Walt Weiss called Arenado "a pretty special kid -- his heart is right, his head is right, and it gives me comfort knowing that he's one of the guys the rest of our guys look to."
The trade of shortstop Troy Tulowitzki to the Blue Jays last summer and Arenado's high-energy approach and easy accessibility make him the logical new face of the Rockies. But what's more meaningful is the work he puts in when fans aren't watching.
"It's not like we have a tarp down the line and he's going to jump on tarps and stuff like that, but all those range plays he makes to both sides, he practices that," Rockies general manager Jeff Bridich said. "All those plays coming in, throwing from different angles, throwing from different body positions, awkward body positions, he practices all that stuff."
Arenado is taking the same approach to his offensive game, where last season he barely increased the number of pitches seen per plate appearance (from 3.43 to 3.49) but had higher quality by decreasing the number of poor swings because of impatience. He's going to swing away and swing hard, but he is getting better at making those passes efficient.
He's calling for the same from a team that needs the respect that comes with winning.
"There's a lot driving me -- obviously, winning," Arenado said. "A lot of people are counting us out. It would be nice to prove some of those haters wrong as a group. Individually, I just want to stay as consistent as I can. Whatever I did last year, it's going to be hard to get back to that. But I can find ways to keep learning, keep growing and just find ways to keep getting better at this game."
Thomas Harding is a reporter for MLB.com. This story was not subject to the approval of Major League Baseball or its clubs.