A's add versatile Coghlan in trade with Cubs
Utility man expected to give Melvin lineup options; righty Brooks dealt in exchange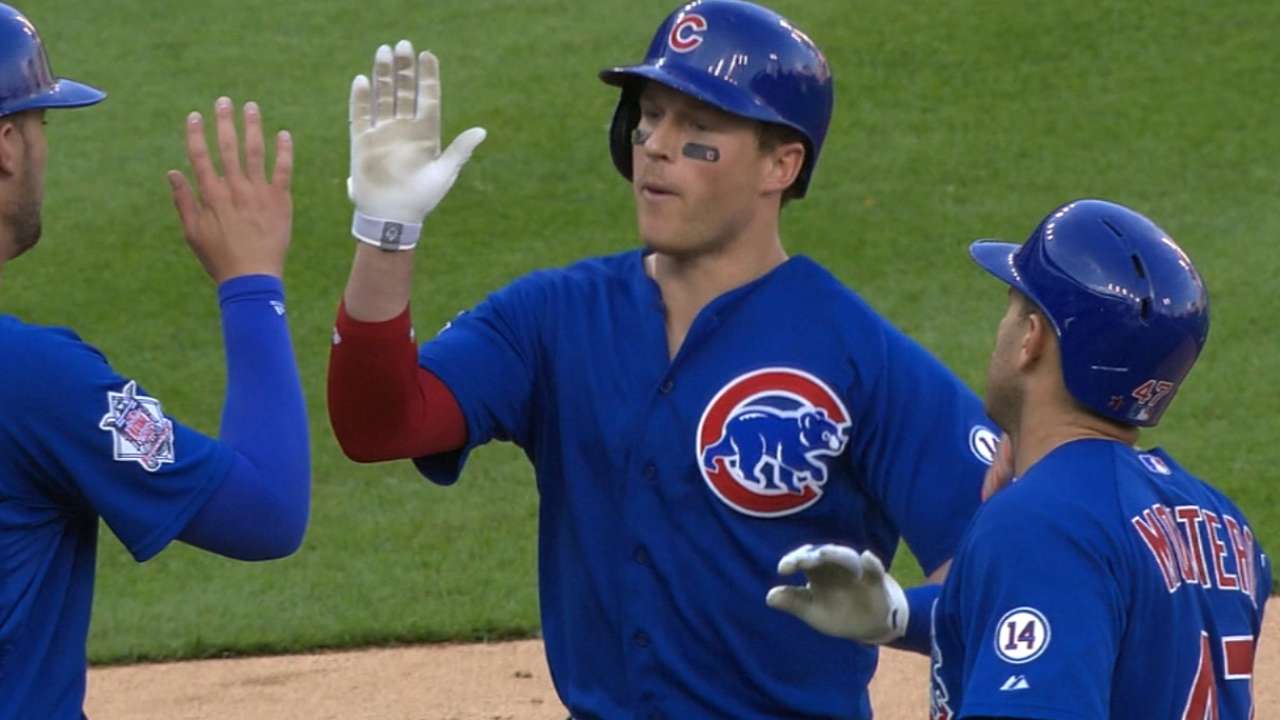 MESA, Ariz. -- The A's brought Chris Coghlan aboard a packed train on Thursday morning, acquiring the veteran utility man from the Cubs in exchange for right-hander Aaron Brooks.
Never mind the probable roster logjam, they say. Oakland's front office considers Coghlan an essential upgrade to the lineup, his left-handed bat totaling 16 home runs and 47 extra-base hits in a career-high 148 games last season. It's simply unclear at this point where Coghlan fits in that order, though the A's envision him replicating the role Ben Zobrist held in his brief time with the club.
• Spring: Tickets | Ballpark | 40-man roster | NRIs
"We think he has a chance to impact our lineup in a number of spots," A's general manager David Forst said. "We see him kind of as a Zobrist-type guy, able to move around. I just talked to him a little bit ago, and he's excited to move around and kind of be that Zobrist-type guy for us."
Ironically, Brooks initially came to the A's -- along with top pitching prospect Sean Manaea -- in the Zobrist trade with the Royals last summer, adding to a pool of depth from which the A's were able to pull from in order to complete their latest deal.
The 30-year-old Coghlan, the 2009 National League Rookie of the Year, has spent the majority of his career as an outfielder, playing primarily in left with prior experience in center, but he's also clocked time at first, second and third base. His 23 games in the infield last season were a career high.
At the plate, Coghlan hit .250 and compiled a .341 on-base percentage, with 41 RBIs and 11 stolen bases.
"He's just a quality offensive player, and we were looking for versatility," Forst said. "When [manager] Bob [Melvin] has options in the lineup and has the ability to move guys around and change the lineup, is when our team works the best.
"We've said this about a couple guys this offseason, but he'll find a way to get at-bats. We only have a handful of guys that are going to play in one spot every day. He really is a good fit for what we do."
Newly acquired slugger Khris Davis, expected in left field on a daily basis, is considered one of only a few everyday players residing on this roster; second baseman Jed Lowrie, shortstop Marcus Semien third baseman Danny Valencia and right fielder Josh Reddick can also be grouped under this label.
But each will get their days off from time to time, opening up playing time for Coghlan in the infield when he's not spelling center fielder Billy Burns. This utility infield type of role is similar to the one held by longtime Athletic Eric Sogard, who could ultimately be squeezed out of the Opening Day picture should everyone get through camp healthy.
There are also still at-bats to be allotted to Coco Crisp and Mark Canha, further complicating things.
"I think that probably will be answered in April," Forst said. "A lot can happen between now and then, whether it's more trades, whether it's injuries."
"There have been years in the past where it didn't look like Sogie fit, and he ends up with us," Melvin said. "Nothing's been settled yet.
"We'll let it play out in spring and see how the roster ends up at the end. It may look like it's a little clogged up right now, but things have a way of working themselves out. When you have a chance to get a good player, a versatile player, which we value, [Coghlan] is a guy we liked."
Brooks, 25, struggled in his short-lived tenure with the A's, going 3-4 with a 6.71 ERA in 11 games, including nine starts. He was expected to begin the season at Triple-A Nashville.
Fantasy spin | Fred Zinkie (@FredZinkieMLB)
Coghlan impacted mixed-league lineups last season when he compiled 16 homers, 11 steals and 64 runs. Now expected to function in a part-time capacity for the A's, the 30-year-old is unlikely to be a factor in standard formats during '16. He will likely combine with Crisp to support a starting outfield trio of Burns, Davis and Reddick, and he could also add eligibility at multiple infield positions during the year. Given his diverse skill set, Coghlan can be an asset to AL-only squads.
Jane Lee is a reporter for MLB.com. This story was not subject to the approval of Major League Baseball or its clubs.