Lazarito's family denies investor pulling strings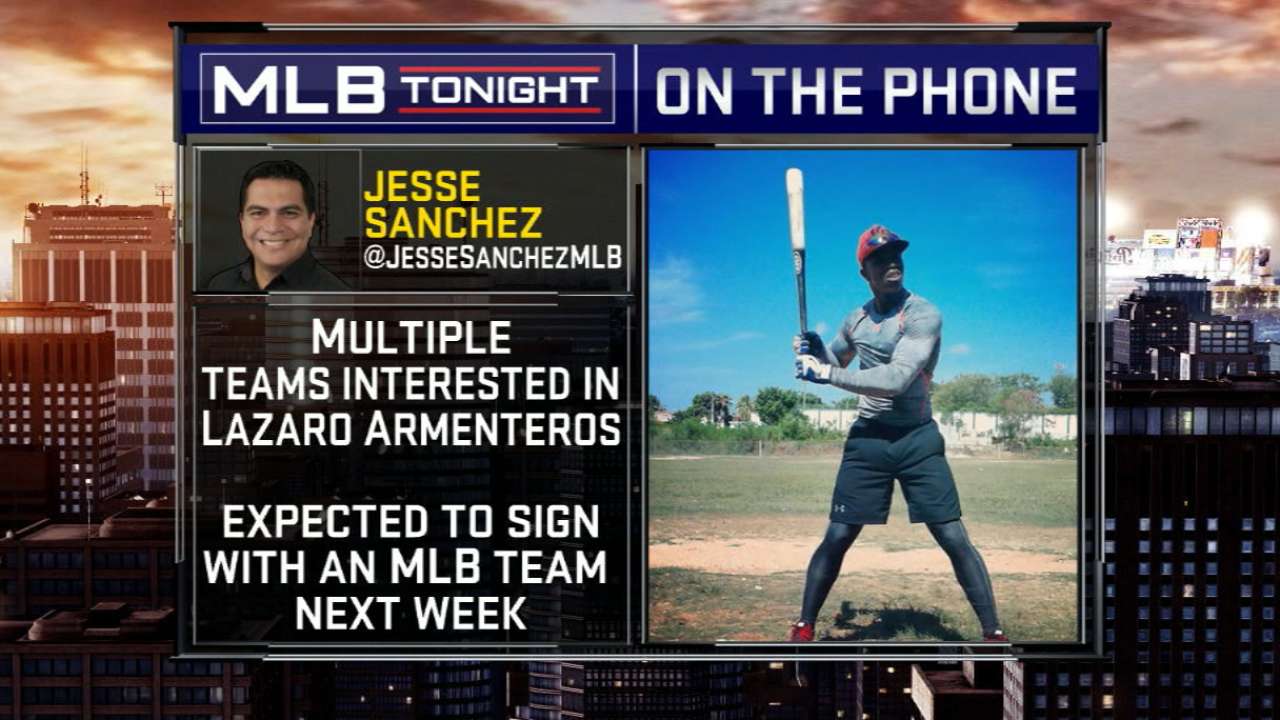 The saga of Lazaro "Lazarito" Armenteros has taken another turn.
One day after Charles Hairston, who had been the player's negotiating representative with Major League teams, declared that he would no longer represent the 16-year-old Cuban prospect after receiving death threats from the teenager's "investor" -- a person Hairston claims was seeking more control of the situation, including limiting the family's travel to the United States to work out for teams -- the Armenteros family told FOXSports.com they are in "absolute control" of their travel documents and free to operate as they choose.
The Armenteros family claims the biggest reason for the split is because of Hairston's inability to get actual offers from teams, and that Hairston did not allow the player to work with his original trainer.
Armenteros, who became eligible to sign Feb. 10, is subject to the international signing guidelines because of his age and experience. He is now represented by Octagon.
"I left Cuba on a mission to accomplish my dreams," Lazarito told FOXSports.com in a conference call with his parents and representatives from his new agency. "I want to be with my trainer, play consistently and focus on baseball as soon as possible."
• Top 30 International Prospects list
In a phone call with MLB.com, Hairston disputed the family's claims and insisted the investor remains the driving force behind Armenteros' decisions. Hairston further claimed he had at least two offers from teams that will be eligible to sign Armenteros when the international signing period begins July 2, and another team -- the Braves -- wanted Armenteros to visit their Spring Training facility in Lake Buena Vista, Fla., but the investor, through the family, nixed the travel plans. The Cubs and the Dodgers, two teams that are eligible to sign Armenteros now but will not be able to sign a player for more than $300,000 when the next international signing period begins after entering the maximum penalty, were also interested in signing the teenager, but they were doing their due diligence, the agent claimed.
The Giants and Royals, who are also among teams that can sign Armenteros during the current signing period but not the next, were not interested in signing him.
The Armenteros family told FOXSports.com they declined Atlanta's invitation because the prospect's parents were not invited.
Hairston, a cousin of former big leaguers Jerry and Scott Hairston and a nephew of Jerry Hairston Sr., claims his life was threatened by the prospect's investor on Feb. 14. The day after he claims he was threatened, Hairston decided to leave the Dominican Republic, but he continued to represent Armenteros until Tuesday. Hairston said he did so in an attempt to fulfill his remaining responsibilities to the player.
On Friday, Jerry Hairston told MLB Network Radio that Armenteros' situation is not what it seems and the family "is being forced to say certain things." The former Major League player said he trained with Armenteros in the Dominican Republic.
"We weren't naive going down there and trying to help the Cuban players. We understood the investors and how they have a certain control of the situation," Hairston said. "We understood that. We tried to do the best job for our client, and that was Lazarito.
"So it is sad they're going through it. Whatever he says, he's being forced to say. He told Ken Rosenthal -- Lazarito did -- that he never met Charles, never met him face to face. We have pictures, videos -- on my Instagram, on Charles' Instagram -- of Lazarito hugging Charles, they became like father and son, that type of relationship. And for Lazarito to say that, we know who is behind all of that. So whatever they say, you have to take with a grain of salt."
Armenteros, ranked No. 8 on MLB Pipeline's Top 30 International Prospects list, like most Cuban players is receiving assistance from an investor who helps players find training, housing and clothing in return for a percentage of the player's future salary.
Investors are different from the traditional "buscones," or trainers, who work with teenage players in the Dominican Republic or Venezuela, because investors often assist in acquiring residencies in countries outside of the United States and Cuba -- the first step to becoming a free agent -- and visas for their players. In some cases, investors are involved in transporting players from Cuba to a country outside of the island, according to sources.
Additionally, some investors are known to offer the players to the highest bidding agency to represent them and sell "percentages" of the players to other investors to cover the costs of maintaining players, the sources said.
It is believed an investor's percentage of a player's contract can be up to 25 percent, and the agent he contracts receives five percent. Hairston and representatives from Octagon said they do not pay to represent players.
Hairston still alleges the investor wanted more control of Lazarito's fate and reached out to teams on the player's behalf without telling Hairston. He also claims the investor began speaking with other agencies in an effort to change representation and move the player toward a specific club.
Armenteros, who established residency in Haiti in May, had his first open showcase last month, and he has been displaying his talents in private workouts for teams during the past several weeks in the Dominican Republic. He took a circuitous route from Cuba through Ecuador, Russia, Germany and Haiti to chase his dream. It's unclear who paid for the flights.
• International signing period primer
On the field, Armenteros was named to the all-tournament team last year after hitting .462 with eight RBIs in nine games during Cuba's championship run at the U15 Baseball World Cup in Mexico. He also had 42 hits in 38 games, with six home runs and 12 stolen bases for Havana's under-15 team in 2014. Armenteros recorded five hits, including two triples, in four games for Havana as a 13-year-old.
More than 100 Cuban players, including several All-Stars, have played in the Majors since the U.S. imposed sanctions on the island in 1961. Approximately 125 prospects have left the island in the past 20 months seeking Major League contracts with defection -- either leaving a national team during an international tournament or late-night escapes from Cuba to ports in Haiti or Mexico -- having traditionally been the only way for players to make it to the big leagues since Fidel Castro took power in '59.
Part of the mission of MLB's goodwill trip to Cuba in December was to learn more about the island and bridge the gap between the two countries using baseball. The trip came with the U.S. and Cuba seeking to normalize relations, and with baseball searching for a safe way to get Cuban players into the Major Leagues.
Jesse Sanchez is a national reporter for MLB.com. Follow him on Twitter @JesseSanchezMLB. This story was not subject to the approval of Major League Baseball or its clubs.