Braun feeling good about his health, 2016 club
PHOENIX -- Ryan Braun reported to Maryvale Baseball Park on Thursday morning bearing good news about his surgically repaired back, and a surprisingly optimistic outlook for the rebuilding Brewers.
First, on the matter of his health: Braun underwent back surgery in October and was slightly behind schedule as of late January, when he was in Milwaukee for the Brewers' fanfest. But he had a more positive report on Thursday after undergoing his annual physical exam, saying he would be a full participant in Spring Training.
"I feel really good," Braun said. "I'm able to do everything. I don't have any limitations. I think the plan is to kind of just pace ourselves as far as when I get into a game, but not because there's any limitations. Just to make sure we take advantage of the fact that we're out here for six weeks.
• Spring: Tickets | Ballpark | 40-man roster | NRIs
"There's no rush to get into games too soon. I've never felt like I've needed too many at-bats. But overall, I feel really good and I'm encouraged by where I'm at."
He said he'd already examined the Brewers' spring schedule with manager Craig Counsell and chosen a target date for playing in the Cactus League, but declined to share that plan since it could change. The idea, Braun said, is to amass 30-35 at-bats in exhibition play.
"I have yet to obviously slide or dive or run into a wall or do some of the things that will come up, so I'm curious to see how the back responds to some of those things," Braun said.
Said Counsell: "Ryan is going to play Opening Day in Milwaukee. I think we're going to kind of gradually increase the volume of his work in Arizona to point to that day. ... I wouldn't expect to see him in the first week of games down here, and quite honestly, if he [had not undergone surgery], I might tell you the same thing."
Braun is transitioning back to left field this year after playing the past two seasons in right. The move accommodates the arrival of Domingo Santana, a strong-armed power hitter acquired last July from the Astros who is 23 and best suited for right field.
Braun, who was a finalist for the Gold Glove Award as a left fielder in 2012, expects the move to be seamless.
"I think I was a little more comfortable in left field, just because I had done it longer, and growing up I was always on that side of the field," he said. "I had played shortstop my whole life and I played third for a year and a half, so I had always seen the ball off the bat from that angle, which I think was a little bit easier.
"But as far as right vs. left in Miller Park, I don't think there's too much of a difference. The biggest challenge is just where it juts out toward the bullpen. It's a little bit tricky at times, and I think left field, from a throwing perspective is a little bit easier. There's less long throws, less times you're going to fully exert yourself, left vs. right."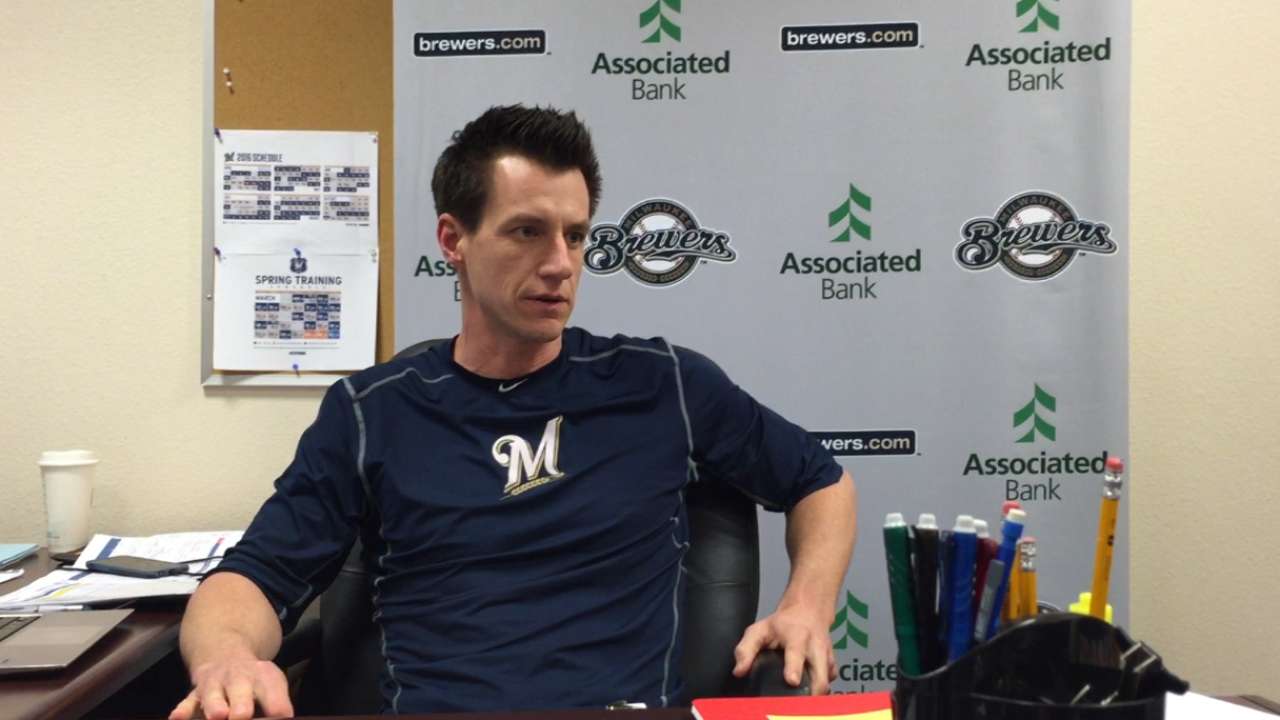 Braun is now 32 and entering his 10th Major League season. He's led the Brewers to the postseason twice (2008 and '11), won a National League MVP Award ('11), finished as a runner-up ('12), been suspended for violations of MLB's Joint Drug Prevention and Treatment program ('13), and endured a season ruined by a painful right thumb injury ('14).
The 2015 season represented a comeback for Braun, who solved the thumb issue with cryotherapy treatments and batted .285 with 25 home runs and 84 RBIs. He made the All-Star team for the first time in three years and played in 140 games.
Now, after surgery to repair a bulging disk in his back, he is entering the five-year, $105 million contract extension he inked in 2011. Meanwhile, the Brewers, coming off a late-season collapse in 2014 and 94 losses in '15, are entering a rebuilding phase. Former GM Doug Melvin and new GM David Stearns have combined to make 14 trades in the past seven months, almost all of them swapping with big league players for prospects. Braun and catcher Jonathan Lucroy represent the two most established players still standing.
Yet Braun spoke with surprising optimism about the season ahead.
"I think you guys are making too much of the rebuild," he told reporters. "Like I've said multiple times, we're not breaking up a team that's had a lot of success over the last few years. What we were doing wasn't working. Competing for third place or something isn't a good thing. It's not something any of us should be proud of.
"I think right now, we have as good a chance as we've had at any point of putting a team on the field that's consistently competitive in what I think is the toughest division in baseball. If you look at it, we have prospects right now. We have depth right now. I think our starting pitching is about as good as it's been at any time, and guys with upside. There's a lot to be excited about and a lot to look forward to, and like I said, what we've done doing the last few years hasn't worked. So I think we're definitely headed in the right direction."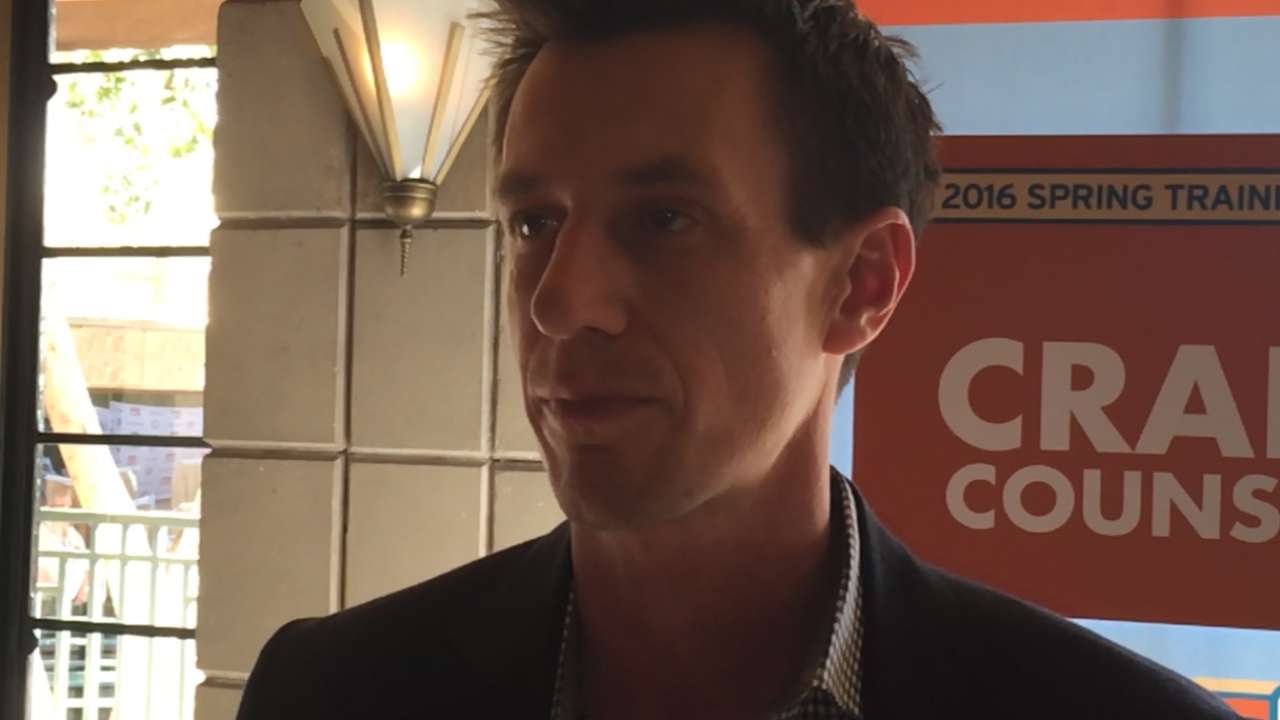 How long might it be before they reach their desired destination?
"This year? Why not," Braun said. "Who knows. There's plenty of guys with huge upside, huge potential. [Pitchers] Jimmy Nelson, Wily Peralta, Jorge Lopez -- all those guys can become No. 1 or No. 2 starters. It's not impossible for any of those things to happen. A lot of things have to go right for that to occur in a short period of time, but there's no reason we can't be good this year."
Adam McCalvy is a reporter for MLB.com. Follow him on Twitter @AdamMcCalvy, like him on Facebook and listen to his podcast. This story was not subject to the approval of Major League Baseball or its clubs.