Good position: Rays have options around the diamond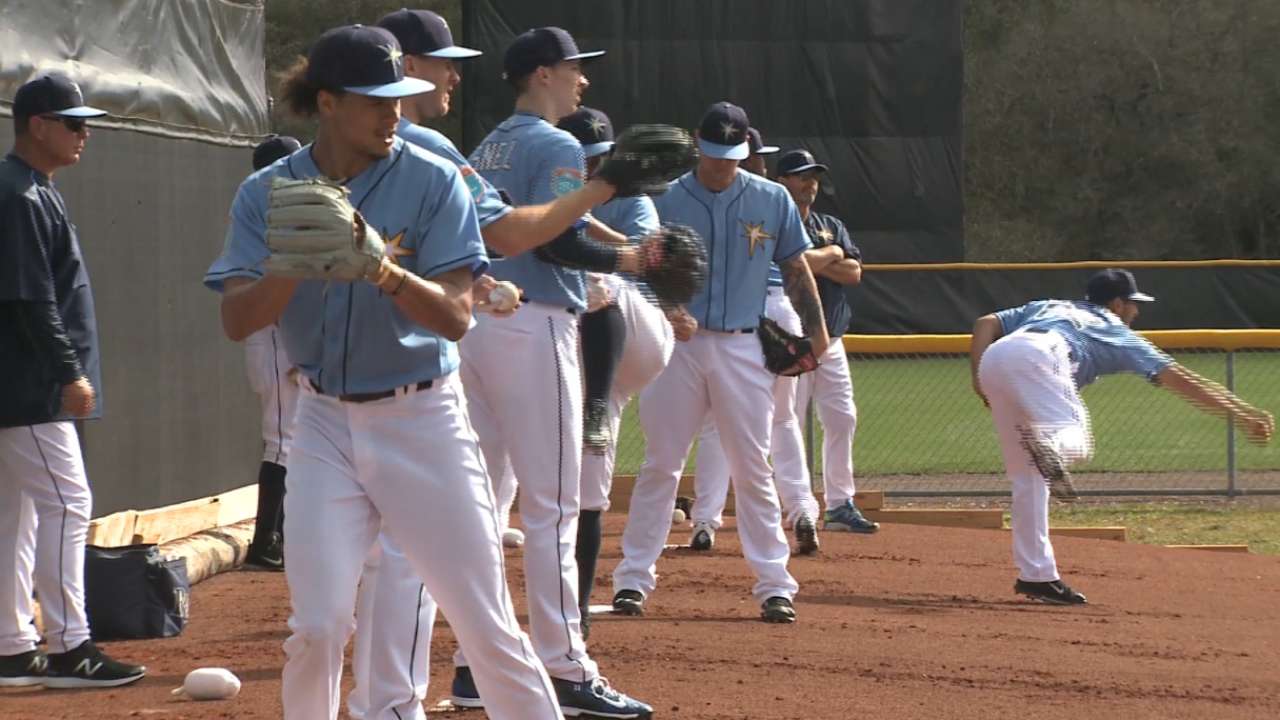 PORT CHARLOTTE, Fla. -- Sorting out players is a much more desireable scenario during Spring Training than trying to find players.
So let the sorting begin Friday morning when the Rays hold their first full-squad workout of the spring at Charlotte Sports Park.
Friday's workout begins at 9:15 a.m. ET and is open to the public.
"[Sorting is] definitely where you'd rather be than the alternative," said Matt Silverman, the Rays' president of baseball operations. "We have a lot of options going into Spring Training, and we'll see how they play out."
• Spring Training: Schedule | Tickets | Complete info
Decisions include deciding on an outfield. Players who can play the position include Kevin Kiermaier, Corey Dickerson, Brandon Guyer, Desmond Jennings, Mikie Mahtook and Steven Souza Jr. for starters. Add to that list untility man Taylor Motter and newcomers Steve Pearce and Logan Morrison, and that's pretty extensive list.
Shifting to the infield, Morrison, Pearce, Richie Shaffer and James Loney are all candidates for first base or DH -- a picture that also includes Dickerson and Guyer. Finally, there's shortstop, where Brad Miller appears to be penciled in as the starter. But who will be the primary infield back-up? Motter, Nick Franklin, Tim Beckham, or Ryan Brett?
Trying to sort out who is going to play can give any Rays fan brain freeze. But what if you're a player in the mix?
"From a personal standpoint, it will work itself out," Morrison said. "I'm just here to have fun and see what happens. As far as what I see from this team and what it could be, it could be something special. And we have all the starting pitching and defense that we need. Now it's just up to us is to hit."
Morrison said the one thing a player competing to win a job can't do is spend time worrying about what direction the team will decide to go.
"You want to just take care of what you can control," Morrison said. "That's coming in, having a good attitude every day and putting the work in let the chips fall where they may."
Rays manager Kevin Cash is entering his second season at the helm, and he said he is excited about seeing his 2016 team assembled on on the field for the first time on Friday.
As for the decisions that must be made by the end of spring?
"I think we do feel very strongly about the players we have in camp," Cash said. "Obviously every team is going to have difficult decisions at the end of camp. But we definitely feel like we're going into camp stronger offensively. Stronger from a pitching standpoint. Stronger because we're healthy."
Bill Chastain is a reporter for MLB.com. This story was not subject to the approval of Major League Baseball or its clubs.