Yanks cautious as Gardner recovers from wrist injury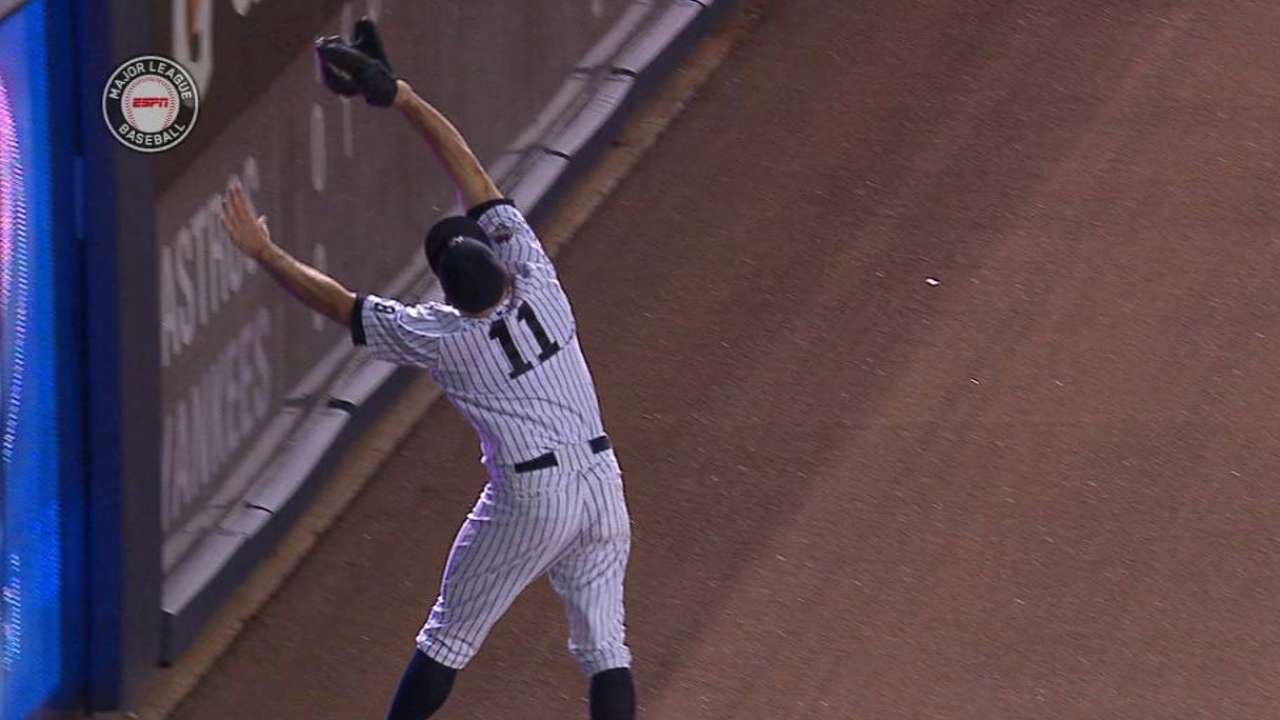 TAMPA, Fla. -- Brett Gardner normally picks up a bat shortly after the holidays, but at the Yankees' urging, the outfielder delayed his winter program in hopes of healing a bone bruise in his left wrist that was aggravated during the American League Wild Card Game.
As such, Gardner is behind the rest of the team's position players and did not participate in on-field batting practice on Thursday, though he did take 50 swings in the cage -- the first time that he has done so since the Yankees' season-ending loss to the Astros in October.
• Spring: Tickets | Ballpark | 40-man roster | NRIs
"Sometimes it takes a bone bruise quite a while to heal, and there's not a whole lot you can do to speed up that process," Gardner said. "It's frustrating at times, but I feel a lot better about where I'm at today than, let's say, a month ago. I'm excited to get back out on the field soon."
Gardner banged the wrist against Yankee Stadium's outfield fence in right-center field while making a leaping catch on an Evan Gattis drive. It was the final blow in a season that saw Gardner deal with issues after being hit by pitches in both wrists, requiring multiple cortisone injections.
Yankees general manager Brian Cashman said that Gardner complained about a month later about discomfort in the wrist, and a diagnostic MRI revealed the bone bruise. Gardner said that he has been taking dry swings for about two to three weeks, and he played catch on Thursday with no issues.
"They just wanted me to stay away from any kind of impact to give it those extra couple of weeks, to hopefully get back to close to 100 percent as possible," Gardner said.
Cashman said that it was not necessarily unusual for a bone bruise to be lingering nearly five months after the injury.
"No, a lot of times, the time frame for bone bruises on diagnostic testing to completely dissipate -- you could be waiting a year," Cashman said. "I know he feels good. We're just going to take it slow because we can."
Gardner's injury could mean a few extra spring at-bats for Aaron Hicks, as well as the other outfielders in camp. The Yankees open the Grapefruit League schedule on Wednesday against the Tigers, and they are not sure if Gardner will be ready to play by then.
"We're just taking it slow just because we can," manager Joe Girardi said. "We want to make sure that he clears every hurdle, that he gets through everything. My hope is that it's not much longer after the other players that he plays, but it's more being cautionary."
Bryan Hoch is a reporter for MLB.com. Follow him on Twitter @bryanhoch, on Facebook and read his MLBlog, Bombers Beat. This story was not subject to the approval of Major League Baseball or its clubs.