MLB.com Columnist
Bill Ladson
Kelley on setup role, playing on both coasts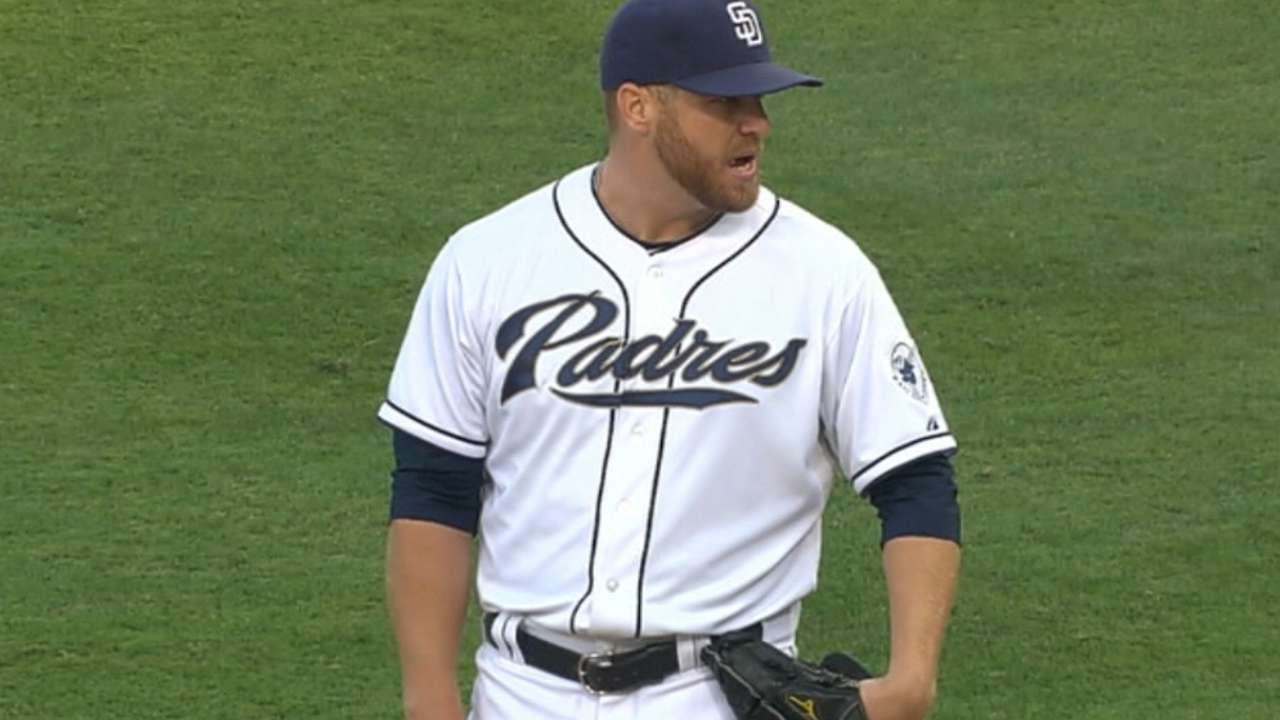 The Nationals needed to improve their bullpen this offseason, so they signed right-hander Shawn Kelley to a three-year, $15 million deal. He is expected to be one of the setup men in the bullpen.
Kelley enjoyed the best year of his career in 2015, posting a 2.45 ERA with 63 strikeouts in 51 1/3 innings for the Padres. MLB.com caught up with Kelley and talked about his years with the Yankees and why he joined the Nationals.
• Spring Training: Schedule | Tickets | Gear
MLB.com: The one thing I heard about you is how you handled playing in New York. Because of that, a lot of people feel you can handle D.C. How do you feel about that?
Shawn Kelley: New York is a different beast, I guess. It's a totally different market. I was coming from Seattle, where you don't have a ton of newspaper, a ton of coverage or walk in a locker [room] where there are 100 people during the first day of Spring Training. I never had an issue of expressing my thoughts or talk about games -- good or bad. I try to be honest and open as much as I can be.
… I don't read a lot. I don't try to get wrapped up in a lot of times when things are good. People tend to talk about how great you are, and it's probably a little bit better than what you really are. When you are bad, they probably make you worse than you really are. It's usually somewhere in between. I try to stay in the middle and not get too wrapped up in what's said and what's not said.
A lot of people believe you will be a big help to the Nationals' bullpen. You will be one of the setup guys. How much do you really want to help this bullpen?
That's the goal, whether it's setup, seventh inning, it doesn't matter. You come into the game with a lead or a tight ballgame and it's late -- now there is such a specialty in the bullpen. It's almost like you have three or four closers, not just one. You come in, you get your outs and you help the team win. If there are more of us that can do that, pitch in and help get the ball to Pap [Jonathan Papelbon] in the ninth, that's what is going to help us win a championship.
A lot people believe you turned things around when you went to New York and then in San Diego. What happened?
I think in New York, you are expected to win from Day 1, expected to win a World Series every year. Joba [Chamberlain] got hurt early [in 2013], Boone Logan came out of camp a little banged up. I fell in a seventh inning role right out of the gate. I had a lot of big situations. … I came in and did my job. It gave me more confidence in myself. [Manager Joe] Girardi showed more confidence in me. I kind of grew as a pitcher a lot that year and realized what I was capable of doing.
The things I learned in New York, I learned about myself as a pitcher. I went over to San Diego and I told people, I think everything I went through injury wise, pitching in New York, being traded a few times, it kind of all came together. It was kind of my platform. I think I really found myself as a pitcher -- maturity-wise, knowing my strengths, not so much what the hitter can or cannot do -- just being myself. I think that came out last year. I want to continue to develop as well.
What made you decide to come to the Nationals?
I was set on trying to find an East Coast team, to be honest with you. Somewhere in the Eastern time zone, somewhere closer to home, somewhere where the travel is not so bad for my kids, for them to be able to see me. Even more important than that, I wanted to play for a team that is ready to go to the World Series. … There is no better place to meet all my needs than right here in D.C.
Bill Ladson is a reporter for MLB.com and writes an MLBlog, All Nats All the Time. He also can be found on Twitter @WashingNats. This story was not subject to the approval of Major League Baseball or its clubs.