Breaking down Indians' 2016 Top 30 Prospects
Zimmer leads rankings; Clevinger cracks list at No. 7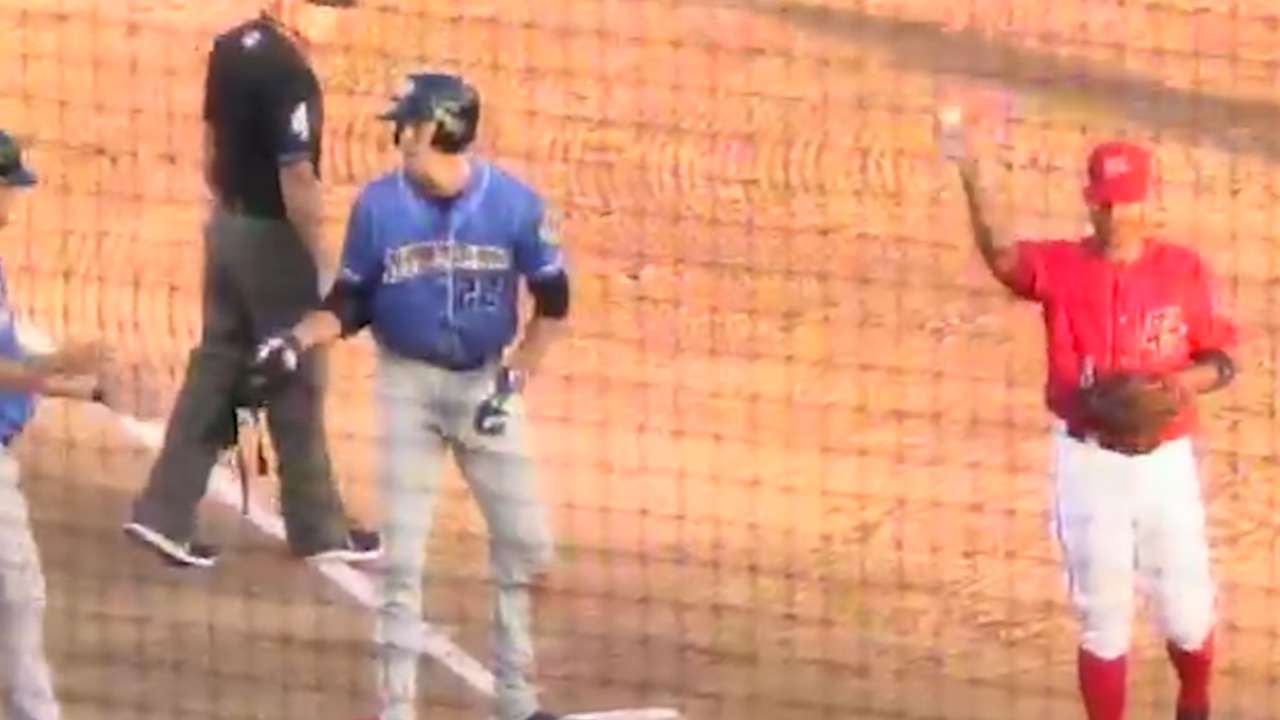 When Francisco Lindor was finally summoned from the Minor Leagues last year on June 14, the Indians were 29-32 and six games behind the Royals in the American League Central. Though they would never catch the would-be World Series champions, the Tribe, fueled by Lindor's arrival, went 39-34 after the All-Star break and remained in the Wild Card hunt well into the season's final month.
Lindor emerged as one of baseball's premier young talents, hitting .313/.353/.482 with 12 home runs, 22 doubles and 12 steals in 99 games, while also saving 10 runs with his Gold Glove-caliber defense at shortstop. Just 21 when he debuted, Lindor, who had ranked as the Indians' top prospect since being drafted No. 8 overall in 2011, was the runner-up in the AL Rookie of the Year race behind Carlos Correa.
• Indians' 2016 Top 30 Prospects list
Replacing Lindor atop the Indians' Top 30 prospects this year is outfielder Bradley Zimmer, who's one of five former first-rounders to crack the Top 10. Meanwhile, a half-decade of strong Drafts accounts for two-thirds of the talent on this year's list, as the Tribe has assembled a deep collection of both high-ceiling and high-floor players.
Many of those players should arrive in the coming years, too, as more than half of the players in the Top 30 -- including Zimmer, Clint Frazier, Mike Clevinger, Rob Kaminsky and Tyler Naquin -- are projected to reach the Major Leagues during the 2016-17 seasons.
And talent doesn't stop there; 2015 first-rounder Brady Aiken, originally the No. 1 overall Draft pick in 2014, could provide the Indians with a new ace by the end of the decade, while slugging first baseman Bobby Bradley -- who paced the Rookie-level Arizona and Class A Midwest Leagues in home runs in back-to-back years to begin his career -- shows the makings of become a middle-of-the-order force.
Biggest jump/fall
Here are the players whose ranks changed the most from the 2015 preseason list to the 2016 preseason list.
Jump: Mike Clevinger (2015: NR | 2016: 7)
Fall: Jesus Aguilar (2015: 13 | 2016: NR)
Top 30 Prospects lists
Division
Teams/Release date
NL East
ATL, MIA, NYM, PHI, WAS
AL East
BAL, BOS, NYY, TB, TOR
NL Central
CHC, CIN, MIL, PIT, STL
AL Central
CLE, CWS, DET, KC, MIN
NL West
ARI, COL, LAD, SD, SF
AL West
HOU, LAA, OAK, SEA, TEX
Best tools
Players are graded on a 20-80 scouting scale for future tools -- 20-30 is well below average, 40 is below average, 50 is average, 60 is above average and 70-80 is well above average.
Hit: Bradley Zimmer (55)
Power: Bobby Bradley (60)
Run: Greg Allen (60)
Arm: Tyler Naquin (65)
Defense: Allen (60)
Fastball: Brady Aiken (65)
Curveball: Aiken (60)
Slider: Mike Clevinger (55)
Changeup: Adam Plutko (60)
Control: Plutko (60)
MLB's Top 10 farm systems
How they were built
Draft: 20
International: 7
Trade: 3
Breakdown by ETA
2016: 9
2017: 7
2018: 8
2019: 6
Breakdown by position
C: 1
1B: 2
2B: 1
3B: 1
SS: 5
OF: 7
RHP: 6
LHP: 7
Mike Rosenbaum is a reporter for MLB.com. Follow him on Twitter at @GoldenSombrero. This story was not subject to the approval of Major League Baseball or its clubs.