Simmons sets sights on offensive spike in '16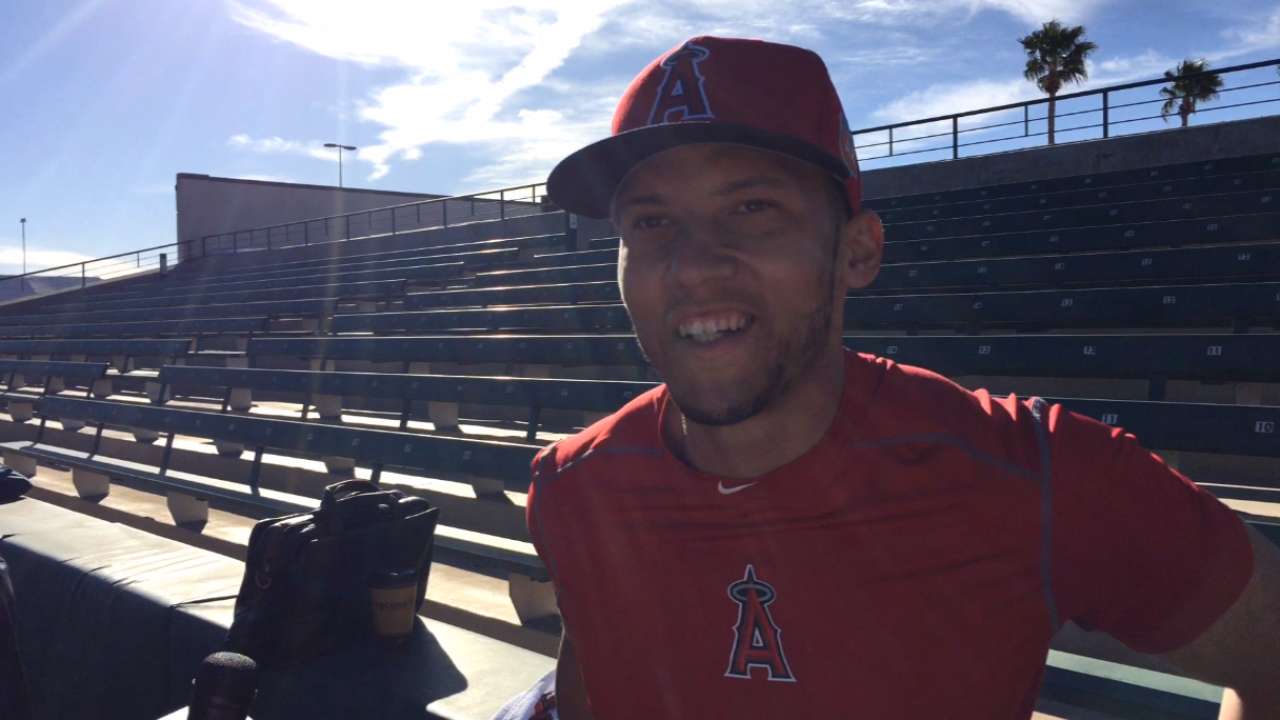 TEMPE, Ariz. -- Wednesday was Andrelton Simmons' first official day with the Angels, so he thought he'd stop by the pitchers' meeting and listen in for a while. Problem is, he wasn't dressed in his full uniform. And that's a rule. Simmons was wearing shorts, and word quickly spread to his new manager, Mike Scioscia, who playfully looks for this kind of thing during Spring Training.
The penalty, as usual: lunch for the whole team.
• Spring Training: Schedule | Tickets | Gear
"First day was a little rough, but it's good," Simmons said, laughing. "Now I know -- whenever there's a meeting, I have to be fully dressed."
The Angels gave up a lot for Simmons, sending their two best prospects (Sean Newcomb and Chris Ellis) and one of their cornerstone players (Erick Aybar) to the Braves in the middle of November. They did it because Simmons will provide them with premium defense at shortstop, at an ideal age and at a fair price, for the next five years. But they'd love it if he found another gear offensively.
Simmons was asked what he'd like to be offensively.
"I don't know, maybe a .280 hitter," he said. "Ideally I'd drive in a hundred, but that's Mike Trout's territory. You want to be productive, whatever it is. You want to move the guy over when you have to. You want to come up with a big hit. I don't want to look at the end of the year and be like, 'Let me see my numbers.' I want to look at the end of the year and see how many times I came through for my team and how often I helped my team win a game."
Simmons -- set to make $53 million through the 2020 season -- sports a .252/.301/.357 slash line as an everyday player over the last three years. His .658 OPS ranks 12th among the 15 shortstops who have registered at least 400 games in that span.
But Simmons flashed some power in his first full season, hitting 17 home runs in 2013. He also has just 184 strikeouts in 499 career games, and a few people with the Braves believe the 26-year-old right-handed hitter could improve offensively if he doesn't try to pull the ball so frequently.
"I get to work with veterans like [Albert] Pujols, get to watch them play every day," Simmons said when asked what it would take to become a .280 hitter. "I'll try to pick their brains, see what I can get better at, listen to the hitting coaches, and be disciplined at the plate. Get my pitches, and see where I'm at."
Alden Gonzalez is a reporter for MLB.com. Follow him on Twitter @Alden_Gonzalez and Facebook , and listen to his podcast. This story was not subject to the approval of Major League Baseball or its clubs.