Davis: Trade to A's is 'great opportunity'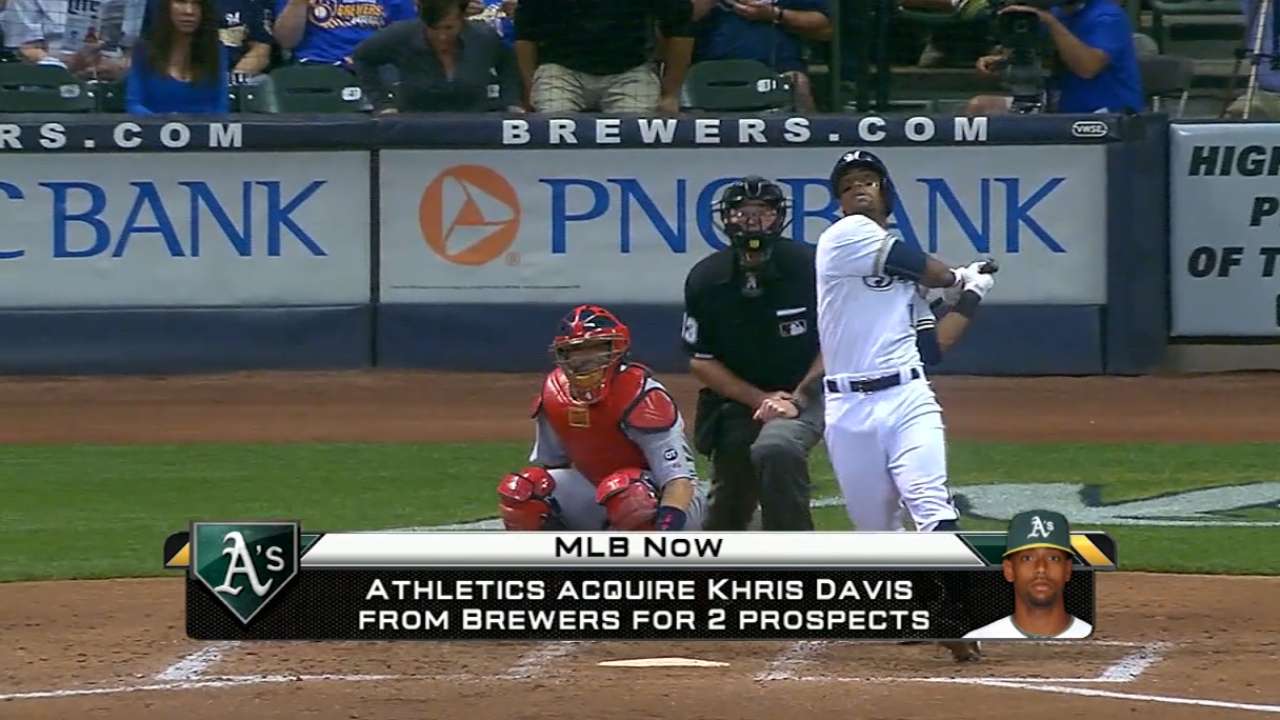 MESA, Ariz. -- Khris Davis received a welcome distraction while stuck in his car on a Los Angeles freeway nearly two weeks ago.
The outfielder's agent phoned him with news that the A's had traded for him, effectively ending his nearly eight-year tenure with the Brewers.
"I was just sitting on the freeway thinking, what a great opportunity," Davis said Wednesday, speaking to local media for the first time since the deal unfolded. "I can't wait to ball out, enjoy my teammates and help the organization win ballgames."
• Spring: Tickets | Ballpark | 40-man roster | NRIs
"This is a great opportunity to show the world what I can do," he added.
Davis has been on site since Monday, three days before A's position players are required to report, and he already appears right at home in between locker neighbors Coco Crisp and Billy Burns, proudly donning his new white cleats
"I love them," Davis said. "I feel so fly right now. It's incredible.
"That was another thing when I heard about Oakland, was the white cleats, so I'm excited to play in those. It's a tradition here, so I'm excited to live it out."
In Davis, the A's got four years of club control of an everyday left fielder with plenty of pop, while sacrificing two prospects, including highly regarded catcher Jacob Nottingham. Davis totaled 27 home runs in only 392 at-bats during an injury-plagued 2015 season in Milwaukee, begging the question, just how many can he hit when fully healthy?
The Coliseum's unique dimensions will be a factor, of course, but Davis has yet to give any thought to this since he's never been.
"I haven't. I heard it's big though," he said, smiling.
Davis is familiar with many of the players who have previously called it home, however, throwing out names like Dennis Eckersley, Rickey Henderson and the Bash Brothers -- the duo of Mark McGwire and Jose Canseco -- when asked about his familiarity with the organization.
"That's kinda what I think about, that old-school, grindy baseball," he said.
Davis joins an outfield that also features speedy center fielder Burns and defensive whiz Josh Reddick, who said this week of Davis, "He's someone who's proven himself in the Milwaukee organization for a few years now, and it's going to be good to have a guy who can run out there every day. Last year, injuries were a big problem for us in left field, so it can kind of stabilize our outfield. It's a good rotation of guys to have out there."
"It seems like a great bunch of guys," Davis said. "I'm just excited to learn what they bring and show them what I can do at the same time. It's been laid back, and the rule is there are no rules, you just carry yourself like a professional."
Jane Lee is a reporter for MLB.com. This story was not subject to the approval of Major League Baseball or its clubs.