MLB.com Columnist
Jim Callis
Breaking down Royals' 2016 Top 30 Prospects
Mondesi leads rankings; Strahm cracks list at No. 10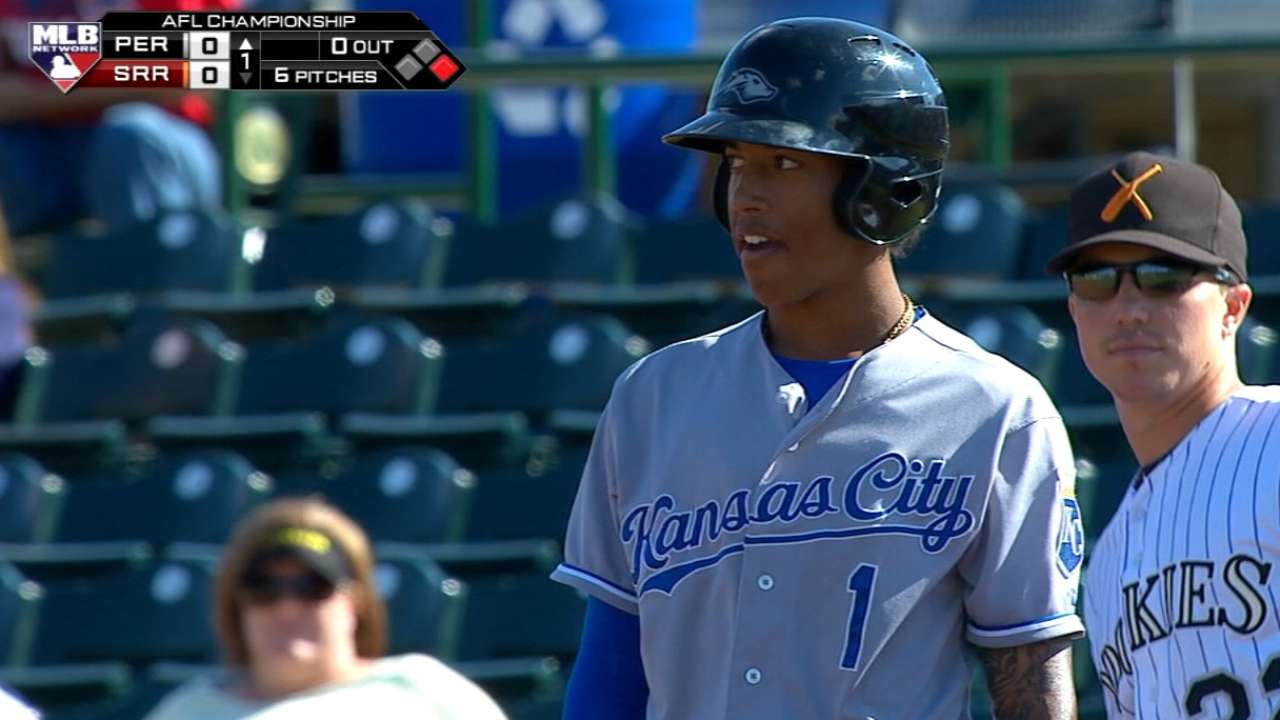 The Royals built the core of their World Series championship club and back-to-back pennant winners largely from within. They excelled at finding talent with early first-round picks (Alex Gordon, Mike Moustakas, Eric Hosmer) and bargain international signings (Salvador Perez, Kelvin Herrera, Yordano Ventura). Last year, they put the finishing touches on their club by parting with most of their best young arms (Cody Reed, Sean Manaea, Brandon Finnegan) in deals for Johnny Cueto and Ben Zobrist.
Not that anyone is complaining in Kansas City, but those trades thinned out a farm system that won't offer much in the way of immediate help. While right-handers Kyle Zimmer and Miguel Almonte might reinforce the pitching staff in 2016, many of the Royals' best prospects are youngsters off to slow starts in the lower Minors.
• Royals' 2016 Top 30 Prospects list
Shortstop Raul Adalberto Mondesi is the jewel of the system but is still trying to find his footing offensively. Most of Kansas City's top position prospects follow his lead with a combination of interesting tools but unproven hitting ability. The Royals haven't had much success developing homegrown starting pitchers but hope to change that trend after taking high schoolers Ashe Russell, Scott Blewett, Nolan Watson and Foster Griffin the first two rounds of the last two Drafts.
Biggest jump/fall
Here are the players whose ranks changed the most from the 2015 preseason list to the 2016 preseason list.
Jump: Matt Strahm, LHP (2015: NR | 2016: 10)
Fall: Christian Binford, RHP (2015: 11 | 2016: NR)
Top 30 Prospects lists
Division
Teams/Release date
NL East
ATL, MIA, NYM, PHI, WAS
AL East
BAL, BOS, NYY, TB, TOR
NL Central
CHC, CIN, MIL, PIT, STL
AL Central
CLE, CWS, DET, KC, MIN
NL West
ARI, COL, LAD, SD, SF
AL West
HOU, LAA, OAK, SEA, TEX
Best tools
Players are graded on a 20-80 scouting scale for future tools -- 20-30 is well below average, 40 is below average, 50 is average, 60 is above average and 70-80 is well above average.
Hit: Cheslor Cuthbert (50)
Power: Ryan O'Hearn (55)
Run: Raul Adalberto Mondesi (70)
Arm: Raul Adalberto Mondesi (65)
Defense: Raul Adalberto Mondesi (65)
Fastball: Josh Staumont (80)
Curveball: Kyle Zimmer (65)
Slider: Ashe Russell (60)
Changeup: Miguel Almonte (60)
Control: Alec Mills (55)
MLB's Top 10 farm systems
How they were built
Draft: 18
International: 10
Trade: 2
Breakdown by ETA
2016: 7
2017: 7
2018: 6
2019: 8
2020: 2
Breakdown by position
C: 1
1B: 1
2B: 0
3B: 2
SS: 4
OF: 8
RHP: 10
LHP: 4
Jim Callis is a reporter for MLB.com. Follow @jimcallisMLB on Twitter. This story was not subject to the approval of Major League Baseball or its clubs.