MLB.com Columnist
Phil Rogers
Twins' power pitchers on the cusp
Berrios, Jay, Burdi represent the future for Minnesota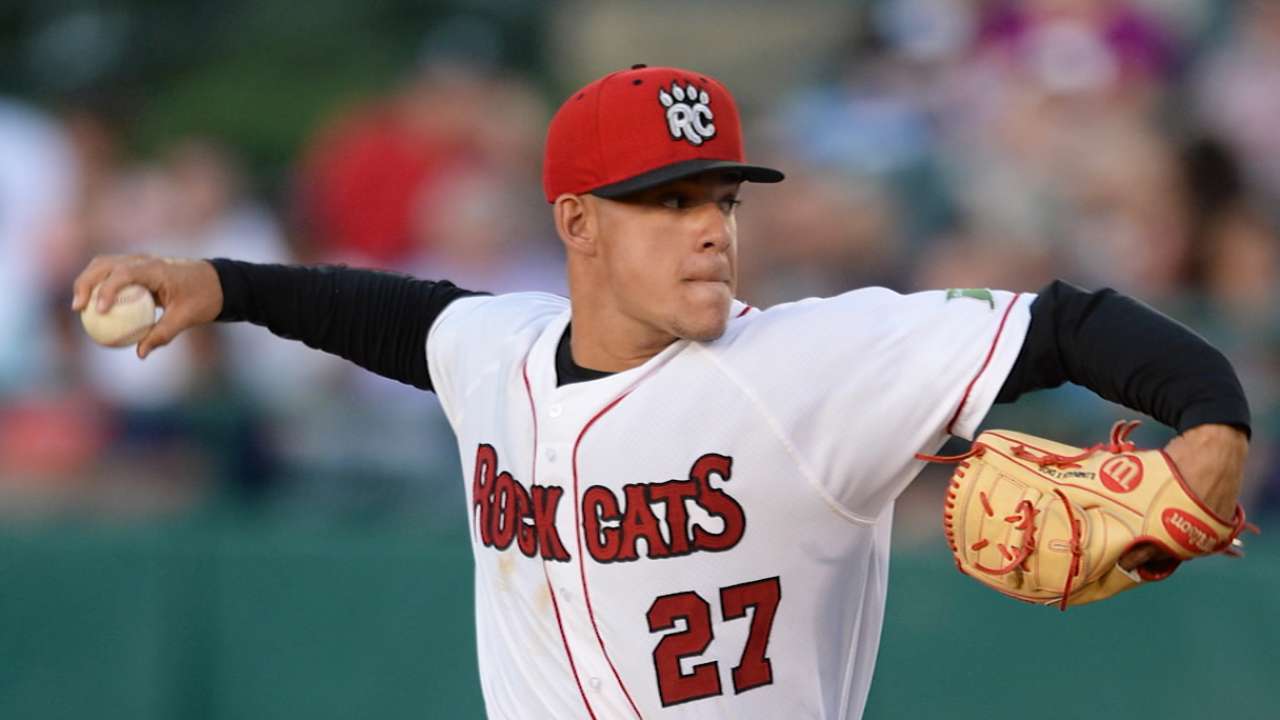 FORT MYERS, Fla. -- Ice fishing and power pitching are not mutually exclusive. They can thrive in the same area.
Fans can support both high school hockey players with sizzling slap shots and big league pitchers with 98-mph fastballs. There's nothing about the climate that makes Minnesota a land of 10,000 pitchers who throw to contact.
"Anybody and everybody who is in the evaluation business will tell you they're looking for guys with stuff, and [they're] looking for guys who can locate, compete and stay healthy,'' Twins general manager Terry Ryan said. "Anybody's looking for that, and yeah, we are too. It hasn't worked out, maybe, many times.''
That was the past. Jose Berrios, Tyler Jay and Nick Burdi, among others, are the future. The Twins won consistently for years behind relatively anonymous rotations, with guys like Brad Radke, Eric Milton, Joe Mays, Nick Blackburn and Scott Baker leading the way. But they fell behind the competition in recent years. They've been conspicuously short on power arms in this era of increasing velocity, relying on a combination of strike-throwers and strong fielders instead of investing their resources in pitchers who can blow away hitters.
Minnesota has finished last in the American League in strikeouts five years in a row and hasn't been above the league average since it traded Johan Santana at the end of 2007, when he was one year short of free agency.
There's a chance the Twins will extend that streak this season, as the starting rotation could be essentially the same as last season, but when you look on the mounds at the CenturyLink Sports Complex, you can see change is coming fast -- sort of like a Berrios fastball. Or one from Alex Meyer, J.T. Chargois, Jake Reed, Burdi or Jay.
Position players like Miguel Sano, Byron Buxton, Eddie Rosario, Max Kepler and Nick Gordon helped renew excitement about the Twins, who won 83 games and finished second in the division in Paul Molitor's first season. The starting rotation ranked eighth in the AL with a 4.14 ERA, and Minnesota will rise or fall in the highly competitive AL Central on the development of its young pitchers.
Berrios, a 21-year-old Puerto Rican who has been the World Team's starting pitcher in the past two All-Star Futures Games, was strongly considered for a promotion from Triple-A Rochester last September, with the Twins trying to catch the Yankees and Astros in the AL Wild Card race. Ryan took the long-term view, shutting him down after 166 1/3 innings rather than risk injury or a blow to his confidence.
Berrios was selected with the 32nd pick overall in 2012 after he no-hit a Puerto Rican All-Star team that was led by Carlos Correa. He's struck out 464 in 440 2/3 Minor League innings, with a 2.98 ERA. Berrios is getting a chance to win a spot in the rotation this spring, and there's little Molitor would like more than having him in the mix behind Phil Hughes, Ervin Santana and Kyle Gibson.
"He's been [the Twins' Minor League] Pitcher of the Year two years in a row,'' Molitor said. "We all know pitching is the key ingredient in what we're doing here.''
Really? You wouldn't know that if you've been keeping up with the buzz about Buxton and Minnesota's other young position players.
Molitor spent the past two decades with his hometown Twins, remaining on as a coach and Minor League instructor after his Hall of Fame playing career. He doesn't remember ever seeing this many pitching prospects with high-90s fastballs on hand at the same time.
"We all knew this day was coming,'' Molitor said. "There was a concerted effort to draft more velocity a handful of years ago, compared to those pitch-to-contact guys who served us well for a lot of years. As the game changed and the strikeout changed, our philosophy changed a little bit. They've started to surface up here. It's how the game has evolved. It's good to have. I'm excited, like a lot of people are, about the arms we have coming. … Velocity plays.''
Scouting director Deron Johnson cited a new emphasis on power arms after the Twins took Burdi, a University of Louisville right-hander, with the 46th overall pick in 2014. Jay, a University of Illinois lefty, was selected with the sixth overall pick last June, continuing the push for elite arms.
Burdi, Chargois and Meyer have hit triple digits on radar guns, with Burdi famously clocking 103 mph in the Cape Cod League. Berrios and Jay have fastballs that can sit in the mid-90s and occasionally into the upper-90s.
Jay was a workhorse closer in college, but he is being developed as a possible front-of-the-rotation arm.
"He's got four pitches,'' Ryan said. "It's tough to come up with left-handed pitchers who have the pitches he has.''
Jay, like Berrios, is athletic with an average build. He's built like a wide receiver, which was the positon he played in football at Lemont (Ill.) High School.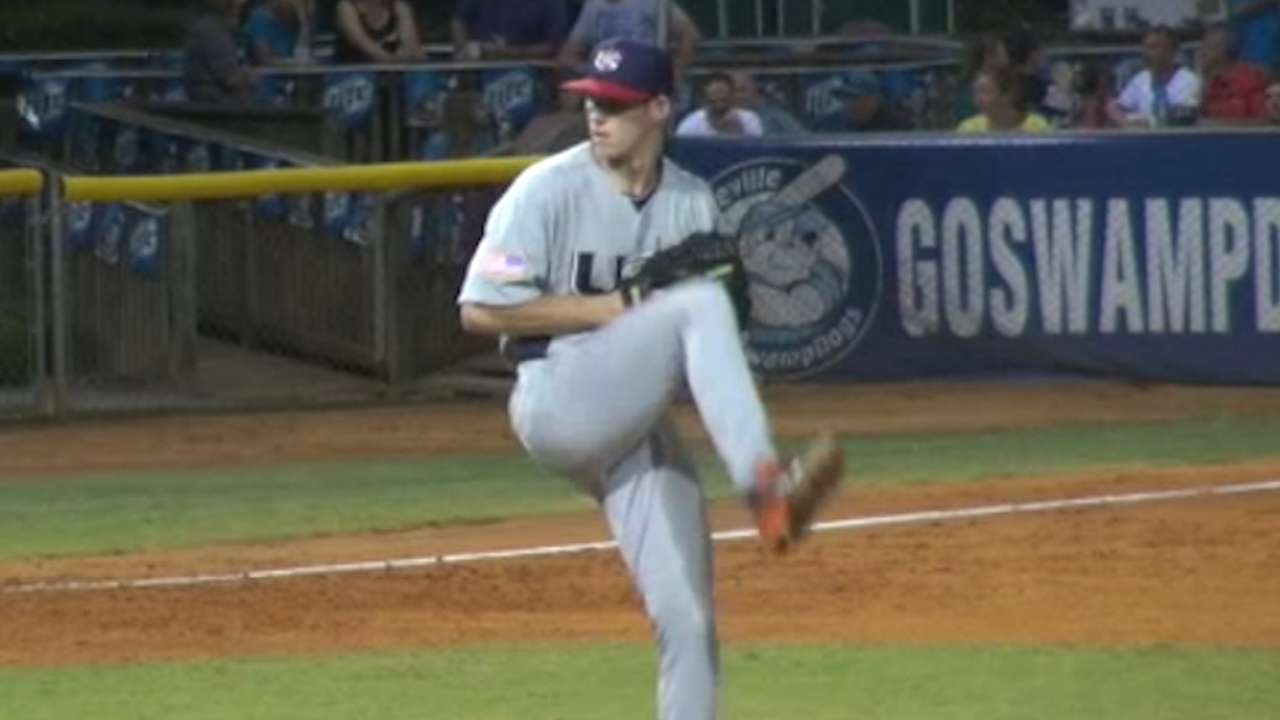 "He's got pretty good stuff,'' Ryan said. "He's not very big. He's quite similar to Berrios. This guy is not nearly as strong. He's a wiry, athletic guy. He was a football player. He's got that mentality. He's a bit of a bulldog.''
Meyer, Burdi, Chargois and Reed are competing for bullpen spots behind All-Star closer Glen Perkins, whose 95-mph fastball ranked second to J.R. Graham (95.7 average) on the 2015 staff. They're not all going to come at once, of course, but they are the kinds of prospects that second-year pitching coach Neil Allen worked with routinely as a Minor League coach for Tampa Bay.
"I think they were looking for a change [here],'' Allen said. "The thing they wanted to know from me was: how is it that the Rays just keep running pitchers up from their farm system year in and year out? I came over here with the philosophy I'm not pitching to contact. I'm coming after you right away.''
The Twins' power pitching revolution is underway.
Phil Rogers is a columnist for MLB.com. This story was not subject to the approval of Major League Baseball or its clubs.