Robles' suspension reduced to two games
Mets reliever will sit out club's opening series in KC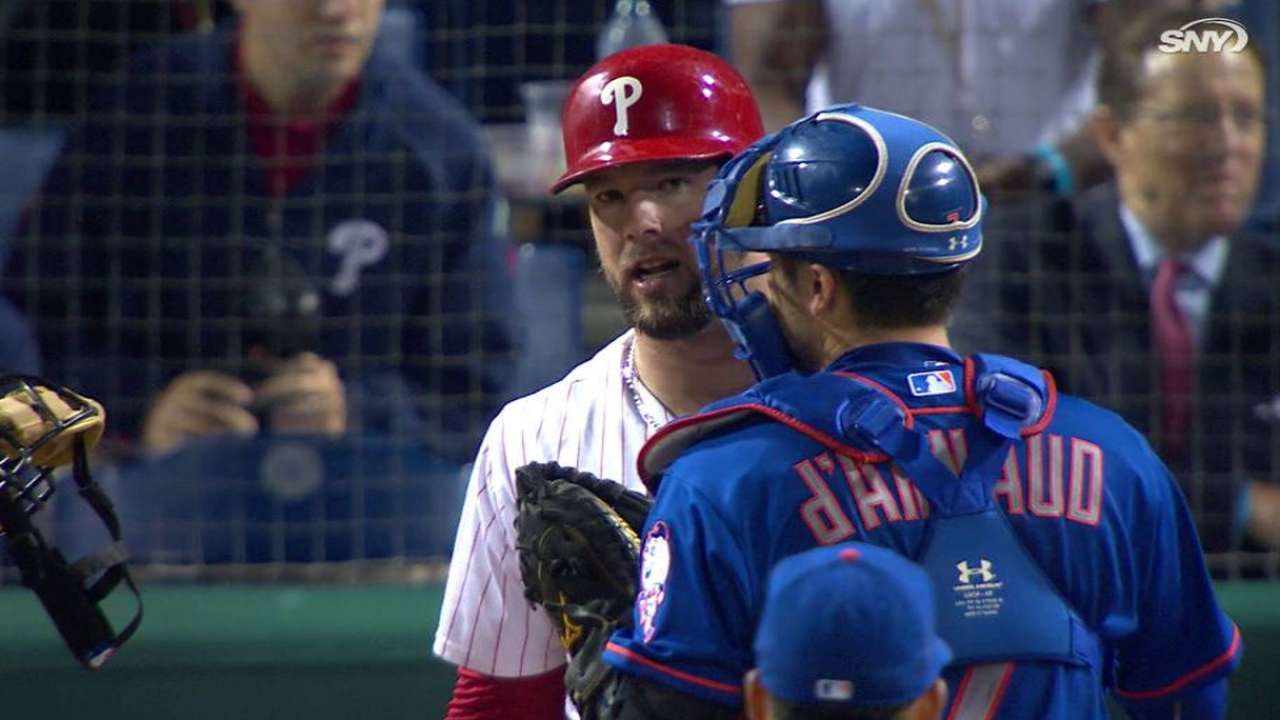 PORT ST. LUCIE, Fla. -- Hansel Robles has received a one-game reduction to his three-game suspension for throwing near the head of Phillies catcher Cameron Rupp last September, according to a source.
Robles' suspension will be effective Opening Day, forcing him to miss the Mets' two-game series against the Royals.
Robles, 26, was suspended three games and fined an undisclosed amount for throwing near Rupp's head during a Sept. 30 game. Major League Baseball contended that Robles "intentionally" threw at Rupp after umpires had issued warnings to both teams in a game that featured multiple hit batsmen. Exacerbating the situation was the Phillies' anger over what they perceived as an unfair "quick pitch" from Robles, who threw near Rupp before coming to the set position on the mound.
Benches cleared, with both Robles and manager Terry Collins being ejected. But Robles appealed the suspension at the time, making him eligible to pitch in the postseason. Major League Baseball did not hold its appeal hearing until Wednesday.
"It was never intentional, but that was the decision taken," Robles said Thursday through an interpreter. "So that's that. There's really nothing to do but move on."
The suspension certainly impacts the Mets in April, particularly considering Collins has already called Robles a lock for his Opening Day bullpen. Yet because the Mets have an off-day after their opener and two more following their second game, other relievers should have relatively little trouble filling in for him. Robles is likely to see a reduction in prominence this season anyway, with Addison Reed, Antonio Bastardo and Jerry Blevins slated to pitch in the lion's share of setup situations.
Robles finished last season with a 3.67 ERA and 61 strikeouts in 54 innings.
Anthony DiComo is a reporter for MLB.com. Follow him on Twitter @AnthonyDiComo and Facebook, and listen to his podcast. This story was not subject to the approval of Major League Baseball or its clubs.