Hellickson to start vs. University of Tampa
Manager Mackanin says he expects Herrera to be Phils' center fielder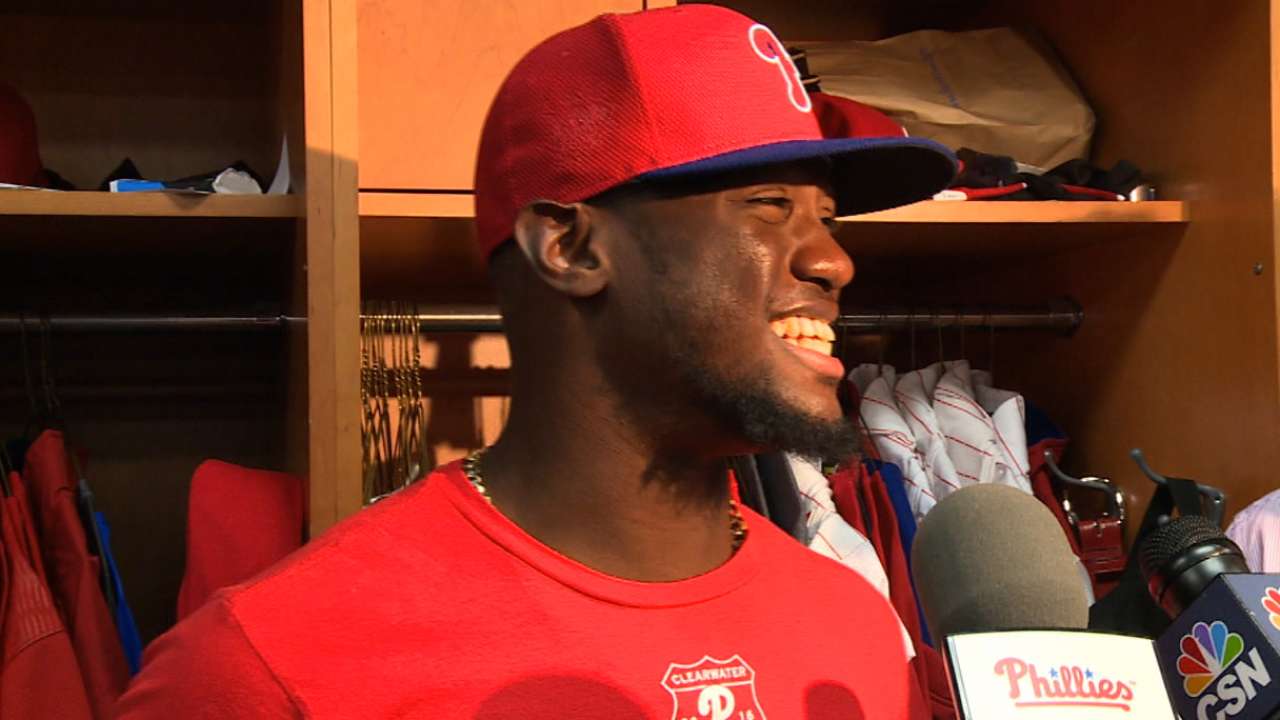 CLEARWATER, Fla. -- It might be too strong to say the Phillies seek revenge against the University of Tampa, but they certainly want to save face.
The Division II college team beat the Phillies in an exhibition game last spring at Bright House Field. They meet again Sunday.
"[Larry] Bowa and I are going to spend a lot of time putting that [lineup] together," Phillies manager Pete Mackanin joked. "We have to beat them this year."
• Spring Training: Schedule | Tickets | More info
Nobody came out and said it, but it was embarrassing for the Phillies to lose to a bunch of college kids, even though everyday players like Chase Utley, Ryan Howard and Carlos Ruiz never set foot on the field. Perhaps that is why veteran Jeremy Hellickson will start Sunday.
"We agree, we think he can handle the pressure," Mackanin said.
But seriously, is it important to have a better showing from a professional baseball team, even if the Phillies that play Sunday other than Hellickson are relatively inexperienced?
"We certainly want to beat a college team," Mackanin said. "But you have to consider that it's very early in camp. We haven't even gone over every fundamental yet. So we're seeing where guys are at. I'm anxious to see how we look on Sunday."
Mackanin said he plans to play some of the team's youngest players in camp, which likely means top prospects J.P. Crawford, Nick Williams, Jorge Alfaro, Andrew Knapp, etc. They are not expected to be in camp very long because they are expected to open the season in the Minor Leagues.
"I want to see them as quickly as possible because down the road we've got to get our team together," Mackanin said.
Herrera centered
Mackanin said he expects Odubel Herrera to remain in center field, despite the Phillies acquiring Peter Bourjos in the offseason.
Bourjos is regarded as one of the best defensive center fielders in baseball, but Herrera hit .297 with 30 doubles, three triples, eight home runs, 41 RBIs and a .762 OPS in 537 plate appearances last season. They might not want to mess with success by taking him out of his comfort zone in center field.
"He did such a good job at getting himself to become a pretty good center fielder," Mackanin said. "Now Bourjos has never played anywhere else so I told him and [Aaron] Altherr to work a lot on the corners, because I'm going to look at different scenarios, Bourjos in right and left and Altherr in right and left. And I'll put Odubel in right and left. But I'm leaning toward leaving Odubel alone in center field."
Eickhoff update
Mackanin said Phillies right-hander Jerad Eickhoff is "progressing nicely" from a non-displaced fracture of his right thumb. He could throw a bullpen session soon. Mackanin said he still thinks Eickhoff will be ready for the beginning of the season.
Todd Zolecki is a reporter for MLB.com. Read his Phillies blog The Zo Zone, follow him on Twitter and listen to his podcast. This story was not subject to the approval of Major League Baseball or its clubs.