MLB.com Columnist
Jim Callis
Breaking down the White Sox 2016 Top 30 Prospects
Fulmer, Anderson top list; lefty Guerrero jumps to No. 6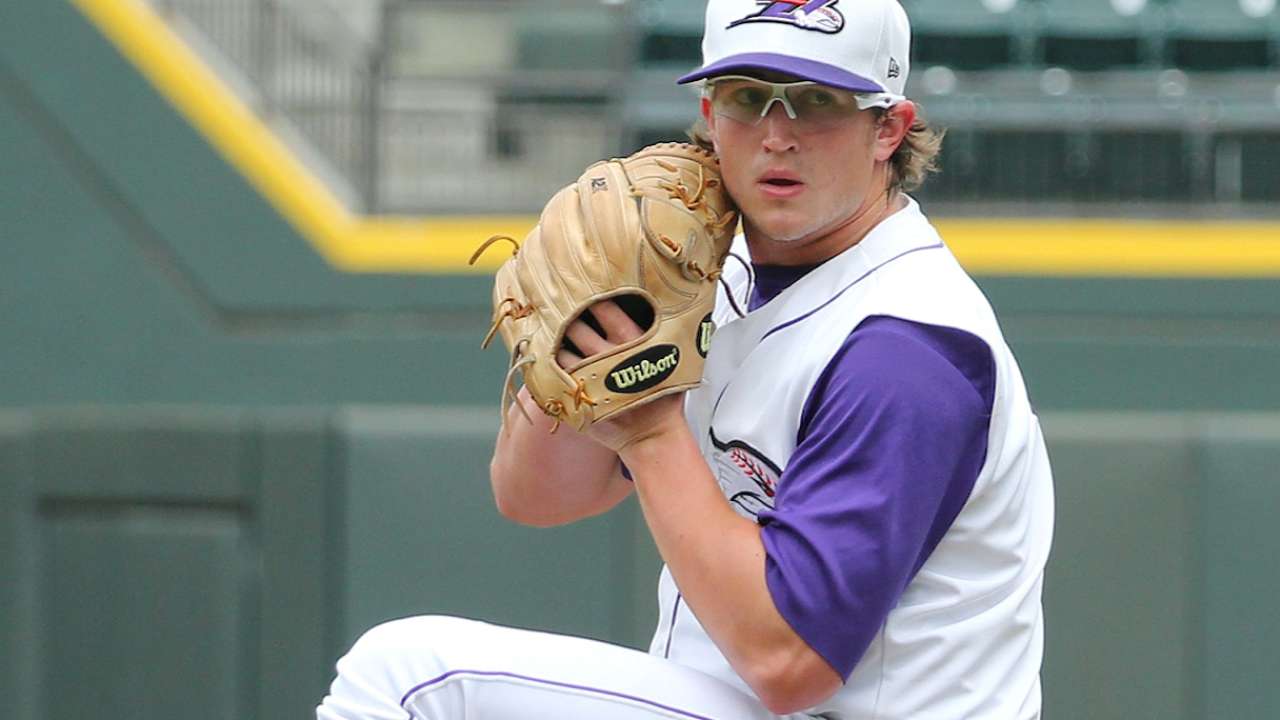 After hitting the jackpot in four straight years with Jack McDowell, Robin Ventura, Frank Thomas and Alex Fernandez from 1987-90, the White Sox experienced one of the worst first-round droughts in Draft history. They had 20 first-rounders from 1991-2009 and turned them into 14 big leaguers, none better than Kip Wells and Gordon Beckham. Wells and Beckham have combined for 15.4 Wins Above Replacement, while the other dozen have totaled -4.2.
Chicago has enjoyed much better first-round fortune this decade, stealing Chris Sale with the 13th pick in 2010 and expediting Carlos Rodon to U.S. Cellular Field after grabbing him at No. 3 in 2014. Right-hander Carson Fulmer (No. 8, 2015) and shortstop Tim Anderson (No. 17, 2013) rank as the system's two best prospects on a MLBPipeline Top 30 that includes 20 Draft picks. Not coincidentally, the White Sox are now paying market value after spending less on the Draft than any team during the 2007-11 Collective Bargaining Agreement.
• White Sox 2016 Top 30 Prospects
Chicago also has resurrected its international program after it was destroyed by a bonus-skimming scandal, though it will be a few years before outfielder Micker Adolfo and others are ready to make an impact in the Majors. Differing from predecessor Ken Williams, general manager Rick Hahn has mostly avoided trading prospects. He made an exception in December when he parted with Frankie Montas, Micah Johnson and Trayce Thompson to get Todd Frazier from the Reds, but the White Sox sold high on all three prospects.
Biggest jump/fall
Here are the players whose ranks changed the most from the 2015 preseason list to the 2016 preseason list.
Jump: Jordan Guerrero, LHP (2015: 28 | 2016: 6)
Fall: Nolan Sanburn, RHP (2015: 12 | 2016: Unranked)
Top 30 Prospects lists
Division
Teams/Release date
NL East
ATL, MIA, NYM, PHI, WAS
AL East
BAL, BOS, NYY, TB, TOR
NL Central
CHC, CIN, MIL, PIT, STL
AL Central
CLE, CWS, DET, KC, MIN
NL West
ARI, COL, LAD, SD, SF
AL West
HOU, LAA, OAK, SEA, TEX
Best tools
Players are graded on a 20-80 scouting scale for future tools -- 20-30 is well below average, 40 is below average, 50 is average, 60 is above average and 70-80 is well above average.
Hit: Tim Anderson (55)
Power: Courtney Hawkins (55)
Run: Adam Engel (80)
Arm: Johan Cruz (65)
Defense: Adam Engel (60)
Fastball: Carson Fulmer (70)
Curveball: Carson Fulmer (60)
Slider: Spencer Adams (55)
Changeup: Tyler Danish (60)
Control: Spencer Adams (60)
MLB's Top 10 farm systems
How they were built
Draft: 20
International: 7
Trade: 1
Nondrafted free agent: 1
Waivers: 1
Breakdown by ETA
2016: 5
2017: 11
2018: 7
2019: 6
2020: 1
Breakdown by position
C: 1
1B: 1
2B: 1
3B: 2
SS: 3
OF: 7
RHP: 11
LHP: 4
Jim Callis is a reporter for MLB.com. Follow @jimcallisMLB on Twitter. This story was not subject to the approval of Major League Baseball or its clubs. This story was not subject to the approval of Major League Baseball or its clubs.