White Sox notebook: Test driving ideas
Saladino passed on WBC; Jones throws heat in BP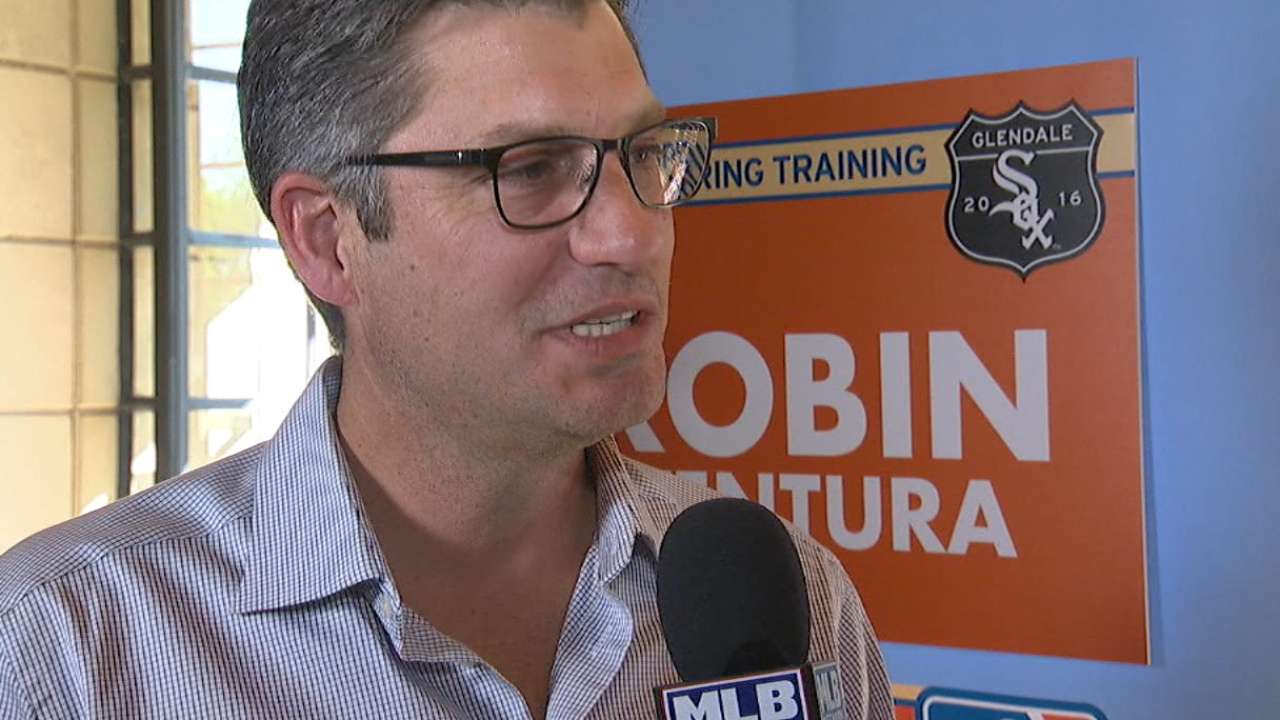 GLENDALE, Ariz. -- The White Sox seemed to be attached to almost every frontline outfielder via free agency or potential trade during this past offseason.
And according to White Sox executive vice president Ken Williams, there's some truth to those pursuits even if they always weren't doable.
"Listen, we always check in on everyone that is of potential interest," Williams told MLB.com. "But in some cases …
"It's like going down to the Ferrari dealership when you can only afford a Volkswagen. It kind of is what it is in some cases. But you have to ask how much the Ferrari costs. We had a lot of great Ferrari ideas, let's put it that way."
"We need to feel the chemistry and be like a family. That's something we need to build from here." - @79JoseAbreuhttps://t.co/tgNgFylDtS

— Chicago White Sox (@whitesox) February 24, 2016
Saladino passes on WBC
Tyler Saladino would like to play in the World Baseball Classic at some point in his career. That point did not come as part of the qualifying tournament in Australia two weeks ago as part of the Philippines squad.
"I wanted to play for them in the past, but it was just bad timing with this situation we have here," said Saladino, who is competing with Carlos Sanchez, Tim Anderson and new acquisition Jimmy Rollins for the starting shortstop job. "Just can't do that."
Saladino's connection to the Philippines comes from his grandfather.
• Frazier ready to call Chicago 'My Kind of Town'
Bad draw in Jones
Those hitters who haven't faced live pitching in a while didn't draw any bargains when facing Nate Jones on Wednesday. There was no radar gun measuring Jones' velocity, but he certainly had more than a little extra life on his pitches.
"I don't know what it is right now, but that's what I got today. So I guess if that's called letting it fly, then yeah," said Jones after the workout. "It felt good. I was jacked up that first hitter.
"The ball was up. After that, I calmed down and got the nerves out and started throwing strikes."
Melky Cabrera, who was one of the hitters facing Jones, was impressed by the right-hander's power and his slider. The best news for Jones is that he's completely healthy, after spending last Spring Training on the rehab road back from Tommy John surgery.
"With the farther away we get from Tommy John surgery, the main things are just feeling healthy and smooth," Jones said. "I felt that's what I accomplished today."
"You're talking about a guy that was spending more time in the training more than anything else," White Sox manager Robin Ventura said. "It's good for us. It's great for him to see him healthy out here and just getting ready like everybody else."
• Ventura delivers direct, fundamental message
Rowand begins new coaching chapter
The start of the White Sox Minor League mini-camp Wednesday, bringing 45 players to Camelback Ranch, also marked the beginning of Aaron Rowand's next chapter with the organization. The center fielder on the 2005 World Series champions serves as the outfield/baserunning coordinator, proudly showing off his personalized Fungo bat.
"It's a great opportunity to be able to still see my kids and my family and get back into doing what I really enjoy doing," Rowand said. "That's being around the ballpark, being around the guys, and try to pass on some experience and some knowledge from the years that I played."
Bullpen battle?
The bullpen appears to be pretty close to set with closer David Robertson, Jones, Matt Albers, Zach Putnam, Zach Duke, Dan Jennings and Jake Petricka. But the team is still deciding whether a long reliever would be needed, which could factor in Jacob Turner, who is out of options.
"We do have a pretty set bullpen, but there's a couple of wild cards in there as far as depending the route we want to go," Ventura said. "Do we want more innings out of that spot or cover it with just using more guys consistently?"
Petricka, Putnam and Jones all have options left.
They said it
"He's a funny, lighthearted guy who I think will fit in well in this locker room, especially after you add guys like [Brett] Lawrie and [Todd] Frazier and [Alex] Avila. Those are not just good player moves coming in but good people moves." -- Rowand, on Rollins.
"That's the biggest takeaway from the first couple of days is these guys have meshed quickly as far as personalities. It's a more vocal group than we've probably had here the last couple of years." -- Ventura
Scott Merkin is a reporter for MLB.com. Read his blog, Merk's Works, follow him on Twitter @scottmerkin, on Facebook and listen to his podcast. This story was not subject to the approval of Major League Baseball or its clubs.