Gibson poised for breakout season
Powerful sinkerballer needs to get ahead in counts to raise strikeout rate
FORT MYERS, Fla. -- If you were to build a prototypical starting pitcher, Kyle Gibson might be an ideal candidate. Consider his attributes: a 6-foot-6 frame, athleticism on the mound and a four-pitch arsenal that includes a power sinker, a wipeout slider, an above-average changeup and an occasional curveball.
But while Gibson has developed into a quality starter, he still hasn't taken that next step in terms of strikeouts: he's never had a K rate above the league average in his parts of three seasons in the Majors. Gibson, though, quietly showed signs last year that he could be due for a breakout season, and general manager Terry Ryan can see why.
• Spring Training: Schedule | Tickets | Complete info
"There's a lot of talk about his strikeouts. If you evaluate that guy pitch by pitch, he's got three plus pitches in his approach, but you wouldn't know it with his strikeout ratio," Ryan said. "He's just gotta attack the strike zone more and not nitpick. He shouldn't be a finesse guy. He's got stuff with a power slider, a fastball that can sit around 92-93 [miles per hour] and a good touch and feel for a change. So there's a good chance Kyle Gibson is a guy who can take a step or two forward."
Given a closer look at the numbers last year shows that Gibson was third in the Majors among qualified starters in getting hitters to chase out of the zone and -- interestingly -- was second in pitches thrown out of the zone, according to data at Fangraphs.com. He also got swinging strikes on 9.8 percent of his pitches, which is higher than the league average of 9.3 percent. And his slider was even better, as it had the ninth-best whiff rate among starters, per baseballprospectus.com.
But it led to Gibson striking out 6.7 batters per nine innings, which ranked 60th among 77 qualified starters. So it doesn't seem to add up given his stuff and ability to miss bats. But Gibson did start to make progress with strikeouts as the season went along, as he saw his strikeouts per nine jump from 6.20 in the first half to 7.44 after the All-Star break.
"I'm not sure I really did that much different the last two months when my strikeout rate went up -- I think it was just I was 0-2 and 1-2 against guys instead of 3-2," Gibson said. "That'll be a result of the process."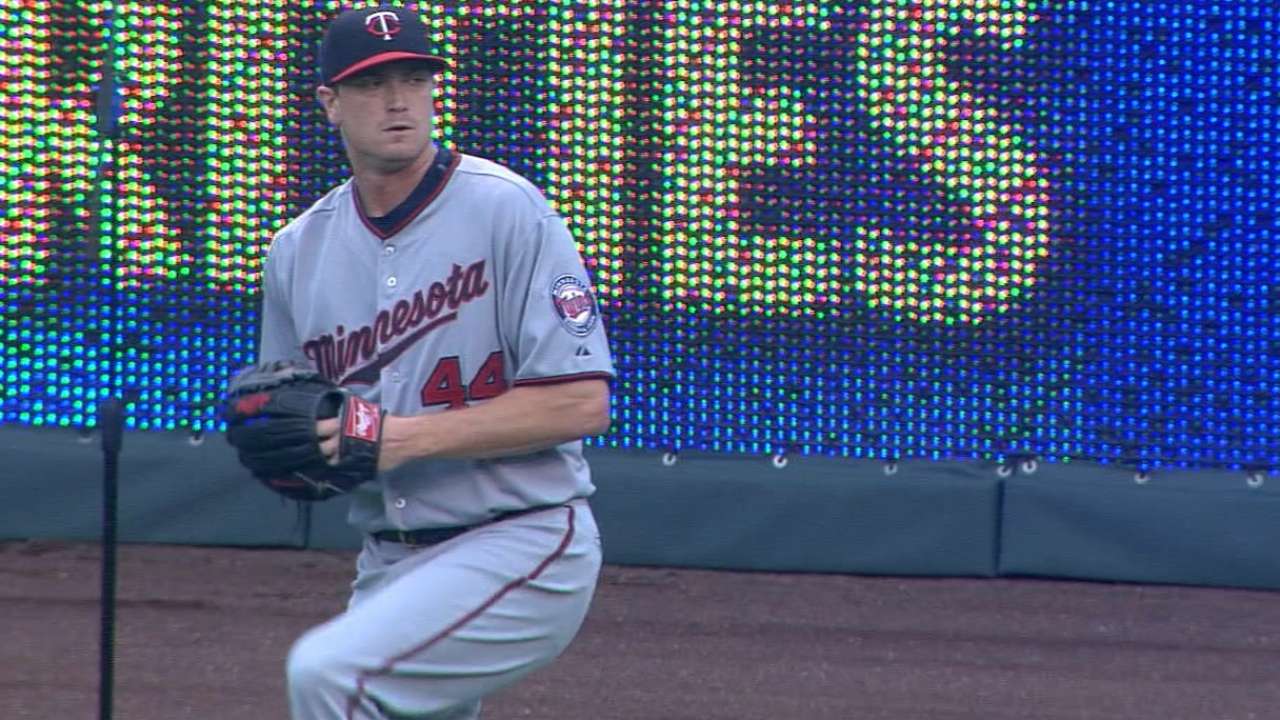 Gibson said that the process includes more strikes in early counts, as he's actually more concerned about lowering his walk rate -- he walked 3.01 batters per nine innings -- but he also said it goes hand-in-hand with helping his strikeout rate. After an 0-1 count, Gibson had a strikeout-to-walk ratio of 5.37, but it dipped all the way to 0.93 when he fell behind 1-0.
"If I had to pick one or the other, I'd rather lower the walks, because I think the strikeouts are going to come if I can get ahead of some guys," Gibson said. "I've talked to [Glen] Perkins and what he goes through, and he just told me the goal is to get to 0-2 on every hitter and then you have room to go for the strikeout."
Taking a major leap in strikeouts that leads to a breakout year would be far from unprecedented, as Astros starter Dallas Keuchel did just that last year. The fellow sinkerballer had even an lower strikeout rate in 2014 than Gibson did in '15, but then went on to strike out a career-high 8.38 batters per nine en route to winning the AL Cy Young last season. Keuchel explained his jump in strikeouts as a result of figuring things out with experience regarding where and how to locate his mix of pitches rather than a major overhaul in terms of approach or stuff, which is encouraging for Gibson.
"There's a lot of guys like that and not just pitchers, but they get into that third or fourth year and they realize they belong and can help a team to the postseason," Ryan said. "Gibson is like that. He has all kinds of ability."
Twins manager Paul Molitor said he doesn't believe strikeouts need to be a big part of Gibson's game for him to break out, especially given his 53.4 ground-ball rate that ranked as the 10th-best mark among starters, but he was encouraged to see him make strides in putting hitters away as the 2015 season went along.
"He's a guy that I don't worry about a lot because of his work habits, his approach to competing, his unselfishness," Molitor said. "He's got all those things that make it easy to kind of let him do his work. I just think a couple full seasons, he's just going to keep pushing forward."
Rhett Bollinger is a reporter for MLB.com. Read his blog, Bollinger Beat, follow him on Twitter @RhettBollinger and listen to his podcast. This story was not subject to the approval of Major League Baseball or its clubs.