Rewarded with roster spot, Martinez welcomes challenge
After breakout '15 season, outfielder battling for position in first camp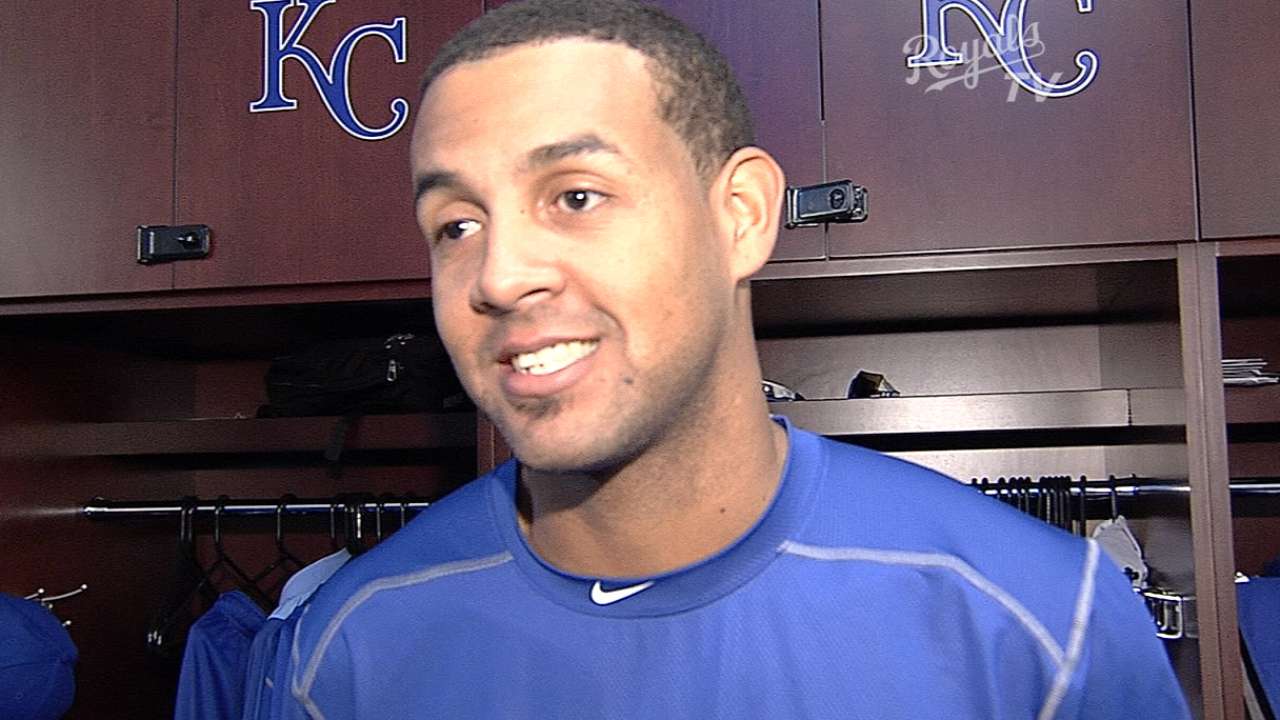 SURPRISE, Ariz. -- Royals Minor League outfielder Jose Martinez had such a breakthrough season in 2015, winning the Pacific Coast League batting crown after hitting .384 for Triple-A Omaha, that he decided to keep on playing.
So Martinez played in the Venezuelan League.
"When you have a good moment, you keep playing," Martinez said. "You don't spend it in the house watching TV. You stay with the opportunity. It was good for me to stay active and learn more."
• Royals won't pull shade on window of opportunity
The good moments kept coming for Martinez, who hit .317 with a .834 OPS in the Venezuelan League.
The Royals rewarded Martinez by placing him on the 40-man roster over the winter, and now he's in his first big league camp.
Martinez, 27, signed with the Royals as a Minor League free agent before last season after nine years in the White Sox and Braves organizations. Then he raised eyebrows everywhere by winning that PCL batting title.
Martinez did hit .319 in Class A Advanced in 2014, but not even he was prepared for what happened in 2015 at Omaha.
"Guys were asking me, 'Bro, what did you do?'" Martinez said. "I would just say, 'I don't even know.' It was pretty good. Obviously, it was the best year of my career. Hopefully, it will help me get to the big leagues.
"It seemed every ball was getting to the outfield and falling in or getting through the infield. It won't happen all the time like that, but if you keep the same mental approach, then good things will happen."
Martinez said he worked hard with Omaha hitting coach Tommy Gregg on maintaining a consistent approach.
"He just told me to focus on putting the ball in play every day," Martinez said.
And now Martinez is fighting for a spot on the Royals' 25-man roster, likely as the fifth outfielder if the Royals keep five. Martinez said he isn't looking at his competition for that final spot.
"I'm not," he said. "I'm just enjoying the time and experience. This is my first Spring Training invite. Whatever happens for me I'm going to enjoy it. If I make it, that's great, or if I go back to the Minors, I will just try to stay healthy and be ready for whatever opportunity I have."
No calls
Though there were some managerial openings over the winter, no team tried to pick off a coach from manager Ned Yost's staff. That surprised him.
"I know how smart [my coaches] are, and I know how good they are and how special they are," Yost said, "so it is a bit surprising that the openings come up and they're not calling our guys. A little bit of me is glad, too. I don't know if that's a good feeling, but I can't imagine going on without this group of guys."
Jeffrey Flanagan is a reporter for MLB.com. Follow him on Twitter at @FlannyMLB. This story was not subject to the approval of Major League Baseball or its clubs.