CarGo doesn't focus on trying to beat shift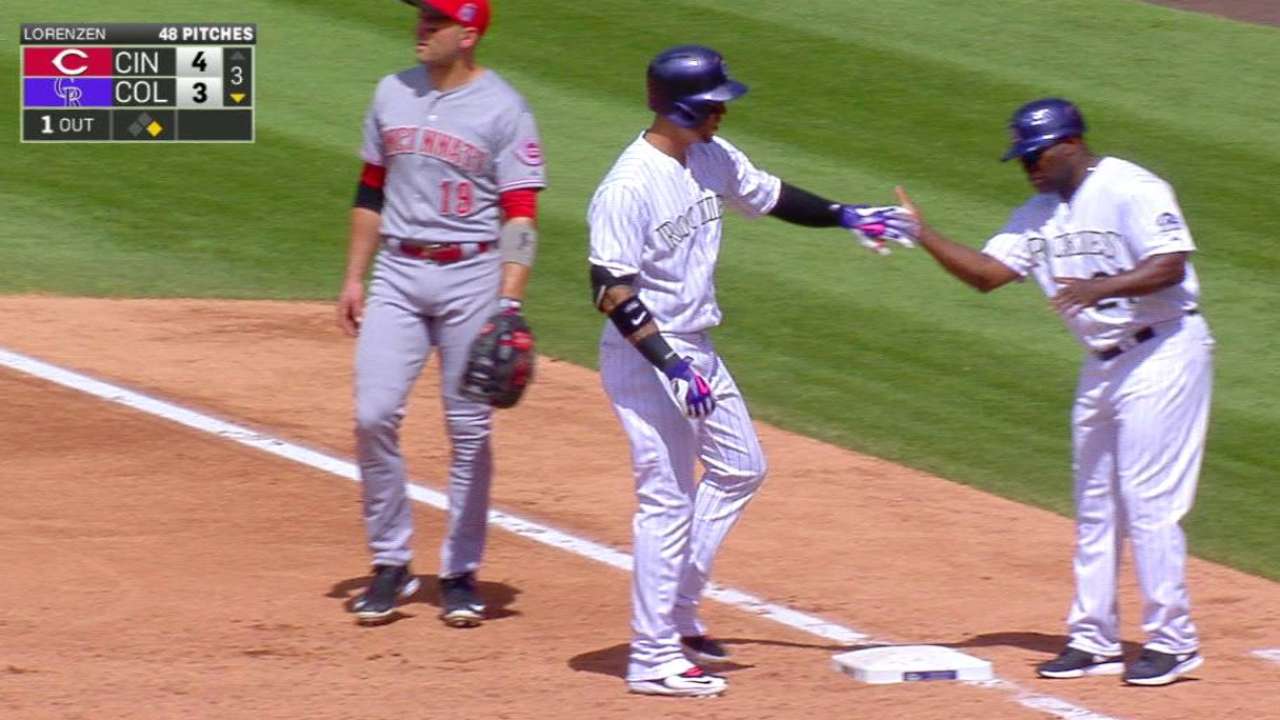 SCOTTSDALE, Ariz. -- Once Rockies outfielder Carlos Gonzalez overcame becoming upset when a perfectly positioned shortstop stole hits from him early last season, he beat the shift with uncommon consistency.
Gonzalez hit .265 on ground balls and line drives vs. the shift last season. According to the Bill James Handbook, hitters who beat the shift to any degree are rare. Many shift-beaters incorporate the bunt -- something power hitters with injury history (Gonzalez checks both boxes) would prefer not doing, since the defense would rather see them settle for one base than possibly swing for extra bases.
After some hard-hit balls turned into frustration during the first month-plus, Gonzalez decided to adjust his thinking rather than his swing.
• Spring: Tickets | Ballpark | 40-man roster | NRIs
"I was a little frustrated early in the year when I was hitting the ball up the middle and the shortstop was playing me right behind the pitcher," Gonzalez said. "Then I was thinking, sometimes I hit the ball to second base and it's a hit. I was not really caring about anything else, just trying to hit the ball hard, and if it finds a hole, it finds a hole.
"There's not a formula or a change. When you hit the ball, you can't control where the ball's going to end up. So I really don't care. A lot of players get caught up in a change in approach or change in the way you hit the ball. That's where you get in trouble. You've got to be the same player. If you find the hole, you find the hole. If I try to hit a ground ball by second or think I've got to hit a ground ball to third base because the third baseman's playing short, that's not my game."
Conversely, Gonzalez loves the Rockies' increase in defensive shifts. He's never going to get all scientific with the stats, because "I'm not a big baseball rat. … I play the game because I love the game, so I don't pay attention to stats." But using the information gathered from those who calculate it is fun.
"If you want to win the game, you want to have as much information as possible," Gonzalez said. "We're trying to see where he hits the ball most of the time and cover that place. If he beats you going the opposite direction, you tip your hat to that guy, but that doesn't happen that often."
• Rockies manager Walt Weiss took a small measure of clarity from MLB Commissioner Rob Manfred's decision Tuesday to place Rockies shortstop Jose Reyes on paid leave, with a domestic violence case pending in Hawaii and Manfred being charged with making a decision on discipline.
A trial is scheduled for April 4. There is no exact timetable for Manfred's decision.
"It helps to have some direction," Weiss said. "I don't think we're going to be surprised by anything throughout the process. We're just sitting back and waiting on our marching orders. That's what it comes down to. As the process continues, there'll be more and more clarity."
Weiss downplayed the notion that Reyes' presence in camp -- position players had physicals Wednesday and will begin workouts Thursday -- would have been a major distraction.
"We compartmentalize things as athletes," Weiss said. "It's one of our strengths. We get a lot of practice with all the distractions that you deal with at this level."
• The Rockies will have intrasquad games at Salt River Fields at Talking Stick on Monday (six innings) and Tuesday (eight innings).
Thomas Harding is a reporter for MLB.com. Follow him on Twitter @harding_at_mlb, listen to Podcasts and like his Facebook page. This story was not subject to the approval of Major League Baseball or its clubs.