A's Alvarez reworks approach in 'pen sessions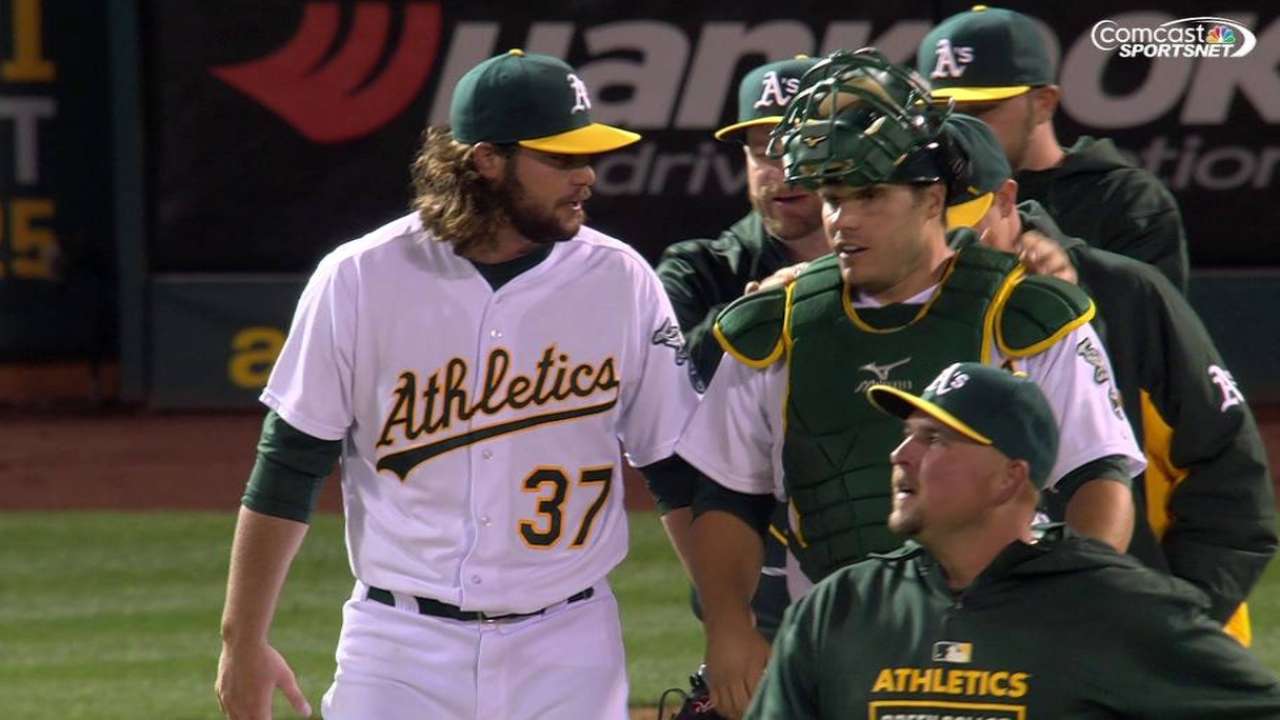 MESA, Ariz. -- R.J. Alvarez came with plenty of intrigue upon his arrival in A's camp last year. The right-hander brought an electric fastball to match his electric hair, easily standing out amongst the many new faces following his trade from San Diego with Jesse Hahn.
These days, the 24-year-old reliever has better command of both; improved mechanics have helped ease his often erratic control, and he chopped off roughly six inches of his long locks last week, though his hair still remains just below his ears.
Alvarez is lighter in weight, too, taking seven pounds off his 6-foot-2 frame this winter.
• Spring: Tickets | Ballpark | 40-man roster | NRIs
"It looks like he's in good shape," A's manager Bob Melvin said. "He's pretty serious about wanting to get a little further along in his career, because he definitely has the ability to be a guy that can pitch late in games."
The A's have envisioned this very scenario since acquiring Alvarez in the Derek Norris deal, but the right-hander struggled in his first season in the organization, allowing seven home runs across 20 innings at the big league level. He struck out 23, but he also walked 20 and hurled five wild pitches, posting a 9.90 ERA in 21 appearances over four stints. In 31 games with Triple-A Nashville, he compiled a 4.11 ERA.
"It was tough," Alvarez said. "I had never really struggled much in my career until then. It seemed like not the end of the world, but it was brutal. I thought I was going to make the team and be good. I learned a lot. I'm not always going to be awesome."
Commanding the ball became a chore, so Alvarez began exploring mechanical changes with pitching coach Curt Young and bullpen coach Scott Emerson, the results of which are starting to show through in his bullpen sessions.
"Going into last year and the year before, I just went out and threw the [bullpen session] and wasn't ever really working on much, just kinda chucking the ball," Alvarez said. "They're not huge, drastic mechanical changes. I just close myself off a lot sometimes, so I'm trying to open up a little more and get through the pitches. It's hard, because the last 15 years of my life, I've thrown one way, so during the [bullpen sessions], I'm really trying to focus on that and take each pitch more serious."
Melvin took notice during Alvarez's latest bullpen session this week.
"Sometimes he gets going and his tempo is probably a little too quick at times and things speed up for him, so it's important that he finds a good tempo that works for him," Melvin said. "The stuff is there, and he's gonna figure it out."
Alvarez hopes improved arm extension will help him consistently deliver the ball down in the zone for more ground-ball action.
"I want to keep it out of the air as much as I can. You all saw I wasn't great at that last year," he said, laughing.
Alvarez and righty Fernando Rodriguez, both of whom clock their fastball in the mid-90s, were the hardest throwers in camp last year. Now, they're surrounded by hard throwers. Alvarez has already chatted up Ryan Madson -- "He's a stud, I've watched him a long time," he said -- and John Axford and Liam Hendriks.
"It would be fun to pitch with them," Alvarez said. "Hopefully I can feed off all those guys, power righties, even if it's not talking to them but watching the way they approach and set hitters up."
Jane Lee is a reporter for MLB.com. This story was not subject to the approval of Major League Baseball or its clubs.