Ausmus: Miggy may play 3B to open season
Interleague Play could force scenario, if V-Mart is comfortable at 1B; former Tigers in camp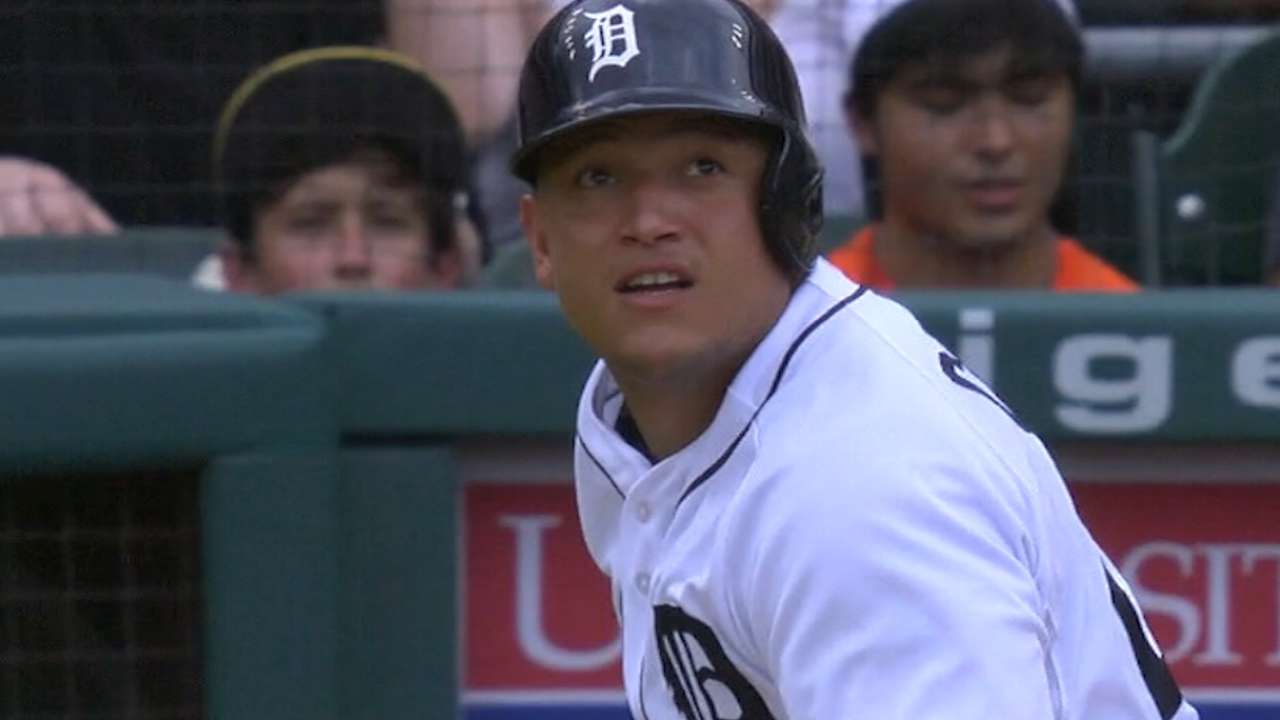 LAKELAND, Fla. -- There could be a new face at third base for the Detroit Tigers when they open the 2016 season with a two-game series in Miami -- Miguel Cabrera.
"Yea, Miguel is an option at third base the first couple of games," Tigers manager Brad Ausmus said Wednesday at Joker Marchant Stadium in Lakeland. "He is, assuming Vic's OK at first."
• Spring in his step: Miggy energizes camp
That's Victor Martinez, who will serve as designated hitter for much of the year, except during Interleague Play, which inconveniently bookends the Tigers' season.
• V-Mart looks good taking important swings
If this scenario happens, starting third baseman Nick Castellanos would get a day or two on the bench.
"It's odd, it's a little strange," Ausmus said of opening and closing the season with Interleague Play. "Little bit of an inconvenience for us, because we're a team that has a DH in Victor Martinez. Should we be forced to not play Victor a game or two, or three, because of that? Especially if we're looking at the end of the season, we're fighting for a playoff spot. That's not ideal, for sure."
Cabrera didn't play the hot corner at all last season, but he has played 696 career games there, including 688 starts.
Spring Training: Tickets | Schedule | Complete info
Former players return
Todd Jones has joined camp as the newest former Tiger to serve as special assistant.
Jones, who pitched in the league for 16 years -- and with the Tigers from 1997-2001 and '06-'08 -- is providing another set of eyes for relief pitchers, working to help them prepare and understand their roles and "recognize when they're going to be used and be ready for that situation before the phone rings," Ausmus said.
"Some organizations do it more than others. I was one of the old players in San Diego," Ausmus said. "This year, we have more than we have had in the past. It's really a good way to stay involved in baseball. It's about being committed to the baseball grind.
"Special assistant is the best gig in the game. You can still take summer vacations. Definitely don't make the money, but the time generally can be set by you."
Kenny Rogers, a 1996 World Series champion with the Yankees, five-time Gold Glove Award winner and four-time All-Star, also will help out with his former team this season, joining others such as Alan Trammell and Kirk Gibson. Rogers closed his 20-year career with the Tigers from 2006-08.
Rained out
Thunderstorms spoiled the Tigers' training camp plans Wednesday.
Rainy day = throwing indoors ☔️ pic.twitter.com/1Vgi1hvgJo

— Detroit Tigers (@tigers) February 24, 2016
Instead of pitchers throwing live batting practice, as planned, they threw indoors with hitters standing in, no swings. Hitters then took to the batting cages.
Ausmus had no health updates to give after the workout, and said he will reveal the rotation later this week.
Alicia DelGallo is a contributor to MLB.com. This story was not subject to the approval of Major League Baseball or its clubs.