Henry: Sox were too reliant on numbers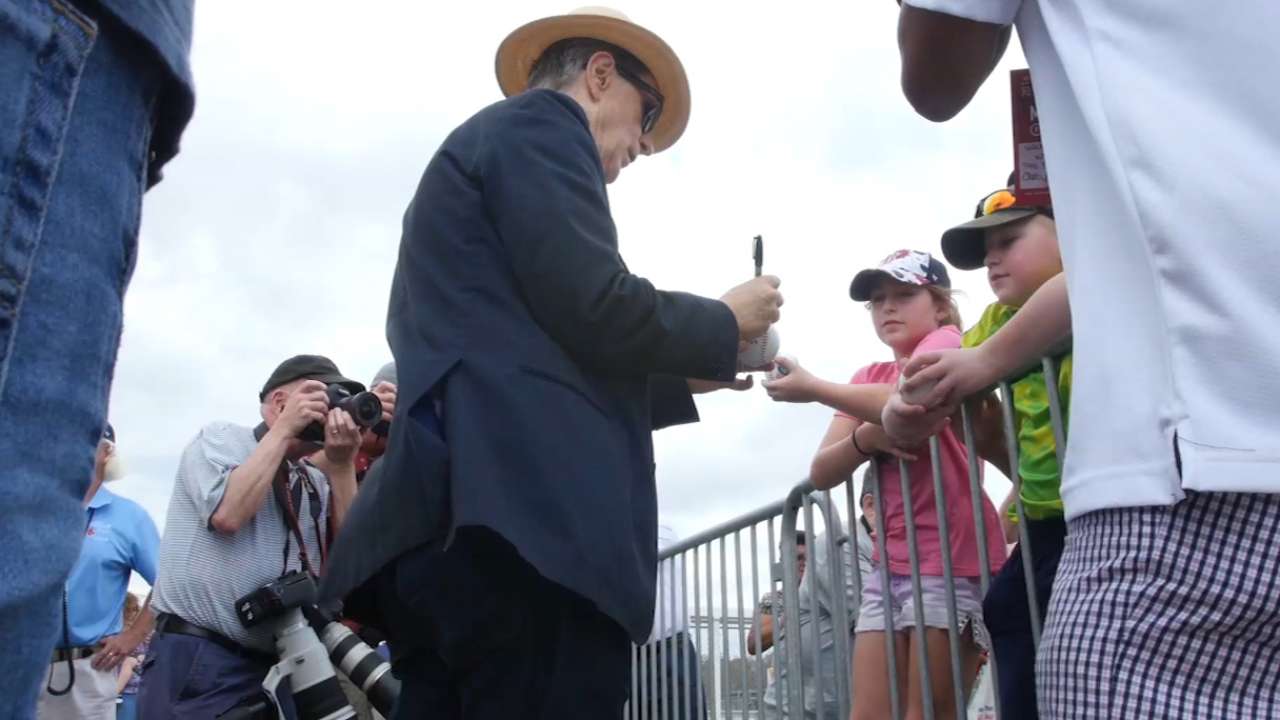 FORT MYERS, Fla. -- Red Sox owner John Henry was beyond thankful for Thursday's first full-squad workout, because it served as the start of the chance to emerge from last-place finishes in three out of the past four seasons.
When things were at their worst last summer, Henry got more involved than usual and identified a problem. His Red Sox had become too reliant on statistical analysis.
"I spent at least two months looking under the hood and came to the conclusion that we needed to make changes," said Henry. "One of the things that we've done, and I'm fully accountable for this, is that we have perhaps overly relied on numbers."
• Sox owner defends Panda's physical condition
And in hindsight, it's easy to see why Henry hired Dave Dombrowski to be his president of baseball operations shortly after coming to that conclusion. Though Dombrowski certainly takes numbers into consideration, he is a big believer in traditional scouting.
"Over the years, we have had great success relying upon numbers. That has never been the whole story, as we've said over and over again, but perhaps it was a little too much of the story, too much reliance on past performance and trying to project future performance," said Henry. "That obviously hasn't worked three out of the last four years."
• Farrell delivers inspirational speech
Though Henry made much of his money in hedge funds, which require careful analysis of numbers, he realizes that baseball can be a different animal sometimes.
"Baseball is a complex, dynamic sort of living thing that has to really be nurtured on a day-to-day basis, 12 months out of the year," said Henry. "So I think we were relying too heavily on analytics. I also think that it's about the focus of your team. We saw a team in '13 that was highly focused, and then a team in '14 -- virtually the same team -- that wasn't focused."
• Spring: Tickets | Ballpark | 40-man roster | NRIs
After expressing so much optimism at this time last year, Henry didn't feel it was appropriate to make predictions for 2016. But he didn't conceal his excitement for the coming months.
"For me, it's also been I think the longest offseason," Henry said. "It felt that way. We made a lot of changes. We saw a glimmer of something in the last six weeks of the season. These young players were exciting to watch. There's a lot to look forward to."
Henry chose not to be overly specific on how the change in organizational philosophy impacted the team in the offseason, or how it will be going forward.
"I started reaching [that conclusion] last season. I won't go into all of it, but there were just various aspects of our overall philosophy that needed tweaking," said Henry.
Manager John Farrell doesn't expect the tweaking Henry spoke of to have much of an impact on the way he runs the game night to night.
"I don't think it will change the way we look for certain matchups to take advantage of, whether that's providing rest on a given day with a starter that we're facing," said Farrell. "We may take a different look with rotating some guys in off our bench. You're always going to prepare for certain matchups leading into a series and a game when from that sixth inning on you're looking for the right matchup you can go to in a bullpen.
"That's all using hard, fast data for your decision-making. I don't see it changing at field level. If anything it may continue to grow."
For all the talk about philosophy, Henry knows that the 2016 season will come down to execution.
"The team has to go out and play and produce," Henry said. "It's very important to get off to a good start, because we have one goal and that is to win the division, and that is not an easy thing to do, especially if you have 16 of the first 19 games against the American League East. We can't afford to get into a hole to begin the season."
Ian Browne is a reporter for MLB.com. Read his blog, Brownie Points, follow him on Twitter @IanMBrowne and listen to his podcast. This story was not subject to the approval of Major League Baseball or its clubs.