Frazier ready to call Chicago 'My Kind of Town'
Third baseman reminded of childhood through Sinatra's music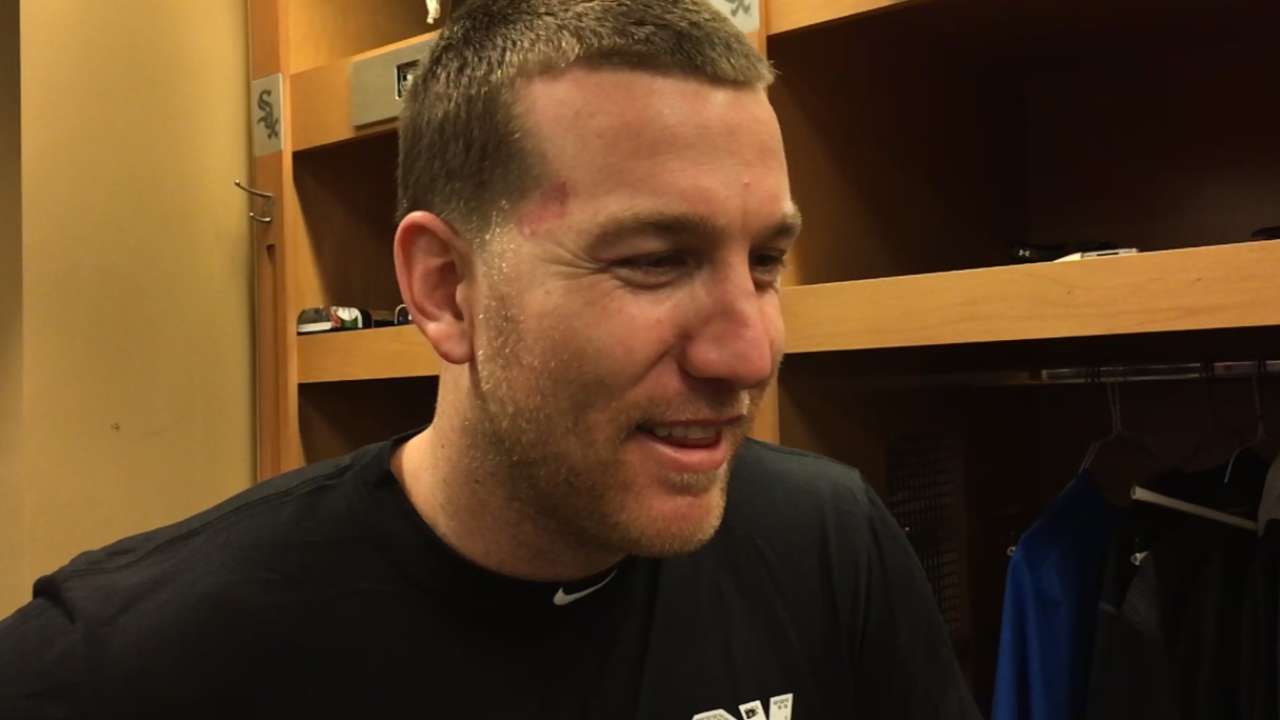 This is my kind of town, Chicago is
My kind of town, Chicago is
My kind of people too
People who smile at you.
GLENDALE, Ariz. -- A group of White Sox position players who arrived early to Spring Training were taking batting practice a few days ago, when hitting coach Todd Steverson gave Todd Frazier one of his first honors of camp.
Pick the music for the workout.
"I chimed in and I said, 'I bet it's [Bruce] Springsteen. You're a [New] Jersey boy,'" said a smiling White Sox executive vice president Ken Williams. "He said, 'No, more like Sinatra.'"
That's right, Francis Albert Sinatra is the new White Sox third baseman's kind of entertainer. And while Sinatra was born in Hoboken, giving New Jersey claim to one of the greatest all-time performers, he also was known to make the rounds in the Windy City.
• Frazier sets out on learning curve with new teammates
How about the Pump Room and P.J. Clarke's to name a very few of the Chairman of the Board's favorites? Now, Frazier plans to bring Sinatra back to the city's South Side, featuring a little "My Kind of Town" as his walk-up music.
"Hopefully, they will let me use that," Frazier said. "You know, we can take over the town. So we'll see how it goes.
"My grandma used to play it in the house all the time. Honestly, I really hated it. As a young kid, you hear this slow music and the accordions in the background, whatever they used to play. It's one of those things that just grows on you."
Sinatra's music grew on Frazier enough that he used "Fly Me to the Moon" and "Come Fly with Me" as his walk-up songs with the Reds. There's even a video of Frazier doing a pretty solid rendition of "Fly Me to the Moon" at a Reds Hall of Fame Gala.
There's a calming effect to the music for Frazier, as he thinks of his late grandfather, Charles, whenever the Sinatra songs play.
"I'm thinking of him every time I go up there and relax a little bit," Frazier said. "And you are looking to be relaxed at the plate."
• Frazier brings sizzle to hot corner for White Sox
Countless tales exist of Sinatra's legendary career as a recording artist, producer and actor. Frazier seems to be pretty multi-faceted in his own right, with a middle-of-the-order power bat, a slick glove at third and as a fairly athletic baserunner.
Let's not forget the colorful life Sinatra lived outside the recording studio or off the stage, as the charter member of the Rat Pack. Frazier is a married father of two, so his life will be a bit more sedate. But in another time, he would have liked to know Sinatra.
"You did what you had to do, so I guess as much fun as they had, I would try to keep up," a smiling Frazier said. "I read a lot about him. He was a fun-loving guy. Him and Count Basie and all those guys and the Rat Pack. I would have loved to talk to him and pick his brain."
White Sox fans aren't as worried about Frazier's musical interest as they are about 30-plus home runs and lineup protection for Jose Abreu. Frazier soon will bring his way to U.S. Cellular Field, hoping to go through the 2016 season with too few regrets to mention.
"The individual stuff, we'll let that take care of itself," Frazier said. "Hopefully we'll become a big hit as a team."
"He'll be a big hit there," said Reds president of baseball operations Walt Jocketty. "He's a very personable guy. Players love him and the fans will like him after they get to know him."
Scott Merkin is a reporter for MLB.com. Read his blog, Merk's Works, follow him on Twitter @scottmerkin, on Facebook and listen to his podcast. This story was not subject to the approval of Major League Baseball or its clubs.