Teixeira: 'I'd love to play until I'm 40'
First baseman healthy after fracturing right leg last season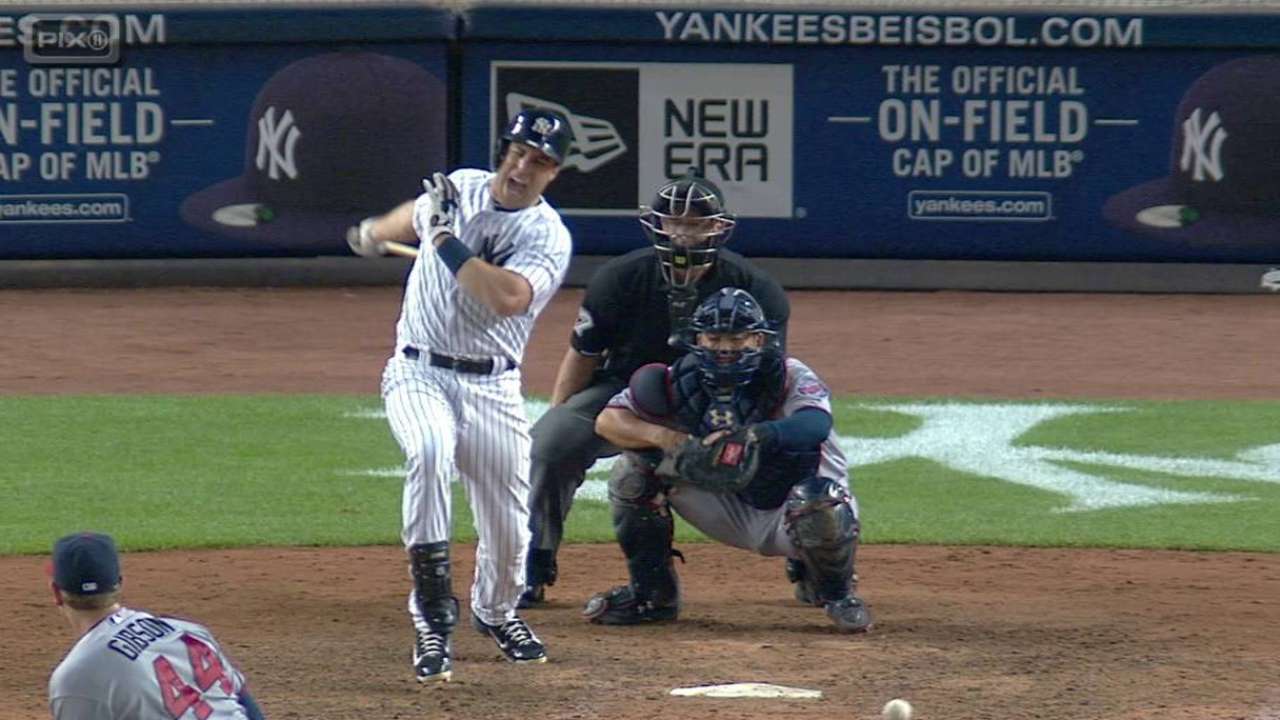 TAMPA, Fla. -- Mark Teixeira proved last season that there is still plenty of thunder in his switch-hitting stroke, and that gives the Yankees' first baseman confidence as he dreams about spending many more seasons in the sun.
"I'd love to play five more years; I'd love to play until I'm 40," said Teixeira, who will turn 36 on April 11. "If you had asked me that when I was coming off [right] wrist surgery -- I was pretty honest with you guys -- I felt like crap pretty much the entire year in 2014.
"I didn't know what the future held for me, but I've completely turned that around. My body feels so good, why not play until I'm 40? Being the kind of hitter I am, I can be a DH the last few years of my career, which could really prolong it. I would love to play that long."
• Spring: Tickets | Ballpark | 40-man roster | NRIs
Teixeira said that he would love to stay with the Yankees, but with the slugger's eight-year, $180 million pact set to expire after this season, another uniform could be in his future. The Yanks have high hopes for Greg Bird, who hit 11 homers in 46 games late in the year.
For the purposes of 2016, however, the Yankees' chips are all-in on Teixeira at first base -- especially in the wake of news that Bird will miss the season due to right shoulder surgery. Teixeira slugged 31 homers in 111 games for New York before his campaign was cut short.
"I think I have a lot of good years left in me, especially after last year," Teixeira said. "That great thing about contract years is if you do your job on the field for your team, the contract works out for you, that kind of stuff falls into place if you go out and have a good year and help your team."
Yankees manager Joe Girardi took Teixeira's comments as encouraging news.
"I think it's great for players to play as long as they want to and they feel that they can be successful," Girardi said. "Obviously he feels good about where he is physically or I don't think he would say that, so I think that's really positive."
Teixeira said that he has completely recovered from his fluke injury, fouling a ball off himself on Aug. 17 against the Twins that resulted in a fractured right shin. He ditched his crutches at the end of October and resumed workouts in November, and said that he has adhered to the gluten-free "no fun diet" that he started last spring.
"It kind of validates my entire offseason training, validates my new eating habits; I feel great," Teixeira said. "I feel better than I did last year at this time, and so if I can just stay lucky, I expect to have a great season."
Bryan Hoch is a reporter for MLB.com. Follow him on Twitter @bryanhoch, on Facebook and read his MLBlog, Bombers Beat. This story was not subject to the approval of Major League Baseball or its clubs.