Royals won't pull shade on window of opportunity
Club rejects notion that title hopes will fade after 2017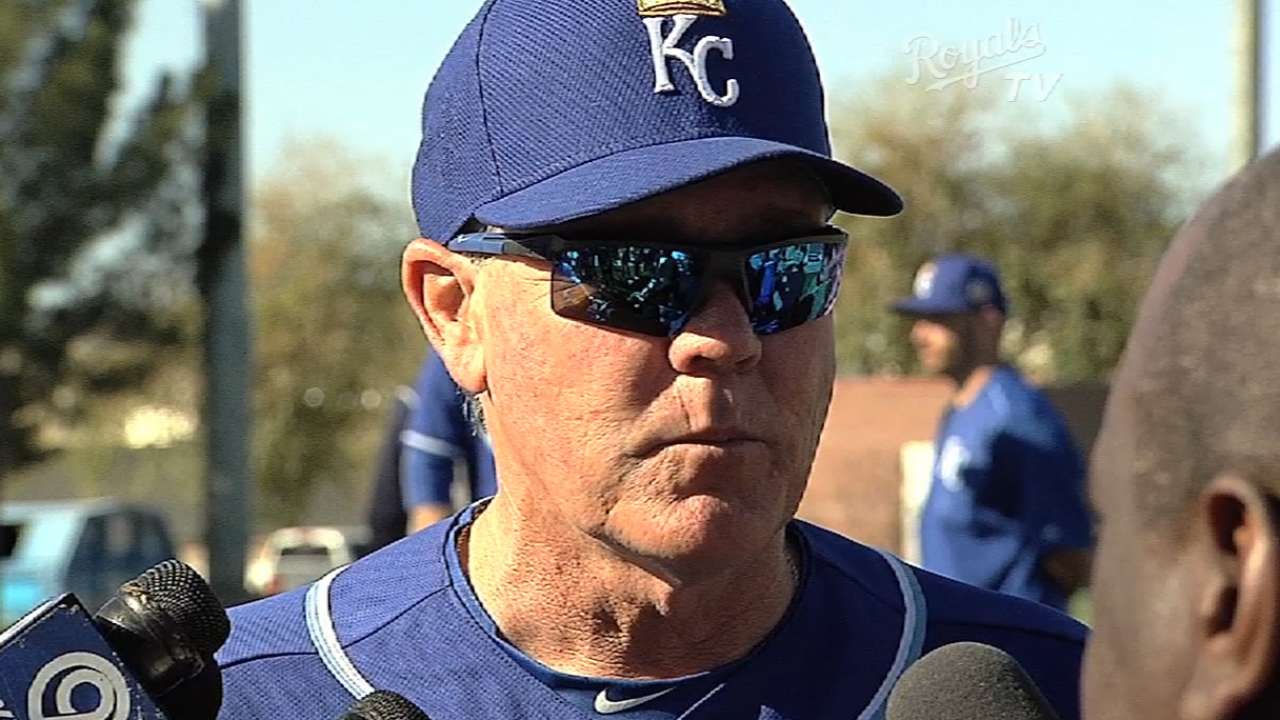 SURPRISE, Ariz. -- The popular narrative about the defending World Series champions is that they are operating in a short two-year window of opportunity.
The theory is based on the reality that numerous stars -- first baseman Eric Hosmer, third baseman Mike Moustakas, outfielder Lorenzo Cain, shortstop Alcides Escobar, closer Wade Davis and others -- are scheduled to become free agents after 2017, and the small-market Royals will be hard-pressed to sign those players to expensive, long-term deals.
The Royals, though, scoff at the notion that the organization suddenly will fall off a cliff after 2017.
"We don't look at it that we'll have to start all over after 2017," general manager Dayton Moore said. "That's just not true."
"You walk in that locker room, and they want to do it again." Ned joined @MLBNetwork to talk about this year's team: https://t.co/hBY5UbCdh4

— Kansas City Royals (@Royals) February 24, 2016
The truth is, the Royals do have a core of players either already signed or under club control beyond 2017, including left fielder Alex Gordon, catcher Salvador Perez and pitchers Yordano Ventura, Joakim Soria and Kelvin Herrera. Right-hander Ian Kennedy has a three-year player option following the 2017 season.
And Moore and his staff are not conceding that they will lose all of their free agents after 2017.
"We fully expect to sign as many of our players that we currently have on our team to long-term contracts," Moore said. "We anticipate that happening as we go forward. Will we get them all? Time will tell.
"We've had success keeping our homegrown players. Alex Gordon is a guy we've signed twice now to multiyear deals. We'll do our best to keep as many of our players here."
• Moore, Yost receive contract extensions
The Royals also believe that even if some of their players leave for better deals, they will have younger players to take their place.
And that's one of the reasons manager Ned Yost signed a contract through 2018; He, like Moore, believes the Royals will continue to be competitive each and every year.
"Dayton will put us in a good position to compete every year," Yost said. "There was no window in Atlanta. We won 12 straight years when I was there. You find ways to make it work."
Yost noted prospects such as Raul Mondesi, Bubba Starling and Kyle Zimmer will be looked upon as keys to the future, just as guys like Moustakas, Hosmer and Cain once were.
"You need good young players to step in," Yost said. "We've got those young players. And they don't have to go through all the trials this group did. This group had to get better all at the same time. But now we don't need a big group. We bring in guys one at a time.
"Dayton has a long-term plan beyond 2017."
Live pitching today. @kylezimmer11 on the bump. @TheRealHos35 in the cage. #RoyalsST pic.twitter.com/QPfpRURvtX

— Kansas City Royals (@Royals) February 24, 2016
Moore does concede that the present Royals group certainly is primed for more World Series runs.
"Sure, it's important that we maximize our current situation," Moore said. "People ask me about [the two-year window] and I say, 'Our window is right now.' But we feel that way every year now. And that will mean trying to keep our internal players.
"And yes, eventually we'll have young players from the system transition to the Major League level. You filter them in with this group. But we have no history of us quitting or laying down. We will continue to be as good as we can beyond 2017."
Jeffrey Flanagan is a reporter for MLB.com. Follow him on Twitter at @FlannyMLB. This story was not subject to the approval of Major League Baseball or its clubs.